Gilas center Marcus Douthit says he supports any move that improves Gilas Pilipinas, even if it means bringing in more naturalized players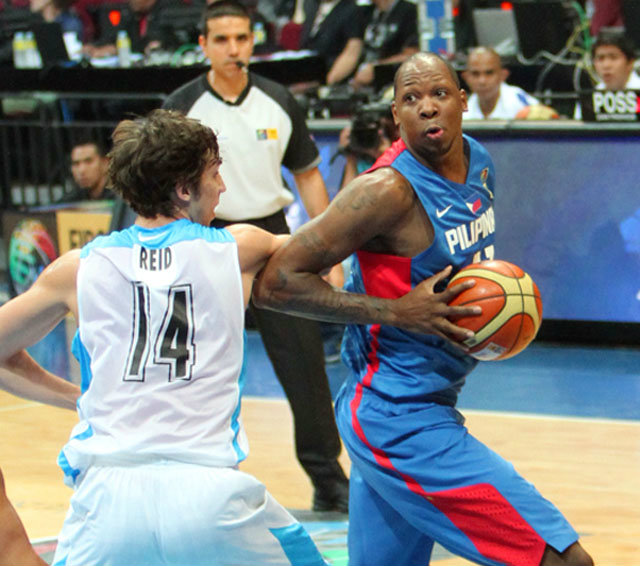 MANILA, Philippines – From one tower to another.
Ever since the arrival of 6-foot-10 American basketball player Marcus Eugene Douthit in the country last 2010, high hopes sprung from millions of die-hard Filipino hoop fans who wished for nothing but the best.
And with Smart Gilas looking for a naturalized big man, Douthit was indeed the perfect fit. He not only exerted effort on the hardcourt but embraced the Filipino culture whole-heartedly even before getting his PH citizenship. He lives here; his children goes to school here, and whenever he gets mobbed anywhere, he attends to fans' requests with a smile. After all, they are his fellow Pinoys.
Douthit got his Filipino citizenship by virtue of House Bill 2307 filed by Congressman Robbie Puno, which lapsed into a law in seven months. His presence in the 2011 FIBA Asia Championship in Wuhan, China helped the country finish 4th – the highest in over two decades. Two more years passed before we made history in the next FIBA Asia Championship last August 2013, finishing with the silver in front of a boisterous home crowd.
The one-time Los Angeles Laker draft pick says his stint with the national team has been a pleasure and he is grateful to be part of history.
"It feels good since everything that happened from Day 1 is pretty much history. It's always a great time to be part of history," he said during the committee hearing on House Bill 3783 which seeks to grant Andray Blatche PH citizenship as well.
(READ: Blatche bill passes 1st committee level but faces condition)
"There are so many moments, but this past August, we made history. Hopefully there are more moments to come."
Ready to pass the torch
But the 33-year-old slotman knows the time will come when he'll pass the torch to a younger player. Andray Blatche of the Brooklyn Nets is possibly the next naturalized big man to enter the Gilas program should his papers make it in time.
Although Douthit may see it as competition, but if it's time to hang the 'Pilipinas' jersey up there, he is always for the best.
"That's how everything goes in life. You can only be at the top for so long. Anything that makes the program better, I'm all for it," Douthit told Rappler.
It was a trip that started in the MVP Cup in Manila and spanned several thousand miles across the globe before heading back home for its culmination in the FIBA Asia Championship three years after. All Douthit could ask for is to continue showering the next naturalized big with the same love they've shown 'kuya Marcus.'
"I'm very grateful for everyone's support. Whether I'm here or not, just continue supporting the next naturalized player and everyone else who becomes part of the program." – Rappler.com