As House Bill 3783 seeks to naturalize NBA center Andray Blatche for the FIBA World Cup, politicians argue its merit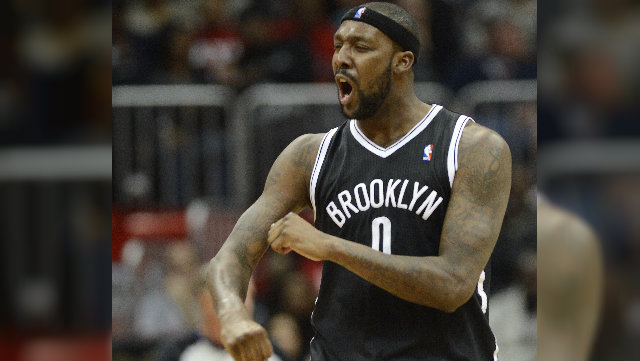 MANILA, Philippines – House Bill 3783 – which seeks to grant Filipino citizenship to NBA player Andray Blatche – went through an exchange of ideas from congressmen even before passing the committee level on Wednesday, March 5.
The bill filed by Representative Robbie Puno before the Committee of Justice got a nod but not before the committee tackled the Brooklyn Net's desire to receive PH citizenship.
Thus, a condition has to be fulfilled before proceeding to the plenary level: Blatche should affirm his desire to be naturalized.
In his explanatory note, Puno said naturalizing Blatche is a need for the Philippine team to be competitive in the 2014 FIBA World Cup. He also cited that the practice of naturalizing players is allowed under FIBA rules and is done even by powerhouse teams.
(READ: Gilas Pilipinas, naturalization and 'Filipino-ness')
"Our group mates at the FIBA World Cup will all have naturalized players. It is the new paradigm. Let's field the best team possible." he said.
Desire, not necessity
Party-list Congressman Silvestre Bello wants to get assurance first that Blatche is indeed serious before he gets handed the citizenship.
"Filipino citizenship is a sacred gift. We have to make sure that they (Blatche and Javale McGee) want to be Filipinos. We can't hand them citizenship easily by just joining one league (FIBA World Cup)," he declared.
He added: "If you want to be a Filipino, you have to show the world you want it."
"Besides, if we want to be really competitive then lets get James Lebron," he earlier quipped, mistaking the name of the 4-time NBA MVP which drew a few chuckles from the people present at the hearing.
Another lawmaker, Sherwin Tugna, says that while he thinks Douthit's arrival brought joy to the country, he wants Blatche to get accustomed to PH culture, too.
"This bill is born out of necessity. This will be an act of the nation in case he (Blatche) gets granted."
Gilas Pilipinas head coach Chot Reyes quickly answered those points, suggesting he is in constant communication with Blatche and his lawyers and that the NBA veteran is serious about playing for the Red, White and Blue.
"He is serious about playing here. He has given up time to be here," said Reyes, who even referenced an article from Yahoo! about Blatche signifying his intention to play for the South East Asian country.
Tupas: renounce previous citizenship
Justice Committee chairman Rep. Niel Tupas of Iloilo said a naturalization candidate should renounce his previous citizenship before acquiring a new one. But when Marcus Douthit, who was present to support the naturalization papers, was asked about his status, he said he holds dual citizenship.
That answer caused a bit of lull in the session, leading to a recess as officials discussed immigration laws.
Dual citizenship is both recognized in the United States and the Philippines.
And as far as Blatche is concerned, Reyes is confident he will embrace his new citizenship should the nation approve it.
"He will be an asset even after basketball. I'm sure he has an ongoing desire to play here and I don't see a reason for him to renounce citizenship," concluded the national team head coach.
Guiao: naturalized big is last piece in the puzzle
Pampanga Representative Yeng Guiao, who was also in attendance as his House Bill to naturalize New Zealand-born boxing referee Bruce McTavish was earlier approved, stated in his point of manifestation that in basketball, teams will normally rely on height.
And while Filipinos are well-crafted and skilled when it comes to the popular sport, Guiao says we aren't much gifted in height and the presence of a center will boost our chances.
"This is not to diminish the Filipino talent. It is a step in transition," Guiao stated, citing a naturalized big may boost the play of guys like June Mar Fajardo, Greg Slaughter and Japeth Aguilar to a point that they may not need the services of another big man in the future.
"The commitment to play for the national team already signifies desire. I have no reason to doubt Reyes and Blatche."
Guiao even joked about the 2009 Team Pilipinas which he mentored, who only landed in 8th place.
"In 2009 I was the head coach and we were not privileged to have a naturalized big. I'm not sure whether it is my coaching, but we did not do as good," said the Rain or Shine Elasto Painters head coach.
HB 3783 has gone a long way right from its first reading, but principal sponsor Puno is hopeful we can race against time for the bill's passage.
"The process of lawmaking is a lengthy process but we have to deal with it. We're tight with the schedule but having naturalized players in your pool is a big help. – Rappler.com