Manny Pacquiao and Timothy Bradley met face to face on HBO's Face Off to discuss their upcoming rematch on April 12
MANILA, Philippines – It isn't often that you'll see one man sit across a table from one of the most dangerous fighters of the past decade and tell him to his face that he is no longer the fighter he was before.
But it's that type of electric tension that makes HBO's Face Off series such an effective promotional tool for the American network's major fights. WBO welterweight titleholder Timothy Bradley and Manny Pacquiao both sat down with HBO commentator Max Kellerman to discuss their upcoming clash on April 12, examining their keys to victory while looking back at their controversial fight from 2012, which Bradley won by a split-decision.
Bradley (31-0, 12 knockouts) was there to answer questions, but it was one that he himself posed that was the most poignant moment of the six minute segment.
"Do you think it's gone, do you think it's still there?," asked Bradley to Pacquiao as he sat feet away from him. The eight-division champion Pacquiao (55-5-3, 38 KOs) could only nod unconvincingly, averting his eyes before offering, "Yes, I believe that."
Pacquiao seemed to admit that he had lost much of the hunger that had made him the sport's most popular fighters during the first decade of the millennium, when his vicious maulings of Marco Antonio Barrera, Erik Morales and Lehlohonolo Ledwaba caught the attention of the sporting world.
"I pray for that, that God gave me another fire," said Pacquiao. "I have to focus and train hard. Not like before when I underestimated him. Now I have to get back the aggressiveness."
But the Palm Springs Calif. native Bradley, who had reigned as a unified junior welterweight champion previously, believes that once the fire is out, it's gone for good.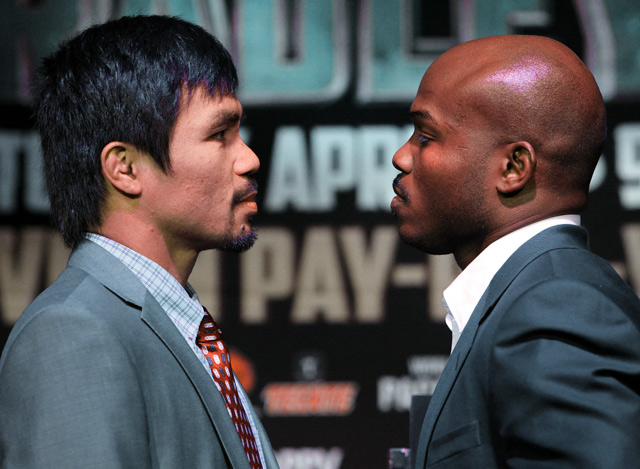 "There's nothing I can say bad about Manny," said Bradley. "The only thing is that, that hungry that he's looking for, it's no longer there. And he can't get it back, it's gone. That killer instinct.
If Bradley seems to be the hungrier fighter, it's because he still has much to prove. Of the 51 boxing media members polled after their first fight, 48 felt that Pacquiao deserved the win. Bradley's last three fights – wins over Pacquiao, Ruslan Provodnikov and Juan Manuel Marquez – were met with boos after he was announced as the victor.
"I outboxed him, he's missing the majority of the punches he's throwing at me," said Bradley, who claims he won the first fight eight rounds to four. "I continue to beat the odds every single time out. I don't understand why people don't believe in me, but I'm capable of doing anything I want to do. As long as I put my mind to it and I work hard for it, I'm going to do whatever I want to do."
Pacquiao, who was knocked out in six rounds by Marquez after the Bradley fight before returning to decision Brandon Rios in November, concedes that he still has something remaining to prove as well.
"My plan in this fight is to throw a lot of punches," said Pacquiao. "I don't care if the fight will stop or not, this time I have to prove that I can give them a good show. A hungry Manny Pacquiao, aggressiveness.
"This time I think I have to prove, especially to some other fans that are doubting my capability now in boxing. They're thinking that I'm old."
Bradley countered that he wasn't old; he was just facing the wrong fighter.
"I don't think that you're old," said Bradley. "I don't think that you're not a great fighter. You're a great fighter, you're a tremendous fighter, but I just feel that it's my time, that's all it is. I have nothing bad to say about you Manny, I just feel that it's my time.
"Manny, the only way you're going to beat me is if you're going to knock me out. If you don't knock me out Manny, you're not gonna win. I'm telling you that right now, you're not going to win."
While Bradley made consistent eye contact and seemed intent on impressing his confidence on Pacquiao, Pacquiao reacted with dismissive laughter for the most part. For his parting shot Pacquiao referred to his favorite piece of literature – The Bible – to send a subtle but firm warning to his adversary.
"My time is not yet finished yet. My time is not done yet. I can say that. One thing that I can say to the both of us and to all the fighters, those who humble himself will be exalted and those who are exalted will be humbled." – Rappler.com
Ryan Songalia is the sports editor of Rappler, a member of the Boxing Writers Association of America (BWAA) and a contributor to The Ring magazine. He can be reached at ryan@ryansongalia.com. An archive of his work can be found at ryansongalia.com. Follow him on Twitter: @RyanSongalia.
More stories on Pacquiao's training camp for the Bradley rematch
Pacquiao will KO Bradley in 5, says sparring partner Rodriguez
IN PHOTOS: Pacquiao, Fortune run at Griffith Park in LA
Roach on Bradley's no-shower policy, boxing superstitions
Introducing Pacquiao conditioning coach Cecilio Flores
Pacquiao, Roach happy with GenSan training, consider postponing LA
WATCH: Pacquiao and camp sing 'Happy Birthday' to Freddie Roach
WATCH: Rhodes speaks after sparring with Pacquiao
Aggressive Pacquiao impresses birthday boy Roach in sparring
Pacquiao spar mate Rhodes says sparring Manny has been 'Hell'