PBA writer Enzo Flojo analyzes the victories of the San Miguel Beermen and the San Mig Super Coffee Mixers on Saturday night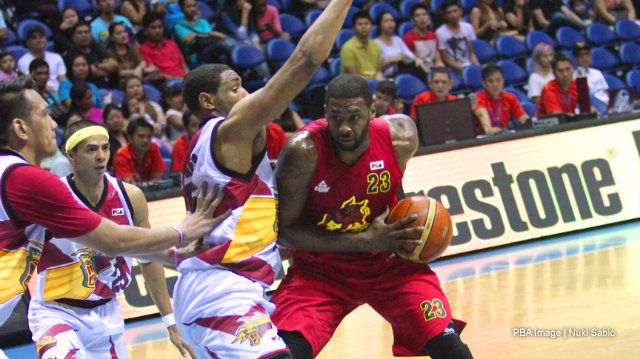 San Miguel Beer over Barako Bull, 106-100 
The Best: Backcourt duo Marcio Lassiter and Paolo Hubalde waxed hot from long range here as the Beermen improved their record to 4-1, which is good enough for third place behind idle Talk N Text and SMB's sister team, San Mig Super Coffee. Lassiter, who recently backed out of the Gilas Pilipinas pool, drilled 5 triples on his way to 19 points. He played 37 minutes in a starting role for the Beermen, while Hubalde, as usual, came off the pine to see 14 minutes of burn time. He did, however, make the most of his limited minutes, nailing 3 of 4 treys on his way to 13 markers. Almost a-point-a-minute for Hubalde? Now THAT is efficiency.
The Worst: In contrast, three key Barako starters were pretty much non-existent in this game. Starting slotman Dorian Peña, playmaker Denok Miranda and swingman JC Intal, who was recently the stuff of showbiz sites for his airport marriage proposal to TV host Bianca Gonzales, combined to score a total of 4 points. They shot 1/5 from the floor and were pretty much forgettable. In fact, if not for import Josh Dollard's 46-point explosion, the Energy Cola would have been blasted to kingdom come. Barako Bull fell to 1-4 in the win-loss ladder.
(RELATED: Josh Dollard heartbroken but still positive for Barako Bull)
Triple Double-Doubles: Aside from Lassiter and Hubalde, the Beermen enjoyed awesome contributions from their frontline, too. Import Kevin Jones, reigning MVP Arwind Santos, and Philippine Cup Best Player June Mar Fajardo all registered double-doubles to underscore SMB's dominance in the shaded area.
Santos and Fajardo scored 16 and 15 points respectively, with each grabbing 1 boards. Meanwhile, Jones showcased his versatile offensive arsenal on his way to a team-high 28 markers while also grabbing 18 rebounds, handing out 5 assists, and getting 2 steals.  
San Mig Super Coffee over Rain or Shine, 91-74
The Best: I have always believed that PJ Simon IS (note the present tense) one of the PBA's best shooting guards. He has always played behind James Yap for Purefoods/B-Meg/San Mig Coffee, but he is a guy who really makes the most of his minutes and makes big shots in key moments. It was no different here as Simon, who was named an All-Star reserve this past week, drilled in some key baskets in a pivotal third quarter run that all but broke open a hotly contested affair. Simon ended up with 16 points on 7/11 FG shooting. He started at the PG spot in this game alongside Yap while usual starter Mark Barroca played off the bench.
The Worst: Despite the win, SMC coach Tim Cone cautioned Mixers fans that import James Mays underplayed again. Sure, Mays led the team with 18 points and 15 rebounds, but the most noticeable stat from the former Sioux Falls Skyforce cager was his earning 4 fouls. Cone noted post-game how his import needs to be more consistent in terms of playing good defense without incurring fouls. This, of course, will be even more significant moving forward as the Mixers are on course for a top four seed in the knockout rounds. 
Consistently Inconsistent: On the other end of the floor, coach Yeng Guiao is probably shaking his head in disappointment and confusion. How has this team dropped from being a Philippine Cup finalist to eighth place in the team standings? The Painters have hardly shown great form this conference, and though it would be easy to blame it on the import, one must also acknowledge the fact that some of their main guys like Gabe Norwood, Jeff Chan and Beau Belga haven't been consistently playing well. Could it be the added fatigue because of their participation in Gilas practices? Could it be some residual fatigue from their games in the previous conference? Or maybe it really is import Alex McLean, who has failed to really leave an indelible mark? No matter what the reason is, coach Yeng must pinpoint it and address it sooner rather than later. – Rappler.com