If rumors that Meralco Bolts import Brian Butch is being replaced are getting to him, it didn't show in his performance against Air21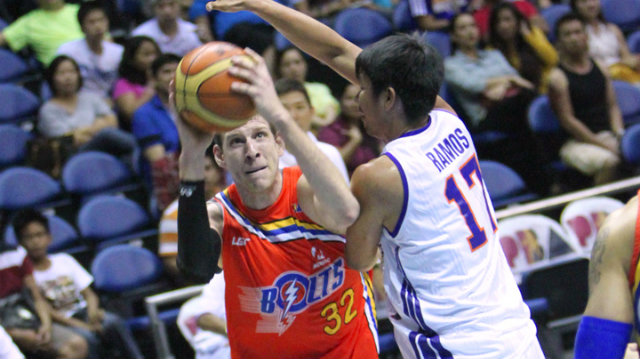 MANILA, Philippines – Pressure comes with the territory when playing as an import in the Philippine Basketball Association. Meralco Bolts import Brian Butch can attest to this better than anyone.
If rumors that the 6-foot-11, former University of Wisconsin and NBA D-League center is to be replaced by former Sacramento Kings power forward are getting to him, it isn't showing on the court.
Butch turned in a monster performance on Sunday against the Air21 Express, scoring 40 points – 21 in the fourth quarter – and grabbing a conference-high 31 rebounds to go along with three blocks as the Bolts marched back from a 20 point deficit to win 109-98 in the 2014 PBA Commissioner's Cup.
 The win improved the Bolts' slate to 3-2; more importantly, it may have saved his job. Still, Butch has resigned to fate whatever decision the front office makes on replacing him.
"I don't mind if I'll be replaced. I'll just play my best each game without being bothered. You know I'm an import, there's always pressure," Butch said after Sunday's game. "All I have to say is we need to play tough each game as a team."
Butch, who has averaged 32 points and 15 rebounds in five games this conference, credited his teammates for not giving up despite encountering a huge deficit. He considered the win to be one of the finest games he has ever played. 
"The one overriding thing all game that we had is that we all believed in each other," said Butch, who was greeted and congratulated by Meralco team owner Manny V. Pangilinan, who also owns the Bolts' sister team Talk 'N Text.
Butch bounced back after his scoring dipped to 16 points on 6-21 shooting in Friday's blowout loss to Talk 'N Text.
"We support each other and we play together as a team. I've been here for three weeks, and the chemistry we have as a team is just amazing. "That's why we won this game. We did a phenomenal job of finding ways to win this game."
Meralco head coach Ryan Gregorio was thoroughly impressed by Butch's performance. "40 and 31 performance – it's unheard of. That speaks highly of him, with so much pressure on his back, and he plays like this. It's a testament to his strong character."
When asked if Butch will still be replaced, Gregorio told reporters to give him few hours to answer, but added that Butch's was the type of performance that could make a team change it's mind, even though Jackson is already in Manila.
In the mean time, Butch isn't wasting any time on matters that are out of his hands. His focus is on Meralco's next opponent, the Rain or Shine Elasto Painters.
"That was a fantastic win for us," Butch added. "We'll enjoy it tonight and we've got to get ready for our Wednesday game. We have to keep this thing rolling like a train." – Rappler.com with reports from Josiah Felipe Ramos