Columnist Bert Ramirez addresses the task Phil Jackson has ahead of him as the new President of the New York Knicks, and the obstacles that he faces with the troubled franchise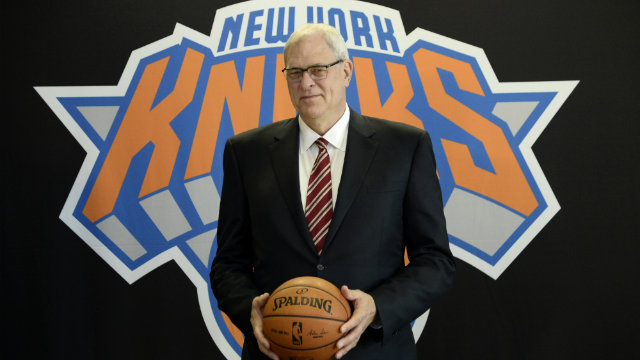 MANILA, Philippines – Quickly now, who is the only man in history to excel in all the major jobs in professional basketball – playing, coaching and managing a team so well as to be the only one to have won the ultimate award in all three categories?
If you answer Larry Bird, you can go to the head of the class right now. Bird is the only man ever to win league MVP (doing that three straight years from 1984-1986), Coach of the Year (1998) and Executive of the Year honors (2012).
But there's one other category where only three other men reside – that of those who have earned the distinction as Coach of the Year and Executive of the Year – and dwelling in this exclusive place are the legendary Boston Celtics guru Red Auerbach, current Miami Heat president Pat Riley and retired Utah Jazz coach and GM Frank Layden. If you are going to narrow that distinction down to only those who have won an NBA title, then you have to scratch off Layden, who, for all his work in drafting and coaching such guys as Karl Malone and John Stockton, never won one, thanks in part to someone named Michael Jordan, and, in part, to Phil Jackson.
Yes, just imagine a world without Jordan, Jackson and their Chicago Bulls, and the Jazz could have very well become champions in 1997 and 1998, the year they challenged these Bulls but were felled in six games both times.
Now, it's going to be Phil Jackson's turn to avoid the fate that befell Layden – and to duplicate those of Auerbach and Riley – after he signed a five-year, $60 million contract to lead the New York Knicks to the promised land as the man, in the words of team owner James Dolan, "in charge of all basketball operations."
That job description is vital, as Jackson himself said, as the flamboyant Knicks owner's commitment to "willingly and gratefully" relinquish basketball operations to the man called "Zen Master" is a basic principle they had agreed upon.  This was long before this courtship finally came into the open with Jackson's acceptance of the job that brings him back to his original place of success, New York, while playing with the likes of Willis Reed, Walt Frazier, Dave DeBusschere and Bill Bradley when the Knicks won two titles in 1970 and 1973. 
"We had this discussion, I think in January, about this particular aspect, because Jim knew that I wasn't going to come if this didn't happen," Jackson said. "There's no reason for him not to have said it; otherwise, I wouldn't be here." 
And Dolan only seemed so willing to play along, aware of the long shadow that Jackson, the winningest coach in NBA history with 11 titles, could cast over his downtrodden franchise, which, after an eight-game winning streak that raised its record to 29-40, unexpectedly lost at home this morning to lowly Cleveland and is fighting for its playoff life after winning the Atlantic Division last year with a 54-28 record.  
"This is someone who knows about winning, about the importance of a clear vision, and how to install a culture that ensures a team wins, like his team did when he played for the Knicks," Dolan said. "Today, that clear vision and winning culture have come back to New York. Regardless of our record, when you have a chance to get Phil Jackson to run your team, you do it, plain and simple."
Dolan has been heavily criticized not only for the basketball decisions that he said he was forced to make by default but for certain policies that made members of the Knicks' front office constantly looking over their backs. Dolan is said to have been the only NBA owner who has instituted a dubious media policy that required his coaches being escorted by a PR personnel anywhere they go, and has insisted on them speaking only when he allows them to.
"In Dolan's world, you don't speak until you've mastered the art of saying nothing," said ESPN's man in New York, the equally controversial Stephen A. Smith. "Ask around and what you hear includes stories of coaches huddled in the same offices, no separate ones. You hear of players and coaches whispering with one another, petrified that their phones, offices or lockers are bugged, or that their emails are being checked."
Now that Jackson has come on board, will these same policies still be in effect, assuming they're all true?  For all of Dolan's meddlesome persona, Jackson has also come to be known as a strong-willed character, one who will not put up with any nonsense, even one coming from the owner himself.
Based on Dolan's pronouncements during the press conference welcoming Jackson to his original NBA home, he'd just as soon relinquish control of the franchise as far as basketball decisions are concerned.
"The two gentlemen to my left here are the experts in basketball," Dolan quipped, referring to Jackson and Steve Mills, whom the Knicks retained as general manager. "I am by no means an expert in basketball. I'm a fan, but my expertise lies in managing companies and businesses. You know, I think I'm a little out of my element when it comes to the team… (I) found myself in a position where I needed to be more a part of the decision making for a while. It wasn't necessarily something that I wanted to do, but as the chairman of the company, I felt obligated to do."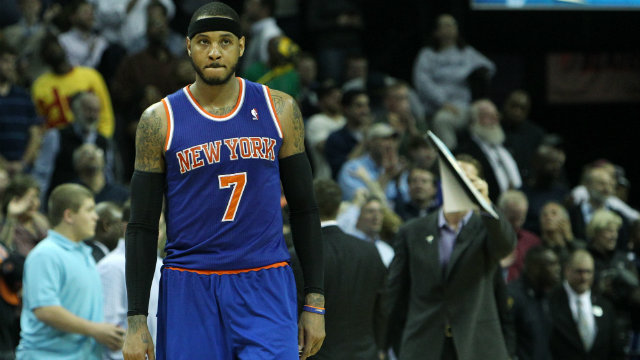 Dolan, however, appeared to be trying to deflect blame from himself, as it was common knowledge that it was he who constantly meddled in the rebuilding effort being undertaken by then-president of basketball operations Donnie Walsh, who left Indiana in 2008 to assume a similar position with the Knicks, thinking the Pacers were in good hands with his erstwhile understudy Larry Bird taking his place and after being encouraged to go to New York by no less than NBA commissioner David Stern.
It was Walsh who god rid of the contracts of the underperforming Jamal Crawford, Zach Randolph, Renaldo Balkman (the former San Miguel import in the PBA), Stephon Marbury and Jared Jeffries to create cap space in 2010, which enabled the Knicks to bring in Amare Stoudemire and Raymond Felton to lead such players as Danilo Gallinari, Al Harrington, Nate Robinson, Wilson Chandler, rookie Landry Fields and Ronny Turiaf.
Dolan, however, was not satisfied.  In February 2011, he instigated a three-team trade involving Denver and Minnesota that brought Carmelo Anthony and Chauncey Billups to the Knicks for Gallinari, Felton, Chandler, Timofey Mozgov and a 2014 first-round pick, eventually leading to Walsh's resignation after the 2011 draft, where he picked one last future piece for the team in Iman Shumpert.
But Dolan insists he is determined to leave the basketball operations now to Jackson and Mills.  "I am happy now that we have a team of Phil and Steve to do that, and my whole job now is about supporting them in winning a championship," Dolan says.  "That's a lot easier than what I've had to do in the past."
Dolan, at least for now, seems to be aware of the cachet a 13-time NBA champion (including those he won as a Knick) brings with him. "In his role as president, Phil will be in charge of all basketball decisions," Dolan declares. "Steve, as general manager, will support his efforts to build a consistently winning franchise."
Negotiations for Jackson's services and, skeptics like Smith say, somebody to blame as a scapegoat if the Knicks messed up actually started before last Christmas, when Irving Azoff, the manager of Dolan's favorite band, the Eagles, for whom Dolan's own band JD and the Straight Shot often played as the front act in its tours, arranged a meeting in Los Angeles. "We started off (with a coaching inquiry). We quickly moved on from there," Dolan said.
"Jim came to me with this opportunity of, 'Pick a position you'd like to take,'" Jackson recalled.
From there, the trio met several more times, with Dolan bringing with him Mills later to discuss strategy, philosophy and culture and how a new setup in the front office could work.
Jackson made no secret about what culture he'd want to establish with the Knicks, which will emphasize the kind of "team basketball" that enabled them to win their only titles in 1970 and 1973.  "The idea of developing a 'culture' is an overwrought word in the NBA right now, but that's the cachet, I think, that brought me here," the 68-year-old Montana native said.  He then talked about the importance of players' feeling secure of being "supported by the organization," the development of a health record where injuries are minimized as well as a mindset where focus is a capability, and, finally, installing a style of play where "balls are moved, and passes are made, and people make cuts to create open opportunities for teammates.
"I know you all know about the vaunted triangle offense, and it's been maligned in the past few years, but I believe in system basketball," Jackson stressed. "Steve Mills came out of Princeton.  I came out of a system that we ran here in New York in which team ball was an important aspect of playing, and we believe that's what we want to get accomplished as we go forward from here."
It's almost a certainty, despite Jackson's coming out to talk to current Knicks coach Mike Woodson, that the latter would eventually be replaced – probably in the offseason – by somebody who is familiar with the triangle system, and current TNT analyst Steve Kerr is the top candidate as Woodson's replacement.  In fact, Jackson would have teamed up with Kerr in Seattle had a purchase agreement moving the Sacramento Kings to the Northwestern city not fallen through.
Jackson's partiality to the triangle does not prevent him from declaring that one of his priorities is re-signing Anthony, the current franchise star and the league's No. 2 scorer with a 28-point average who's set to opt out of his contract and become a free agent after this season, despite the latter's style of play that is anathema to the system Jackson intends to install.
"There's no doubt about Carmelo being one of the top scorers in the league and maybe the best individual isolation player in the game – I have no problems with committing to saying Carmelo is in the future plans," stresses Jackson. "I think there are a number of things I see Carmelo doing as he moves forward, and I said – I think I was on record a year ago – that I think Carmelo, as great a player as he is, still has another level he can go to. Together, with the team we create, he can get there."
Anthony, for his part, has expressed a willingness to alter his game, saying he was "blessed and honored to hear" that Jackson wants him to be part of the Knicks' future, and that he plans to "rely on him, talk to him, use him as a mentor" while also calling the former Chicago and LA Lakers coach "a genius" and "a basketball guru."
Melo's own enthusiasm, however, might also depend on how Jackson will revamp the Knicks and bring them closer to a championship. That would include opening up cap space for a payroll that would reach more than $91.2 million next season, which would surpass cross-city rival Brooklyn as the highest in the league, without even factoring in a raise in Anthony's new contract, assuming he re-ups with New York.
Stoudemire is due $23.4 million more under his old contract, the oft-injured Tyson Chandler, another expensive acquisition by Dolan, has one year remaining at $14.6 million, Andrea Bargnani $12 million, and J.R. Smith nearly $6 million plus another year's option at $6.4 million.
Any of these players would have to be unloaded through a trade or buyout, or even released using the stretch provision of the 2011 collective bargaining agreement where one's entire salary is paid over twice the length of the remaining contract, plus one season, to minimize the hit it would have on the team's cap. 
It's all too possible, however, that Dolan and the Knicks might give Jackson no limitation whatsoever in terms of spending if it would mean assembling the best possible squad, particularly as how the team will eventually look can influence Melo's decision to re-sign, and the summer of 2015 – when such free agents as Kevin Love, Roy Hibbert, LaMarcus Aldridge and Brook Lopez as well as Miami's LeBron James, Dwyane Wade and Chris Bosh will all be available – will free up tremendous cap space for the Knicks anyway with Amare's, Chandler's and Bargnani's deals coming off the books. 
And Jackson doesn't even have to wait that long to bring a prospective partner for Anthony now.  The Lakers' Pau Gasol, for example, has an expiring contract this offseason, and he would represent a decided upgrade for the Knicks' frontline even if he turns 34 in July.  Gasol loves Jackson as much as he hates current coach Mike D'Antoni, and he could be a good short- to medium-term proposition as the Knicks transition into a new era.
How Jackson plays his cards will define this era one way or the other. 
"As we go forward, we have a great chance and a great opportunity," Jackson told the media upon his introduction as the Knicks' new boss.  "This is the best place to play basketball."
This, of course, can only be true again if the Zen Master lives up to the hype, and joins Auerbach and Riley in that exclusive pantheon of great coaches and great executives by winning an NBA title.
SHORTSHOTS: Philadelphia's franchise record in futility continued when the 76ers lost in Chicago 91-81 last March 22 to extend their losing string to 24 games, the second-longest in history next only to Cleveland's 26 set in 2010-11.  Next up for the Sixers: San Antonio and Houston… How good a coach Gregg Popovich is was again demonstrated over the weekend when San Antonio, with Tim Duncan and Manu Ginobili sitting out the game to rest, beat a Golden State club with only Andre Iguodala missing 99-90 on the road… Marcus Thornton has provided Brooklyn a lift, averaging 11.9 points to help the Nets to 13 wins in their last 17 games after coming from Sacramento in a trade last February.  The Nets are just a game behind Chicago for the fourth playoff slot in the East and homecourt advantage. – Rappler.com 
Bert A. Ramirez has been a freelance sportswriter/columnist since the '80s, writing mostly about the NBA and once serving as consultant and editor for Tower Sports Magazine, the longest-running locally published NBA magazine, from 1999 to 2008.  He has also written columns and articles for such publications as Malaya, Sports Digest, Winners Sports Weekly, Pro Guide, Sports Weekly, Sports Flash, Sports World, Basketball Weekly and the FIBA's International Basketball, and currently writes a fortnightly column for QC Life and a weekly blog for BostonSports Desk.  A former corporate manager, Bert has breathed, drunk and slept sports most of his life.