If the Philippines is a hoops-crazy country, then why doesn't it have a women's league? Basketball writer Levi Verora explores the possibility of giving ladies a league of their own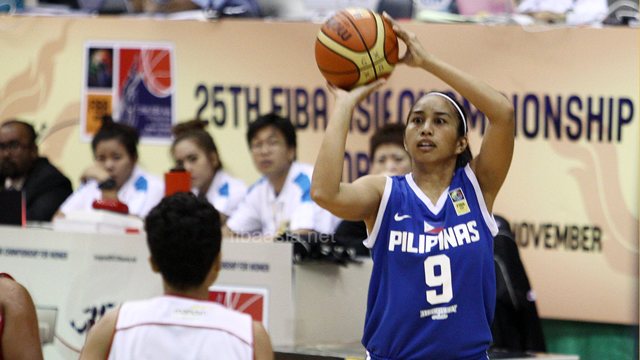 MANILA, Philippines – Is the Philippines' obsession with basketball exclusive to men's hoops, or is there a place for the women's game. 
The South East Asian archipelago is hailed as a basketball-crazy country. We have seen how thousands of rabid fans chant "Gi-ne-bra!" or "Pu-so!" over the years in support of their favorite teams. We were witnesses to historic rivalries and clashes, like the fabled Crispa-Toyota wars of the 70s and the endless battle between Ateneo-La Salle.
People endure the scorching heat and long lines as they line up, call ticketing offices, and sometimes even purchase from scalpers just to be among the thousands who'll see James Yap, Mark Caguioa or Marc Pingris represent their domestic teams.
Our gentlemen have braved international competition, putting the Philippines on the world map of basketball; we're the highest-placed Asian country in Olympics history, and we have been to the World Championships numerous times with greats like Chito Loyzaga, Robert Jaworski, Allan Caidic, Ramon Fernandez, Jimmy Mariano, and most recently Jimmy Alapag, Jayson Castro, and Marcus Douthit.
Let's simplify it this way: as far as basketball in concerned, our accomplishments are skyrocketing.
There's the PBA, D-League, UAAP, NCAA, Filoil Cup, and an endless list of leagues nationwide. In every corner of the country, you'll find makeshift basketball courts as youngsters or tambays mimic the moves of their favorite stars, imagining they're playing in front of a packed arena. 
Tricycle terminals, karinderias, and other places stop as they witness the Manila Clasico or the FIBA Asia Championship. All you need is a cheap rubber basketball to find yourself hooked on the nation's collective passion.
But for women aspiring to be the next basketball stars, it seems the Philippines isn't the place for them to get a big break. 
No love for women's basketball? 
Let's face it: more people would rather watch the local inter-color barangay leagues than attend a visit by WNBA star Candace Parker. That's the status quo in Philippine basketball.
Cassandra Tioseco and Melissa Jacob are part of the latest national women's basketball team, the Perlas Pilipinas. Backed by Discovery Suites, the national team is their only exposure past the collegiate ranks, where there are a few leagues like the WNCAA, Filoil Premier Cup, and Fr. Martin's Cup aside from their 'mother leagues.'
Tioseco, a two-time UAAP Most Valuable Player, has played in three South East Asian Games already, winning two silvers and a bronze. She says it was her biggest disappointment that there are no pro leagues in the country for women to showcase their talents and skills past the amateur ranks.
"It's one of my biggest frustrations as a female athlete. I feel like the right term is a country crazy for men's basketball rather than a basketball-crazy country," the Perlas Pilipinas mainstay said.
"If it was the sport people were crazy about, then I would expect an equal opportunity for a women's league which sadly isn't the case."
Jacob shares the same frustration.
"I think it's sad that there isn't a women's basketball league, but I think our team has done a good job promoting the sport by our results as well as our grassroots efforts," she told Rappler. "Hopefully sometime in the near future a sustainable women's league will come to life."
Jacob spent her college years in the United States before looking for career options in Europe. She ended up donning the Pilipinas uniform. Sadly, that is the only exposure she could get.
"I don't think I was good enough to make the WNBA realistically speaking. It's really tight talent-wise, with limited spots. I had tried to go play in Europe instead. There are more options; each country has their own league with up to 3-4 divisions but nothing ever pushed through," said the 30-year-old Fil-American.
Camille Sambile meanwhile, the newly-minted UAAP co-Athlete of the Year, chose basketball, having been influenced by her family friends who are also indulged in the sport.
"I chose basketball because I always had the passion for this sport since I was a child. The competition has been very challenging," she said.
She says playing women's basketball is like a war that keeps her going.
"I have met players that have more skills and this has given me the push I need in order to work harder and strive for excellence," said the Far Eastern University Lady Tamaraw.
After college, where to?
The Gilas Pilipinas program, which started in late 2008, jumpstarted a world of growth for the men's national basketball team; it not only put us back on the map of basketball in Asia and in the rest of the world, but also earned us the respect of many basketball patrons worldwide.
Prior to our Smart Gilas Pilipinas program, the nation ranked 53 in the world, but with the help of Serbian mentor Rajko Toroman and multi-titled head coach Chot Reyes, a competitive group made great strides in the last two FIBA Asia Championships (2011 in Wuhan, 2013 in Manila). We have leap-frogged to 34 in just four years, just a few places below countries like Dominican Republic, Mexico, and Venezuela.
(READ: Chot Reyes and a legacy of winning)
In the South East Asian basketball scene, the Philippines is the undisputed king. Our ASEAN neighbors are no match for us as we consistently waylay our opposition by a good 30 points or more.
Sponsorship, support, and attention are all there when it comes to men's basketball, a stark contrast to what the women's basketball squads are experiencing right now.
After collegiate leagues like the Fr. Martin's Cup, Filoil Premier Cup, and the respective school tournaments, there are no competitions that harness the potential of players who would like to continue playing basketball.
Worse, we cannot even dominate international opposition.
Thailand, the reigning back-to-back South East Asian Games gold medal holders, is ranked 43 in the world; Malaysia is two places higher at 41, while Indonesia is a few spots above us at 55. We are currently tied with Hong Kong at 58th.
Thailand hosted the recent 2013 FIBA Asia Championship for women, where they were cheered rabidly by their home crowd. Thailand and Malaysia already graduated to Level I competition with perennial powerhouses China, Korea, Japan, and Chinese Taipei, while the Philippines has been stuck in Level II for quite a while.
Thailand and Malaysia particularly, all have pro basketball leagues for women. The Thai league started in 2012 and has since drawn effective results as Thailand topped the SEABA tournament for women. International players are also suiting up for their league, including Indian national hoops star Geethu Anna Jose.
India, who lost to Thailand for the Level II demotion in the FIBA Asia joust, also has a national basketball tournament which has 23 teams.
In Australia, women's hoops has eclipse men's in international success. The female national team, called the Opals, are ranked No. 2 in the world, having won medals in the Olympics and World Championships while their counterparts, the No. 9-ranked men's squad, have not yet bagged a medal in these events despite qualifying several times.
Although the Perlas Pilipinas basketball squad has been getting better support lately compared to the last decade, this is no match for the exposure and appreciation men's basketball has been enjoying.
Limited options
Jacob says some of her teammates have had to take day jobs, given the limited options there are for women's hoops. She says it would be great for others have a a full-time hoops career should the Phippines usher in a new league for women.
"(My teammate) works part time on the days we don't have practice. Of course, if we could get the support, a women's league would be great. It would give a chance for those in college to continue playing a sport they love," she quipped.
"It would give a chance to those who are on the RP team now to play and get games in as opposed to just training."
Meanwhile, many of Tioseco's colleagues are in med school; others take law while the rest work for local and international companies here and abroad. But Tioseco felt that if there were better opportunities for women's basketball, some might have went pro.
"Because of our education, we are fortunate to have other opportunities outside of basketball. If there were better opportunities, some might have considered going pro even for just a while but the reality is that other than the national team, there's really not much out there," said the former Ateneo Lady Eagle. 
(READ: Perlas Pilipinas clobbers Myanmar, bags silver at SEAG 2013)
Will there ever be a women's league for good? 
The Women's Philippine Basketball League is the closest the Philippines has come to having a women's basketball league in the country. It started in 1998 but lasted for just two years; then PBL commissioner Chino Trinidad tried to revive the WPBL in the 2008-2009 season, where it drew support from 11 teams. However, it crippled down after a year.
"There is the WNCAA and that's about it. Women's basketball in this hoops-crazy country will always be second to men's because we don't have much support or patrons willing to support women's hoops," the sports reporter said.
Trinidad added while he tried to put all his efforts to revive the women's side of the league, team owners' interest just went down the drain, thus ending the WPBL.
Who will be interested?
Having our own commercial, semi-pro, or even pro basketball league for women here, Tioseco says, will definitely boost our competitiveness in international battles. Tioseco shared that the Perlas Pilipinas trains regularly and have occasional tune-ups with men's teams or UAAP squads; however, this is certainly not enough if they wish to become successful overseas.
"I definitely think a semi-pro league would help boost our level of play. As a national athlete, we train for 2 years without any leagues. I feel there's an imbalance of competition when we only do scrimmages as opposed to competing in an actual league," said Tioseco. 
She added: "Our SEAG counterparts have on-going professional leagues which keep them in top competitive shape all year long; for many of them, you can see how they develop as players over time through their exposure to actual leagues and games. Studying something over and over without the opportunities to apply it just isn't the same."
The PBA, who are already working on a possible expansion with the interest of three teams (Blackwater, KIA, NLEX), may also explore the possibility of including a women's league, according to current chairman Ramon Segismundo of the Meralco Bolts.
(READ: The Road to PBA Expansion)
In a text message to Rappler.com, Segismundo said "I am open to it." He added he may discuss the matter to the PBA board on Thursday, March 27.
Segismundo says the inclusion of a women's tournament will definitely boost the competitiveness of the country especially in international meets, like the FIBA Asia Championship, Asian Games, and South East Asian Games. 
"Having a women's basketball (league) is diversity and inclusion in action; it's not only for men," Segismundo added.
"(We should) show what other basketball powers do. In Australia, women's (basketball) eclipses men's."
A suggestion
For a humble start, my suggestion is to put up a four or six-team developmental league that goes hand in hand with the PBA D-League. In the current set-up, three matches are played per game date in the PBADL. 
Maybe, officials can add one women's match per game date. They don't necessarily have to be televised. Later, adding a "game of the week" as an appetizer to PBA games (making one game date a triple-header) may also be pursued to boost its exposure.
Another way to jumpstart interest would be hosting an international meet, like the SEABA championship or FIBA Asia Championship. That way, people will most probably support our nation as they battle tough opponents.
Little by little, people should be able to know more about the women's spectrum of hoops and realize its importance.
I remember watching the final season of the WPBL in an oven-hot Lyceum Gym, with teams playing their hearts out with the same dose of physicality, hustle, and competition. I've also seen the UP-FEU exhibition match that preceded a Powerade Pilipinas-Australia tune-up back in 2009.
Who knows, eventually women's hoops may finally make its mark in the Philippines. If this is really a basketball-crazy nation, then everyone should be part of the picture. – Rappler.com
Levi Verora writes PH hoops for Rappler.com. He has covered the PBA, UAAP, NCAA, Filoil Cup, and FIBA Asia 2013, among many leagues nationwide. His women's basketball idols are Diana Taurasi of the Phoenix Mercury, Seimone Augustus and Maya Moore of the Minnesota Lynx, Candace Parker of the Los Angeles Sparks, and Fille Cainglet of the UP Lady Maroons. Follow him on Twitter: @levijoshua