Timothy Bradley says he is motivated to prove fans and media wrong about his first clash with Manny Pacquiao, when most felt he didn't deserve the victory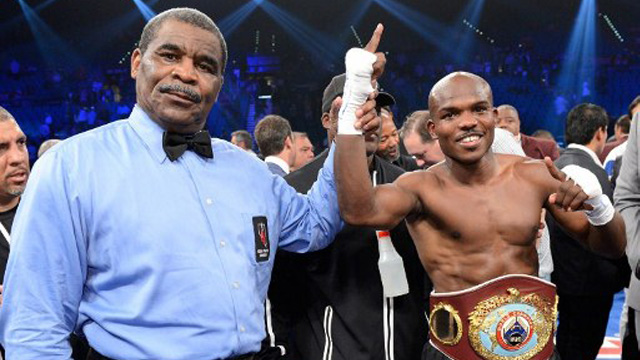 MANILA, Philippines- Victory comes in many shapes, forms and sizes. In certain aspects, winning, just as respect, may come even in the face of defeat. When Timothy Bradley beat Manny Pacquaio via controversial split decision in 2012, Bradley felt the backend of that principle, and the backlash he took was worse than he could imagine, even receiving death threats along the way.
On April 12, WBO welterweight titleholder Timothy Bradley (31-0, 12 knockouts) will finally have a chance to redeem himself and prove his victory against Manny Pacquiao (55-5-2, 38 KOs) was no fluke. Coming from two of his best career wins against Ruslan Provodnikov and Juan Manuel Marquez, Bradley said that the number of people coming to him about the Pacquiao fight controversy has died down and he is now focused on winning the rematch decisively.
"Training camp is going great. I have had a sensational training camp so far and I am going to finish up pretty soon and the fight is on, man, I can't wait," said Bradley. 
"I am a different fighter now. A different beast – a different animal this time around and I am going to prove to the fans and everybody watching. I got the win but it felt like I lost because I didn't get any credit from the fans and it's important to get the credit from the fans. I feel I need to showcase myself and win by a large margin."
Bradley said he will be 100% ready coming into this fight, dismissing any health concerns that he may have acquired from the punishment he took from Provodnikov fight, where he was dropped twice. "There is nothing to be concerned about regarding my health right now. I am 110% right now. There is not a fighter that goes into the ring that is not 110%" said Bradley, who suffered a leg injury in his first fight with Pacquiao.  
Bradley's long-time trainer Joel Diaz verbalized their plan to ruin the party as he sees the odds are against them. "I'll be honest with you, everyone is going to WIld Card to see how Manny Pacquiao has been training great and 'he is in great shape and great preparation,' but nobody comes around to Tim Bradley's gym to see how he is doing," said Diaz. "I know that Tim has all of the weapons packed up and ready to go for the fight. I know if Tim needs to go inside and brawl he is going to do it. If he needs to outbox Pacquiao he is going to do it. We are ready for everything, we are leaving nothing behind. I am going to be watching very carefully in the corner and if he listens to my instructions, he will be fine."
Diaz shares the same insight as Bradley, feeling that the Marquez knockout loss left a mark on Pacquiao and that he may have not that killer instinct anymore. Pacquiao, who has lost 2 of his last 3 fights, has not stopped an opponent out since 2009. "Every fight will leave a mark on your career. When Marquez knocked him out that really left a mark on his career. We saw a lot of differences in Manny Pacquiao," told Diaz. "He had an opponent in front of him that he could hit, even with his eyes closed and couldn't finish him. According to him, he was compassionate and he didn't want to finish him and that was very surprising."
Bradley also had to something to say in regards to this matter. "Well, when was the last time you saw him knock somebody out? It's been a long time. Then he had a guy sitting in front of him, he was a tough guy, Brandon Rios, I have a lot of respect for, but he was right there in front of him and he couldn't get rid of him. He is supposed to be one of the vicious punchers in the game. I have never seen Manny Pacquiao take a step back before – I think it was the last round of the Rios fight and he had Rios trapped in the corner and you saw Manny take his foot off the gas pedal and it was unbelievable to me."
Contrary to in their first fight, many writers and experts are now picking Bradley to win the rematch. Joel Diaz simply feels that Pacquiao is at the end of his Hall of Fame career while Bradley is beginning to peak as a professional. "He has fought the best fighters out there. Now they see that he is diminished. And after the knockout in his last fight with Marquez they saw a downfall in him," said Diaz. "Bradley went to war with Provodnikov, a heavy hitter, by far the heaviest hitter he has ever fought and went into the fight and beat Ruslan and came back and beat Juan Manuel Marquez at his own craft. I think they are putting the numbers together."
The 30-year-old Bradley feels he's ready for whatever Pacquiao brings to the table. Though he won't disclose their game plan for the fight, he hinted that outboxing Pacquaio will be key to victory. "The one thing I have learned is to not be reckless and not get away from the game plan and listen to my corner, so that won't happen in this one," said Bradley. "Everybody is going to have to tune in to see which Timothy Bradley is going to show up. Everyone knows what Manny Pacquiao is going to do. He is going to try to bring the fight to me and I am just going to show everyone it is not going to work." 
Even with all the confidence in the world, Bradley realizes that boxing is an unforgiving sport where a single punch can end a fight and anything may happen. "This next fight, I may lose this Manny Pacquiao fight, but you never know. Things happen in the ring when you least expect it. It only takes one punch to end the night and we know that."
"At the end of the day all I can do is my job and that's it. I can't worry about judges, can't be worried about what it this and what is that. That's not my job to worry about any of that. I am going to beat him decisively this time. No questions asked. I want it to be to a point where nobody can say 'who you got?'  No I want everyone to be able to say 'Bradley won the fight.' That's it." – Rappler.com
Pacquiao says Bradley's taunts motivate, not intimidate him
WATCH: Bradley questions Pacquiao's hunger in HBO Face Off confrontation
Pacquiao will KO Bradley in 5, says sparring partner Rodriguez
IN PHOTOS: Pacquiao, Fortune run at Griffith Park in LA
Roach on Bradley's no-shower policy, boxing superstitions
Introducing Pacquiao conditioning coach Cecilio Flores
Pacquiao, Roach happy with GenSan training, consider postponing LA
WATCH: Pacquiao and camp sing 'Happy Birthday' to Freddie Roach
WATCH: Rhodes speaks after sparring with Pacquiao
Aggressive Pacquiao impresses birthday boy Roach in sparring
Pacquiao spar mate Rhodes says sparring Manny has been 'Hell'