Basketball writer Enzo Flojo takes a look at tomorrow's basketball stars and their performances at the SLAM Rising Stars Classic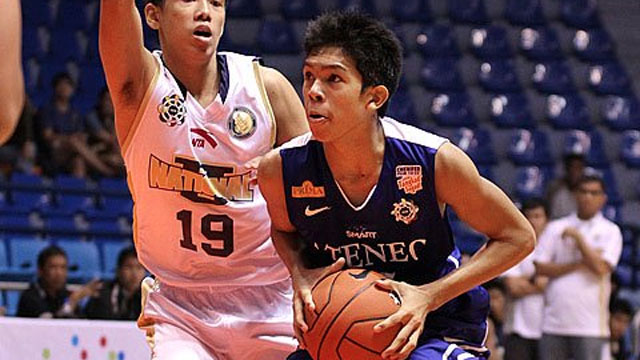 MANILA, Philippines – At the close of the first ever SLAM Rising Stars Classic yesterday at the Gatorade Hoops Center in Mandaluyong City, Team Hype stood tall as the victors over Team Punk, 93-90. NU Bullpups star point guard Hubert Cani was adjudged the game's MVP, scoring 19 points on top of 2 rebounds, 2 assists, and 2 steals.  
An unmistakably playground feel permeated throughout the pioneering event, which reminded those who were present of the McDonald's All-American Classic in the United States. Brought to the public by SLAM Philippines, Cherifer PGM and Titan, the first-ever Rising Stars Classic featured the best high school talents in the metropolis. Of the 22 high school hoopsters who came out to play, 10 were from the UAAP, 8 were from the NCAA, 3 were form Hope Christian HS, and 1 was from Reedley International School. Two guys — Rhanzel Yong and Michael Calisaan, both of San Sebastian College — missed the event as they attended their graduation rites. Nearly all the players are on their way to college for the upcoming UAAP and NCAA wars. Only the Nieto twins — Mike and Matt — are still going to be in high school next season as they will play out their final Juniors year with the Ateneo Blue Eaglets. 
The Gatorade Hoops Center was actually bursting at the seams with hardcore hoop nuts who were interested to witness the some of the country's best young talent go at it. Of all the 22 players, though, the following definitely stood out:
Thirdy Ravena (Ateneo HS & Team Punk): The younger brother of Kiefer Ravena has slowly made a name for himself in the high school hoops circuit the past few years. He first made the Blue Eaglets' roster in his sophomore year as a lanky, if awkward, wingman. Lately, however, he has been one of the most dominant and watchable kids out there. Many have seen how his size and athleticism are reminiscent of his father's (famed former pro Bong Ravena) own skill-set, and all that was on full display here.
Ravena was the brightest star for Team Punk, as he almost single-handedly led their furious fourth quarter rally that saw Team Hype's double-digit lead dwindle and eventually disappear. Ravena was relentless, going hard to the hole at almost every opportunity. Among the highlights was an awesome rim-rocker of a stick-back that had almost everyone in the Hoops Center jump to his/her feet.
The future Ateneo Blue Eagle also hit a crucial three with just a few seconds to go that trimmed a 4-point deficit to just one and put a bit of a scare in Team Hype. In the end, though, Ravena's game-winning attempt in the waning moments failed as he lost the ball while attempting to split two Hype defenders. Many of the people on-hand were in awe of his physical gifts, and he is surely one to watch in the upcoming 77th season of the UAAP. With other fellow blue chip rookies in tow, it will be really interesting to see how Thirdy combines with veterans like Von Pessumal, Chris Newsome, and his own kuya, Kiefer, in the Seniors.
Rashleigh Prince Rivero (LSGH & Team Hype): Rivero, generously listed at 6-foot-3, is one of the big reasons DLSU fans are excited to see their champion team in the upcoming summer leagues and UAAP wars. He actually started his Juniors career at National University, winning the Season 74 UAAP Juniors crown under coach Jeff Napa, before moving to LSGH in the NCAA. Along with Kobe Paras, who has since moved to California to play for Cathedral HS, Rivero was the prime mover behind the Junior Blazers' march to the NCAA Juniors Finals this past season, losing to perennial title favorite San Beda. In this game, however, Rivero didn't fall short, as he was the force that anchored Team Hype's interior attack. Despite being a little undersized against Team Punk's own frontline, which was bannered by John Apacible (HCHS), Jay Javelosa (Reedley), and Javee Mocon (SBC), all of whom are listed at 6'4 or taller, Rivero more than held his own. Utilizing his shiftiness and superb footwork, Rivero was able to get to his sweet spots around the basket and, more importantly, finish effectively. He ended up with 13 markers. He is expected to play off the bench for DLSU in Season 77, as the defending champions still have a platoon of big men at their disposal, led by Season 76 revelation Jason Perkins and the twin tower duo of Arnold Van Opstal and Norbert Torres.
Jan Hubert Cani (NU & Team Hype): Cani, who was a member of Energen Team Pilipinas from 2011 to 2012, has made some headlines of late with his rumored decision to "move" from the juniors program of National University to the seniors team of Ateneo De Manila University. If this turns out to be true, then Cani will have to sit out as many as two years before he gets to play for the Blue & White in the UAAP, unless, of course, sense and sensibility grace the powers-that-be to rescind that controversial (read: preposterous) high-school-to-college residency rule.
Nevertheless, Cani seemed undaunted and unworried in the Rising Stars Classic, defying his relatively portly build with his sudden bursts of speed, sublime shooting, and sharp decision-making. The UAAP Season 76 Juniors Finals MVP picked his spots well, sniping from midrange and even from beyond the arc. He also showcased impeccable timing on his drives, using his agility to cut through Team Punk's defensive seams and make difficult lay-ups look quite easy. Oh, and he also drilled a pair of key free throws that broke an 87-all deadlock and gave Team Hype some much-needed breathing room in the final minute.
No matter where he decides to go in college (Will he play with erstwhile teammate JP Cauilan and former Red Cub Rev Diputado in NU, or with Ravena, SBC star center Arvin Tolentino, and other blue chippers in Ateneo?), one thing is crystal clear — the future looks really bright for this young playmaker and the rest of Philippine basketball's rising stars. – Rappler.com