The Senate Committee on Justice and Human Rights has approved Bill 2108 which seeks to grant Filipino citizenship to Andray Blatche, clearing another hurdle for the NBA player to join Gilas Pilipinas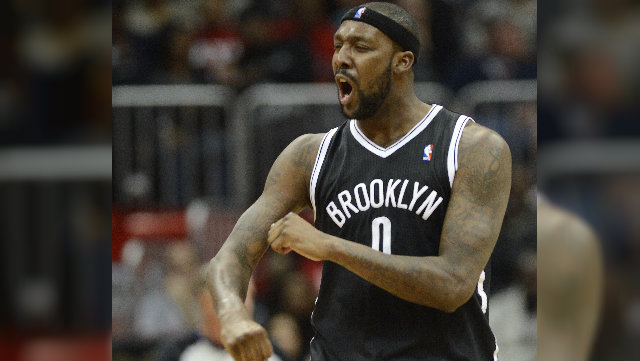 MANILA, Philippines – The Senate Committee on Justice and Human Rights has approved Senate Bill 2108 which seeks to grant Filipino citizenship to American basketball player Andray Blatche on Tuesday, April 1, bringing the Smart Gilas team one step closer to obtaining the big man they need to compete on the world stage.
Without any objections, the Senate version of Blatche's naturalization bill sponsored by Senator Edgardo 'Sonny' Angara has been approved while Committee Chairman Senator Aquilino 'Koko' Pimentel shall ask a sub-committee report on Blatche's desire to play for the country.
Both Gilas Pilipinas head coach Chot Reyes and current naturalized big man Marcus Douthit believes it will be a doable task since both have talked to Blatche, who plays for the National Basketball Association's Brooklyn Nets.
"In our first conversation (with Blatche) I asked him if he really wants to do this," recalled Reyes. "He knows that he has to give up the (NBA) offseason and practice (for Gilas).
"My job is to give our team the best representation. We want to play the right way. I don't think there is another NBA player as willing as Blatche; I feel he'll boost our chances."
The Senate Bill will undergo two more levels in the Senate; if passed, it will be compiled with House Bill 4084 – the congressional version of Blatche's naturalization bill – before being submitted for President Benigno 'Noynoy' Aquino's signature
No cheating 
Angara said that bringing in Blatche is a necessity, as all of the teams in Group B of the upcoming FIBA World Cup, save for Argentina, will parade naturalized players. FIBA rules dictate that every nation is allowed one naturalized player.
"We are just playing by the rules," said Samahang Basketbol ng Pilipinas' Renauld 'Sonny' Barrios.
Angara added: "A naturalized citizen enjoys rights and privileges. He is a Filipino citizen." 
(RELATED: Desire vs necessity: Solons weigh in on Blatche naturalization bill)
The FIBA has given until June 30 for 24 competing squads to submit their 24-man rosters in the World Cup of Basketball slated from August 30 to September 14 in Spain.
Naturalized big boosts locals' talents
Gilas Pilipinas head coach Chot Reyes also answered questions from opposing parties who think a naturalized big man will take away a slot from the local athletes. 
Reyes cited the 'Douthit effect' as an example, stating Marcus Douthit's invaluable contribution on and off the court.
"Fajardo played very little in the 2013 FIBA Asia Championship but he played with Douthit in practice. Douthit is our big man skills coach," he said. 
Douthit, who was naturalized in 2011, played in two FIBA Asia Championships where the Philippines finished 4th (2011) and 2nd (2013). 
Reyes shared that the former Los Angeles Laker played a key role in boosting the skills of fellow bigs Greg Slaughter, Japeth Aguilar, and June Mar Fajardo.
Slaughter was the number 1 overall pick in the 2013 PBA Draft; Agyilar started to pile career-high averages for Ginebra this season, and Fajardo won the 2013-2014 PBA Philippine Cup Best Player of the Conference award. – Rappler.com