Chris Ellis will look to win back-to-back PBA slam dunk championships this weekend, but can he upstage his own performance from last year?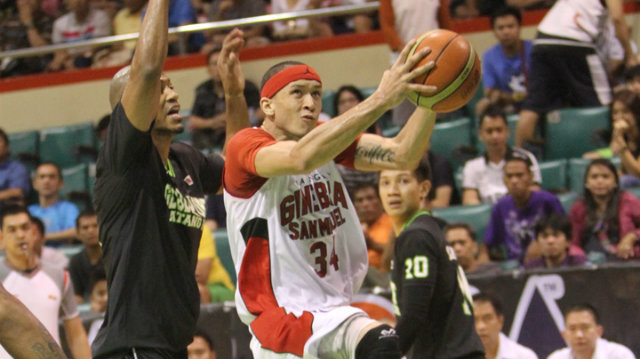 MANILA, Philippines – The competition may be stiff but Chris Ellis still has a few tricks left up his sleeve. 
The reigning slam dunk champion from Barangay Ginebra San Miguel vows that he will not give up his crown without a fight in the 2014 PBA All-Star weekend. 
"I got a couple up my sleeve, a couple of aces," said the high flying 6-foot-5 shooting guard. Though he says we'll have to wait to see what those ace cards are.
"I was practicing all last night and I'll just get out there and do what I gotta do."
He added: "It's all gonna be on the spot. It depends on what the other guys are doing. I know a lot of guys got a lot of things on their repertoire. But I'm just gonna try and come out and put down something for sure."
Ellis, who won last year's competition as a rookie, will be going up against current rookies Alex Nuyles (Rain or Shine) and another high flyer in the 5-foot-9 Justin Melton (San Mig Super Coffee).
Melton is arguably among the biggest threats to Ellis due to his height. But Ellis knows he can't understate him. 
"You can never doubt the small guy just because he's small."
Another major source of competition is Ginebra teammate Japeth Aguilar. 
The familiarity with the 6-foot-10 Aguilar from practicing every day with him may be an advantage for Ellis. 
"Japeth always has some creativeness," Ellis said of his teammate. "He's able to just do things because he's so athletic. He could just put things together. It just depends on if he has his timing."  
And while Ellis has some aces to unveil during the competition, Aguilar is likewise cooking up some tricks to impress the judges and the crowd. 
"I'm gonna try to give the fans a good show," said the athletic forward. "May mga naiisip na akong mga dunks pero hindi ko pa siya na-practice eh. So I need to get my timing pa." (I've thought of some ideas for dunks already but I haven't practiced them. So I still need to get my timing.) 
Asked how he feels battling the defending champion, Aguilar says he understands the need to be more creative and deliver fresh ideas to the table. 
"Alam ko he's gonna be a tough opponent. And he really could jump. Tapos yung height niya pa, he's shorter than me so mas advantage yun sa judges," he explained. "Plus yung mga tricks ginawa na niya last year, so it will be tough to be creative." (I know he's gonna be a tough opponent. And he really can jump. And his height, he's shorter than me so he has the advantage with the judges. Plus he did a lot of tricks last year, so it will be tough to be creative.) 
Other participants in the slam dunk competition include Calvin Abueva (Alaska), Arwind Santos (San Miguel Beermen), Rey Guevarra (Meralco Bolts), and Cliff Hodge (Meralco Bolts).
The slam dunk competition is part of the 2014 PBA All Star Weekend festivities and will take place on Friday, April 4 at 5:30 PM at the Mall of Asia Arena in Pasay City.  
This year's All Star Weekend is from April 4 to 6. – Rappler.com