They come from the most vulnerable segments of society, but the Philippine girls' team has captured the hearts of their nation heading into the finals of the Street Child World Cup
MANILA, Philippines – Three of them had worked in the garbage industry of Payatas as young children, scavenging through trash to support their family. One was born in a cemetery. Many had lost a parent while several have lost both. One was left homeless after her family's home burned down and had spent nights sleeping on the street.
They are Team Philippines, the group that has risen from extreme life difficulties to take the Street Child World Cup in Rio de Janeiro, Brazil by storm. In its second installment, the World Cup pits over 200 youngsters from 19 countries around the world as the premier football tournament for underprivileged youth.
While the boys squad fell short to Pakistan in the quarters, the girls team is gearing up for the finals against host country Brazil, which takes place Sunday, April 6 at 11 p.m. PH time.
The squads, comprised of 9 per team of kids ranging from ages 13-18, represent the most vulnerable segment of the population. Though their stories are diverse and life circumstances vary, they are bound together by one common battle cry: "I am somebody!"
"Each of them have their own story. It's a very mixed group, and that's great because it represents the different kind of street children and child laborers in the country," Roy Moore, coach of Team Philippines, tells Rappler. 
(RELATED: Filipino youth will make their names at Street Child World Cup)
The girls' squad, which is the only one from Asia, has torn through their competition so far, beginning with a 9-0 rout of South Africa on April 1, followed by a 6-0 victory over England. Their 1-0 victory over Mozambique on Saturday earned them a spot in the finals.
"It should be a really good game," said Moore. "Brazil are a strong side and it's probably quite even. I don't think there's a favorite for the game now, so it will hopefully be the best game of the whole of the girls division in the Street Child World Cup."
Beginnings
Moore remembers well how a basketball-crazy nation suddenly became engulfed in football. It was right after the Azkals – as the rag-tag Philippine men's national football team is known – reached the semifinals of the Suzuki Cup in late 2010. The squad, comprised of handsome footballers from around the Filipino diaspora, had captivated the nation, if only for a moment in time.
Moore, a native of Lancashire, England, was in the Philippines doing volunteer work for the Asian Students' Christian Foundation. His area of assignment was Payatas in Quezon City, an impoverished community notorious as the site of the nation's largest garbage dump.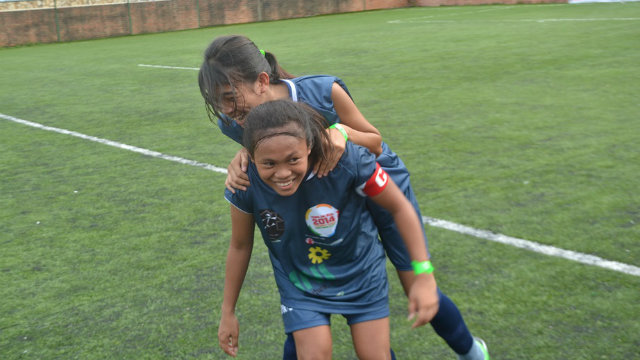 Many of the area's locals had become interested in football, prompting Moore to initiate Payatas FC as a way to connect with the population.
When Moore held his first practice on a barangay basketball court, 80 children from around the area joined him for the tutorial. He knew he had something special going. That prompted him to form the Fairplay for All Foundation in 2011 alongside Naomi Tomlinson.
"Everything else has grown pretty organically since then," said Moore.
The Payatas FC girls squad has enjoyed success domestically, winning the Mondo Cup and Pinay Futbol Invitational Cup against better-financed teams.
Road to Rio
In 2013, FairPlay began holding tryouts to merge teams to travel to Brazil. Three members of Team Payatas – Angelica, Ronalyn, and April Joy – made the team, followed by Agot, Joy, and Maylene of SOS Village Davao, Crystal of Mango Tree House, Juvie Lynn of Kids International Ministries and Yanzie of Gawad Kalinga. 
Due to child protection laws, their surnames have been withheld.
They gained experience and confidence training in Taguig alongside the United Football League's Team Socceroo FC, plus scrimmaging against the University of the Philippines' varsity squads.
The venture isn't cheap though, but European companies AgriNurture, INC and Witsenburg Nature products have helped sponsor the girls club. The boys are still in search of a primary sponsor.
After the World Cup, the players will resume play with their respective teams. "Hopefully we can form a girls' team for next year's UFL with most of these players," said Moore. "Some of the girls will almost certainly get a University scholarship through football. One will tryout with the under-14 national team when she gets back."
Regardless of how their fortunes turn out, Team Philippines has already grabbed the attention of their compatriots. They are no longer invisible, and have stretched the boundaries of what the youth of the Philippines can accomplish. They are somebodies, they matter. They inspire because they aspire.
"The experience has been great to show them how good they can be with the right attitude and when they work as a team," said Moore. "The hope is that they now have a lot to take back to their communities to help become leaders and teach others back home." – Rappler.com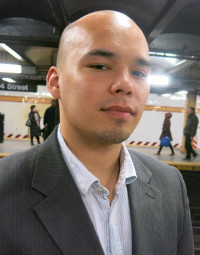 Ryan Songalia is the sports editor of Rappler, a member of the Boxing Writers Association of America (BWAA) and a contributor to The Ring magazine. He can be reached at ryan@ryansongalia.com. An archive of his work can be found at ryansongalia.com. Follow him on Twitter: @RyanSongalia.