Boston Celtics coach Brad Stevens has a lot to be upset about, as do the franchise's fans. Columnist Bert Ramirez examines what the Celtics have to do to return to their glory days
Following a 111-102 loss at home to Philadelphia over the weekend, first-year coach Brad Stevens of the Boston Celtics was justifiably disappointed with his guys, and he let them know it. These are, after all, the same 76ers that just tied the longest losing streak in history barely a week earlier with 26 straight clunkers. His Celtics had just come off a 118-92 beatdown in Washington just two days prior so there was absolutely no reason for them not to get motivated and take it out on a patsy team, at least as far as records are concerned.
But these Celtics, who have been orphaned before the season even opened with the departure of nine-year coach Doc Rivers for the LA Clippers and the trade of team leaders Paul Pierce and Kevin Garnett to Brooklyn, played as if they left most of everything except their bodies in their lockers, and they predictably got waxed by what was supposed to be a lowly group of whipping guys, taking a then-season high-tying seventh straight loss (that is now eight straight counting a 115-111 road giveaway in Detroit a day later).
It was no wonder that Stevens, the youngest coach in the league at 37, and who has now lost more games (54) in one NBA season than in six years as a wonder headman at mid-major Butler where he went 166-49, was not sparing as usual, dishing out a few much-deserved rants to his listless, erratic players."He ripped us a little bit more than usual," team captain Rajon Rondo said. "That's part of it; we deserved that tonight."
Rondo himself admitted that losses like this are unacceptable. "We're all professionals. We have to do a way better job than what we've been doing as far as performing for the name across our jersey, on the front and the back," he said after posting his 29th career triple-double with 11 points, 16 assists and 11 rebounds, his first since tearing his ACL in January 2013, causing him to miss parts of the previous season and this one. "I try to be there as much as possible to root my guys on from the bench. We have to look deep, everyone has to look in the mirror individually and try to pull out whatever they can give for these last six games… We have everything to play for. We have pride. I have pride. We have pride as a team. We have Celtic pride. Right now we're not displaying it at all."
Stevens did take some of the blame, although it's obvious that the onus is on his team, which prior to these last two losses was playing well enough to have had a shot at winning a few of the games they did drop. "We're not pulling in one direction right now, and that's got to be the responsibility of the head coach. So I would say that your assessment of our play tonight is spot on from comparing it to Wednesday, but I do think that Philadelphia came out and they moved the ball," Stevens told mediamen.  "And they've been a hard-playing team the whole year, and I'm sure they've had their down moments, obviously, throughout their losing streak.  But tonight wasn't one of them; they played well, we played not well.  That's that."
When asked if his players might be seeing the end of the season and thus had given up on it after having been eliminated from the playoffs with a 94-80 loss in Chicago on April 1, Stevens said, "That may be the case. I hope that's not the case. I said in there, 'I'm going to swing, swing hard until 10:00 or 10:30 on April 16th, our last game, and I want whoever's going to swing – let's go. Let's play. Let's get after it.'  You know, it is a long year, but sometimes you need to dial yourself back to 'it's a game that you really enjoy.' And take the outside pressure off, take the how-you're-playing-the-last-game off, and just play with a clear mind and with freedom. Sometimes that's hard to do and you don't start well. But we need to do that with the last six games. We need to play better than we've played the last two. Got no problem with our effort prior to these two, but these two, we got the result we deserved."
The Celtics are obviously rebuilding after six years of an era that saw them end a 22-year title drought in 2008 with Pierce, Garnett and Ray Allen, now with Miami, combining with Rondo, now-Oklahoma City center Kendrick Perkins and a gutsy band of supporting players to revive that Celtic brand of play that also gave them, besides that championship, another trip to the NBA finals in 2010 and five Atlantic Division titles.
But that run, which was originally expected to last three years, actually ended when Allen bolted for the Heat in 2012, helping LeBron James and company, the Celtics' staunchest rivals in the East, to a championship repeat last season. That made Celtics president of basketball operations Danny Ainge decide it was time for a reset, starting with the trade of Garnett and Pierce, the team's veteran star of 15 years who was widely expected to finish his career as a Celtic in the tradition of other Celtic greats as well as contemporaries like Kobe Bryant in Los Angeles and Dirk Nowitzki in Dallas.
(RELATED: Holding Court – Should the Celtics retire Ray Allen's No. 20?)
Now, only Rondo is left of that 2008 championship club, and Ainge and team owner Wyc Grousbeck have on multiple occasions said that they intend to rebuild around the peppery 6-foot-1 point guard. While the Celtics have several young players on their roster now that could be considered as a good core, it's obvious that they would need a few more major pieces to complete a championship-contending team, and they intend to do that with the chips that they have accumulated from various trades that they've made, particularly the four, and possibly five, extra first-round picks they'll have until 2018.
The future 
At the moment, a case can be made that Rondo, along with Jared Sullinger, Kelly Olynyk and possibly Avery Bradley and Jerryd Bayless, could be part of their long-term future. Kris Humphries, whom the Celtics will want to keep at the right price when he becomes a free agent this summer, nonetheless could have played his last game for Boston after aggravating a lingering injury in his right knee against the Sixers, while Jeff Green and Brandon Bass, two veterans with a year left in their contracts, could be used as trade chips along with Gerald Wallace, whose $20.2 million contract in the next two years, however, makes him much more difficult to move. Still, any combination of these players plus a few of those first-rounders could bring Boston a major player or two to complement those it intends to keep.
Grousbeck himself has told The Boston Globe that the Celtics definitely intend to bounce back by making moves to bring them back to the ranks of the game's elite. "I've got confidence that with all these picks and these young guys and our willingness to spend money that we can get there," Grousbeck said.  "We're a patient group. We'll take a multiyear plan if that's what it takes.  But I think this June there could be some fireworks. I think this June we've got so many pieces to this puzzle that we might be able to shake loose a real piece or two for this team going forward. So, I'm hoping it's sooner rather than later."
"I think every summer's important, and this one is very important for us," Ainge agreed. "I mean, we have a lot of fans, a lot of season-ticket holders, our players, our coaches, our ownership group, we have a great group of people who care a lot about the Celtics. We – and when I say we, I mean my basketball staff, my coaching staff – we take that very seriously and we carry a big burden to try to get our fans a good product, and at the same time try to get back to a championship-contending level. Sometimes that's a delicate balance."
It doesn't take a rocket scientist to know that these Celtics, as currently constituted, have a go-to guy and a rim protector as their two biggest needs, and efforts would therefore be focused on addressing these two needs. 
A good argument of course can be made that a go-to guy is the first prerequisite for a team that wants to contend.  It has to first have that consistent offensive option that always presents a scoring threat and is capable of generating much-needed points when all other options may have failed or are not available.  In short, an alpha dog in the mold of a Kevin Durant or maybe LeBron James or Kobe Bryant, when he's alright.  Heck, how many of them are there right now? 
When Pierce was around, that issue was more or less pretty much in the backburner, at least until the last year or two when No. 34 started getting more earth-bound or losing half a step, which wasn't much by his standards anyway. But with Pierce's trade along with Garnett's last summer, the Celtics lost that go-to guy they almost matter-of-factly took for granted over a good part of more than a decade.  The Celtics were quietly hoping that the 6-9 Green could be Pierce's successor, but after a full season's audition for that role, one can pretty much decide that Green can't be that first option, or even the second one on certain occasions. He's simply too inconsistent and lacks a certain DNA (an assassin's DNA?) that Ainge must have given up on him being able to fill that role.
Love is all you need
A search has to be made for that alpha dog, and one option that keeps coming up is 2015 free-agent-to-be Kevin Love of Minnesota. Love, a relatively unobtrusive but highly-efficient go-to man on the Timberwolves who hasn't even gotten a whiff of the playoffs, has reportedly been disillusioned with the only team he has known since he entered the league as the fifth overall pick in 2008, being expected to opt out when the third year in his four-year contract is completed after next season.
The frustration seems to stem from a lack of support both from the floor and the front office. The Timberwolves, despite the presence of Love, a 6-foot-10, 243-pound power forward, and such talents as 6-11 center Nikola Pekovic, Kevin Martin, Ricky Rubio, Corey Brewer and J.J. Barea, have not quite taken off under coach Rick Adelman, nursing a 38-38 record that, in the loaded Western Conference, would mean a 10th straight playoff-less season for the ballclub, which is celebrating its 25th anniversary this year.  Fact is, the Wolves' current record would represent the best that they've had with Love on the team.
Compounding this apparent lack of major progress is management's seeming displeasure at Love's failure to carry the team into the postseason. Sounds familiar? Wolves owner Glen Taylor once felt the same way with Garnett after the Garnett teams' last playoff appearance in 2004, and KG got so miffed that he finally relented to a trade to the Celtics in 2007.  This time, the blame game is even more evident, and this could very well also lead to Love's own departure.
"I don't know who labels people stars, but even (T'wolves owner) Glen Taylor said: 'I don't think Kevin Love is a star, because he hasn't led us to the playoffs'… I mean, it's not like I had much support out there," Love relates in frustration. 
Love has thus made no secret of his own desire to join a contender to have a chance of winning a championship, and if history is a good gauge, this could lead to déjà vu for Boston. While Love, who averages 26.0 points (on .461, .379 and .820 shooting clips), 12.6 rebounds and a career-high 4.4 assists, initially indicated his preference would be Los Angeles or Chicago, Boston also qualifies as a big market where Love can be "big time in a big city."  
LA, of course, would have looked like a natural and thus could have had the inside track for Love. He is, after all, a native Californian, and he went to school at UCLA. But if Love would look more closely at the Lakers' current situation, he would realize that it is not much better than what he'd be leaving in Minneapolis. The Lakers are currently in transition, floundering this year and hoping to land a game-changing player in the draft. This is pretty much what they can hope for as they won't have much cap space when Love becomes available about a year from now, being weighed down by a $48.5 million contract extension they gave Kobe Bryant, their aging star and team leader who was out for most of the season because of a broken bone in his left knee following an Achilles tendon tear the previous year.
"Bryant's contract erases any possibility of landing one of the top available players in 2015," Ben Bolch of the Los Angeles Times wrote.  
"(They would have) hardly enough for Kevin Love," salary expert Larry Coon said.  "Not even enough for Courtney Love." 
Coupled with the power struggle between Jeanie and Jim Buss and an unsettled situation at the Lakers' front office, Love would have major red flags confronting him if he's deciding on whether to go to Hollywood.
The Bulls, while presenting a better alternative, would also have major obstacles particularly at power forward, where Love may have no room unless the Bulls are able to unload either or both Carlos Boozer and Taj Gibson, their tag team at that spot that has helped carry them into the playoffs despite the absence through most of the season of Derrick Rose because of another knee injury and the trade of Luol Deng to Cleveland in January.  Would the Bulls have to remodel their lineup one more time to accommodate Love?  In that case, Love may also be going into another unsettled situation just to be able to escape his current predicament.
Boston, on the other hand, would present a much more stable state of affairs, a team with a great winning tradition, an excellent ownership and front office, a group of good young players and an All-Star point guard, Rondo, who could provide the 25-year-old Love a good partner for many years. This doesn't even include a prospective great young player or two that the Celtics can obtain from the upcoming draft.  Love just has to look at his predecessor with the T'wolves, Garnett, who won his one and only championship in Boston and, despite wearing Net black now, continues to feel the love of the Celtics' fans and the city after six years of donning the green-and-white.
Once the need for a go-to man has been taken care of, assuming the opportunity to address that need comes first, the Celtics can then train their sights on that defensive big man that they sorely need.  Even Stevens, after an especially frustrating string of recent losses, expressed that crying need of the Celtics for a rim protector.
"I think, certainly, in an ideal situation, what you're looking for are certain qualities as a team.  A rim protector, whether it's a seven-footer or not, is extremely important in this league," Stevens said.  "A guy that really protects the rim from the dotted line in."
Luck of the draw
The Celtics might just be able to address that in the June draft, that is, if they land one of the top three picks in the lottery that will be held on May 20. This is because it is widely believed that the player that could turn out to be the rim protector they're looking for – Joel Embiid – will opt out of Kansas and declare for the draft. Embiid, a seven-foot, 250-pound center, has been into the game for just four years but has shown uncanny talent for hoops after playing volleyball and some soccer in his younger years in Cameroon.
A look at the 20-year-old freshman's defensive game would readily make one salivate.  He blocks shots like a young Bill Russell did, deflecting them not towards the stands like most grandstanding big men do, but towards a teammate or inside where it can be kept in play.  His only weakness on this side of the ball is his propensity to foul, something that had kept him out of the court for a considerable time as a freshman (as his average playing time of just 23.1 minutes shows) but something that can be remedied with more experience, more physical growth to enable him to take better position at the post, and better coaching.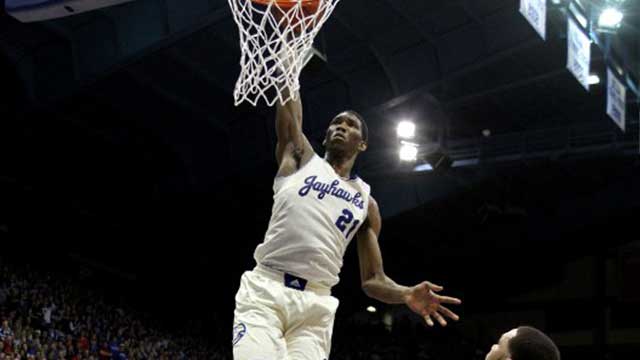 A red flag on Embiid is a stress fracture of the lower back that forced him to miss the last six games of the Jayhawks, but most basketball people are optimistic this can be overcome with Embiid still in his early stage of physical development.
Of course, there may be other options for a defensive big man, like Houston's seven-foot backup center Omer Asik, whom the Celtics actually tried, but failed, to acquire in a trade last December when Rockets GM Daryl Morey balked at the last minute. Unless the Rockets this time are bent on unloading Asik's remaining $14.9 million salary next year, the Celtics might not have another shot at him and, with such guys as Roy Hibbert and Joakim Noah out of the question, their options would probably narrow down to just Larry Sanders of Milwaukee, a 6-11 center who was out for all but 23 games this season because of injuries and recently received a league suspension because of marijuana use, and, yes, Embiid.
Stevens definitely thinks acquiring a rim protector is a key to the Celtics' return to contender status. This would be particularly true if the Celtics do get Love, who is not the savvy defensive player that his Minnesota predecessor KG was. "I'd be really curious to know, or to see from a defensive standpoint systematically, plugging one guy in there, what that might do to our numbers being where we are in a lot of different areas," said Stevens as he wondered if the Celtics' performance this season might have been different if they had that competent defender inside. It could have been different, all right, but then they wouldn't have a shot now at somebody like Embiid either, or even at any one of the top picks in this year's bunch of blue-chippers. 
But given the fact that they now have, the Celtics could just be in the throes of what may well be a defining offseason for them much like 2007, when they put together a Big Three of Pierce, Garnett and Allen to snap a 22-year title drought at the end of the campaign.  From where we stand, replicating this and bouncing back in a big way may not really be a pipe dream.  One just has to hope – and pray – that a few friendly bounces of ping pong balls takes place, and somebody like Love decides there is no better place to fulfill his basketball destiny than Boston. – Rappler.com 
Bert A. Ramirez has been a freelance sportswriter/columnist since the '80s, writing mostly about the NBA and once serving as consultant and editor for Tower Sports Magazine, the longest-running locally published NBA magazine, from 1999 to 2008.  He has also written columns and articles for such publications as Malaya, Sports Digest, Winners Sports Weekly, Pro Guide, Sports Weekly, Sports Flash, Sports World, Basketball Weekly and the FIBA's International Basketball, and currently writes a fortnightly column for QC Life and a weekly blog for BostonSports Desk.  A former corporate manager, Bert has breathed, drunk and slept sports most of his life.