The towering Santiago sisters of the Lady Bulldogs were unstoppable once more, this time against San Sebastian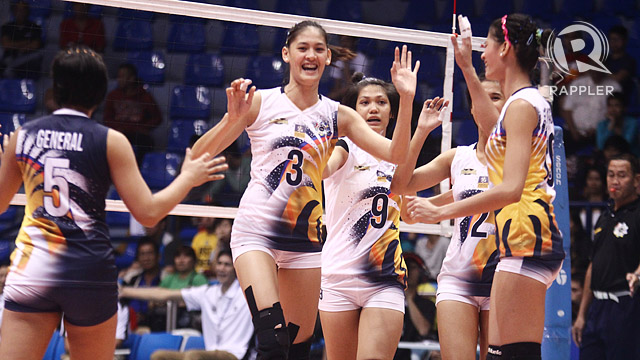 MANILA, Philippines – Dindin and Jaja Santiago were unstoppable as they towed National University over San Sebastian College in straight sets, 25-16, 25-19, 25-16, to remain on top of Group B in the Shakey's V-League Season 11 first conference, Tuesday afternoon, April 8, at the Filoil Flying V Arena in San Juan City.
The towering siblings connived for 23 points as the Lady Bulldogs claimed their 3rd win in as many games to widen their gap from the rest of Group B in the standings.
NU, which improved to 3-0, put on a searing start as they walloped the Lady Stags in the early goings en route to an easy 9-point first set win.
Despite SSC's gallant stand behind Czarina Berbano and Jolina Labiano, the UAAP Season 76 semifinalists rallied on to take the second frame for a 2-set lead courtesy of a 25-19 triumph in the second canto.
Not even San Sebastian's last gasp efforts could stop the Lady Bulldogs as they grabbed the third set to sweep the Lady Stags in a rather one-sided Tuesday evening.
Dindin Santiago finished with a game-high 13 points while her sister Jaja added 10 for the Lady Bulldogs.
Aiko Urdas also came out big for NU after leading her team on both attacks and blocks – with 8 and 3, respectively – for a 12-point production.
The Lady Stags, on the other hand, relied on Berbano and Labiano, who both tallied 8 points, while guest player Sasa Devanadera and Bea Camille Uy had 6 markers apiece.
NU is still undefeated in this conference for a 3-0 slate, while San Sebastian fell to 1-2.
The Lady Bulldogs will meet Far Eastern University next on April 10, while SSC will try to bounce back against University of Santo Tomas on April 13.
Scores:
National University: D. Santiago 13, Urdas 12, J. Santiago 10, Aganon 6, Mandapat 6, Dadang 4, Perez 3, Salibad 2, De Leon 1.
San Sebastian: Berbano 8, Labiano 8, Uy 6, Devanadera 6, Corpuz 4, Crisostomo 1.
Set scores: 25-16, 25-19, 25-16.
– Rappler.com