Can Ginebra overcome a twice-to-beat disadvantage against the unbeaten Talk N Text? The Gin Kings have their work cut out against the league leaders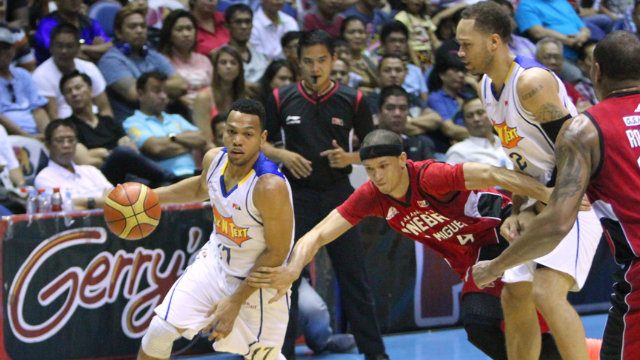 MANILA, Philippines – High hopes sprung from Ginebra fans when Gabe Freeman displayed a phenomenal first quarter against Rain or Shine in his PBA return this past Sunday. On Freeman's shoulders rested the hopes of Ginebra's loyal fan base that the drama and melancholy of the past several months would come to an end.
It took the two-time PBA best import just a matter of minutes before turning the Smart Araneta Coliseum into his slaughter house with a supernova performance.
Freeman had not played pro ball since November of last year, yet played his finest basketball in the first quarter against Rain or Shine. He first converted on a fastbreak layup right after the opening tip.
Then he hit a three. And another. He made his first six shots and sent the crowd erupting to decibel levels never reached before in this conference. Freeman went 7 of 8 in the first 12 minutes for 17 points. The atmosphere became electric, and Freeman kept egging the crowd on. His spirit was contagious and it rubbed off on the entire in the first half.
Yet it failed to save Ginebra.
Freeman was limited to just 4 points in the second half while other locals went scoreless in what turned out to be a tune-up match heading into a clash with the top-seeded Talk 'N Text Tropang Texters.
But Freeman is satisfied, saying he was just pacing himself.
"I over-did myself. I didn't expect to have a great game and I am satisfied because we played hard," said Freeman after their match against Rain or Shine.
It's refreshing to see Freeman still confident and positive after the setback. However, he and his teammate are facing the 9-0 Talk 'N Text Tropang Texters, a team that has managed to be in the playoffs every conference for the last three years despite nagging injuries to key players.
Right when people thought their reign as a PBA powerhouse team had finally ended after getting ousted by eventual Philippine Cup champions, here they are again, chasing for the title.
Coach Norman Black's group is a bunch of players who've been together since 2010 and have combined for 4 championships in 6 finals appearances. They certainly know how to win and they are determined to take home another piece of silverware.
Back with a complete roster and a hard-working import in tow, the Texters romped past the elimination round for 9 straight wins. Ranidel de Ocampo is at the helm of this stellar play with averages of 15.6 PPG (highest among locals) and 4.7 RPG. He is also shooting 41.3% from deep.
TNT will live and die with the three point shot. They are shooting a league-best 36% from downtown as a team. Five Tropang Texters land on the top 20 list in terms of three-point field goal percentage, led by Larry Fonacier who is the deadliest among everyone, firing at 51.4%.
Key matchup
Jimmy Alapag (7.6 PPG, 5.3 APG) vs Jayjay Helterbrand (7.4 PPG, 2.9 APG)
Two ageless backcourt warriors, both former PBA MVPs and the besg in their respective classes, meet again for the latest installment in their decade-long rivalry. Although this playoff series will last just two games at the most, Alapag, 36, and Helterbrand, 37, will try to turn back the clock to fuel their respective teams. This duel is all about leadership.
X-Factors
Talk 'N Text: Larry Fonacier
As mentioned, Fonacier is Talk 'N Text's best assassin from rainbow country. When the game is on the line, you can count on Larry to make the big shot.
Ginebra: Chris Ellis
Ginebra's athletic wing man started the conference on a bright note, leading the Kings in scoring through the first two weeks. However, his performance dipped miserably towards the homstretch. This series is Ellis' chance to redeem himself.
The question
Will Ginebra's locals step up?
Gabe Freeman can wax hot for 40 or 50 points, but if he can't draw support from their locals, there's a big chance they'd still lose.
Core players Mac Baracael, Chris Ellis, and Japeth Aguilar totalled 0-of-14 from the field against Rain or Shine. If it wasn't for Mark Caguioa and Jayjay Helterbrand's 33 points together, the Kings could have been buried by an even larger margin. Ellis and Baracael – both voted as starters in this year's all-star game – only averaged 3.5 PPG combined in their last two games, both losses.
Freeman can only do so much, but the locals will be the ones who must save the squad.
Rappler pick
In 1999, the 8th-seeded Ginebra squad dislodged the top-seeded Mobiline Phone Pals, beating them in two games. In the second game particularly, the Kings battled back from 20 points down, while Bal David hit the game-winning dagger that left Mobiline's Asi Taulava in tears.
But it's 2014.
Talk 'N Text is in top shape; they're playing high-caliber basketball and I don't see any reason why there would be an upset. Talk 'N Text in 1.
– Rappler.com