This is AI generated summarization, which may have errors. For context, always refer to the full article.
LeBron James, Kobe Bryant and other NBA stars joined the Los Angeles Clippers in outrage at racist comments purportedly from Clippers owner Donald Sterling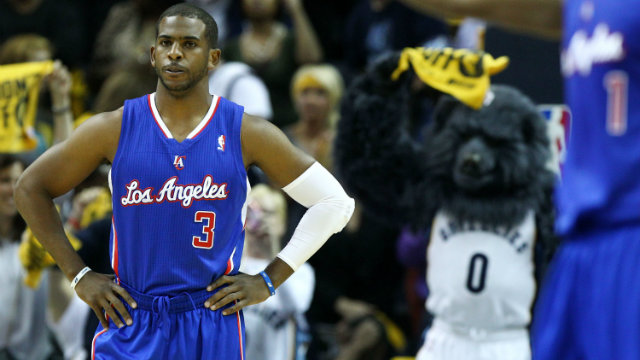 LOS ANGELES – LeBron James, Kobe Bryant and other NBA stars joined the Los Angeles Clippers in outrage at racist comments purportedly from Clippers owner Donald Sterling that came out Saturday.
Sterling was allegedly the speaker on an audio recording posted on TMZ's website that caught a man arguing with a woman about her posting pictures with black people on the Internet and asking her not to bring black people to Clippers games.
While a statement from the Clippers to ESPN questioned the legitimacy of the recording and denied the comments reflected Sterling's feelings, the outrage from NBA stars was clear, loud and emphatic.
"No room for Donald Sterling in our league," Miami Heat superstar James said. "I can't imagine what's going on in his head."
"It's a damn shame but a sad reality that we have people like that in this world," Los Angeles Lakers star guard Bryant said.
And the Clippers, trying to win a playoff title, were upset as well.
"It upsets all of us. There's not one guy who is happy with this situation," said Clippers coach Glenn "Doc" Rivers, who is black, after a team meeting on the matter before a practice session.
"It's about being human. We're not going to get into what race we are. No one is happy about it. J.J. Redick (who is white) was just as pissed as Chris Paul."
The Clippers own a 2-1 edge in their first-round Western Conference best-of-seven series against Golden State entering game four Sunday at Oakland with game five in Los Angeles on Tuesday.
Clippers star Paul, who signed a five-year deal worth $107 million before the start of this past season, is also president of the National Basketball Players Association, and he said the union plans aggressive and swift action.
"This is a very serious issue which we will address aggressively," Paul said. "We have asked (former NBA star and Sacramento mayor) Kevin Johnson to expand his responsibilities with the NBPA to determine our response and our next steps.
"As players, we owe it to our teams and our fans to keep our focus on our game, the playoffs and the drive to the Finals."
That was also the emphasis from coach Rivers, who made it clear he was unhappy with the potential impact the scandal could have upon his team's playoff focus.
"We had a great meeting this morning about it. Everybody voiced their opinions about it," Rivers said.
"I don't know if I'm surprised of not. I didn't like the comments. The players are not going to deal with this issue. None of them were very happy about it.
"We're not going to let Donald or anything get in the way of them. Right now, our goals haven't changed. Our focus is on Golden State and it's going to stay on Golden State."
Johnson called the recorded comments "reprehensible and unacceptable" and vowed the union "must and will play a very active role in determining how this issue is addressed. There needs to be an immediate investigation and if the reports are true, there needs to be strong and swift action taken."
Retired NBA stars made their feelings known quickly as well, former Lakers playmaker James Worthy tweeting that "it would be hard for me to play another game for Sterling."
Shaquille O'Neal, another former Lakers star, pondered, "Should this guy continue to be an owner? These guys (league officials) have to do something."
And former star Charles Barkley, who like O'Neal spoke while serving as a commentator for US television coverage of NBA playoff games, said it was important for NBA commissioner Adam Silver, who took over from David Stern in February, to act fast and emphatically.
"This is the first test of Adam Silver," Barkley said. "He has got to suspend him right now. You can't have this guy making statements like that. He has to be fined and he has to be suspended. We cannot have an owner discriminating. We are a black league." – Rappler.com