MMA fighter Mark Munoz is in a must-win situation when he faces Gregar Mousasi at UFC Fight Night Berlin on May 31. It's when he's most desperate that he's most dangerous, however
MANILA, Philippines – It was one of the darkest periods in Mark Munoz's career.
Munoz, one of the most popular and entertaining competitors in the Ultimate Fighting Championship, was knocked out by a head kick from Lyoto Machida – a close training partner brought in on short notice after Michael Bisping withdrew with an eye injury – at UFC Fight Night 30 last October.
But Munoz had been there before. He lost in similar fashion to Mark Hamill in his UFC debut in 2009 and bounced back to win three straight fights and 7 of his next 8. He knew that tough times don't last but tough guys do.
"I feel that I'm at my best when my back is against the wall," Munoz, 36, tells Rappler. "I've fought my best fights like that. That's just how my career has been. 
"I've always been a guy that's just you know correct your weaknesses and make them your strengths, and that's what I've been doing. I'm definitely not perfect by any stretch of the imagination but I'm getting there. In striving for perfection I'll be able to improve upon my last performance."
"The Filipino Wrecking Machine" from Vallejo, Calif. will get a chance to show his improvement on May 31 when he faces Gegard Mousasi at UFC Fight Night Berlin in Germany.
The five round middleweight bout between the seventh-ranked Munoz (13-4, 6 knockouts) and 12th-rated Gegard Mousasi (34-4-2, 18 KOs) of the Netherlands is a crossroads fight which will thrust the winner into the title picture and relegate the defeated to the division's fringes.
Like Munoz, the 28-year-old Mousasi is coming off a loss to Machida, having lost a five-round decision to him this past February.
Munoz says he hadn't spoken to Machida at length about it but noted that the stand-up specialist had issues whenever Machida took him to the ground.
"(Mousasi) is a very formidable opponent," said Munoz, a former All-American wrestler at Oklahoma State University. "He's got amazing striking, he's got nearly 40 fights to his MMA record. He's very good in jiu jitsu. He's had trouble in the past with wrestlers and I truly believe that it takes a long to adjust and learn how to wrestle, and he's actually finding that out now. So I'm looking to take advantage of just his lack of understanding of the wrestling base of MMA.
"I'm very good at being on top of somebody, that's kind of where I've made my money, on top of somebody down. I feel my ground-and-pound is unparalleled in MMA and I feel that with me on top of you, you just don't want that."
Mental edge
In addition to fine-tuning his wrestling game, Munoz has employed the services of a mental coach. Ken Baum, who authored the sports psychology book The Mental Edge, has been working with Munoz for close to three months.
"I've learned a lot about myself, I've learned about the preparation and being inside the octagon, and I learned about being ready, not only physically but also mentally," Munoz says. "He's just helping me with my perspective. He's helping me think and having me properly gauge my thought process going into fights. I'm looking to gain much benefit for that."
Munoz had battled depression and weight gain in recent years, ballooning up to 261 pounds following his loss to current UFC middleweight champion Chris Weidman in 2012.
For this camp, Munoz says he is in much better shape, aware of the damage that yo-yoing on the scales can take on an athlete. 
"I'm definitely in better shape with this camp," says Munoz. "I think that speaks volumes but at the same time I feel that it does take a toll on the body, having come back from what I went through."
After recovering from the Machida loss, Munoz had spent time holding fundraisers for victims of Typhoon Haiyan (Yolanda), raising $8,000 that he hopes to distribute to those affected when he partners with a charity. (RELATED: UFC fighter Mark Munoz is a fundraising "Machine" for Yolanda victims)
For Munoz, weathering storms and rebuilding is something he can identify with.
"It's metaphorically a lot like our journey as a country in the Philippines. Being hit with this storm and having to come back from that and be resilient and be able to get back on our feet.
"My career has kind of been like that. I've been hit with storms and gone through things but at the same time I'm resilient come back and rise above any adversity. Since I'm Filipino I think the people can identify with that." – Rappler.com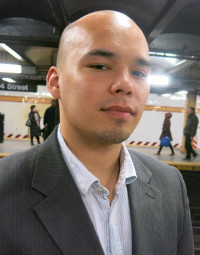 Ryan Songalia is the sports editor of Rappler, a member of the Boxing Writers Association of America (BWAA) and a contributor to The Ring magazine. He can be reached at ryan@ryansongalia.com. An archive of his work can be found at ryansongalia.com. Follow him on Twitter: @RyanSongalia.