Before they were stars of the UAAP, many of today's volleyball icons first showed their talent at Palarong Pambansa. Which region will assert its dominance at Palaro 2014?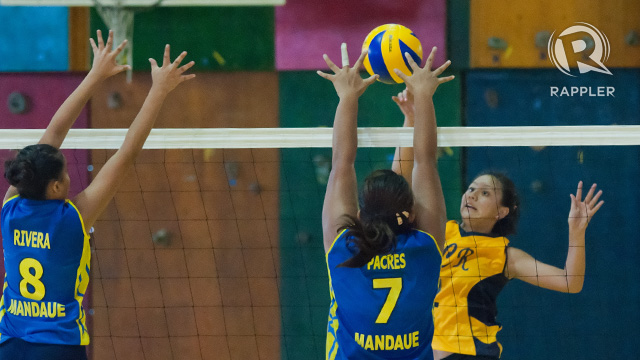 MANILA, Philippines – It's that time of the year again. The time of the year where volleyball stars are born. 
Palarong Pambansa, the national games of the Philippines, has been the staging ground for the nation's top volleyball players. Players like Alyssa Valdez, Ara Galang, Julia Morado, Aby Marano, Bernadette Pons and many other stars all experienced Palarong Pambansa tournaments. For most collegiate and professional players, Palarong Pambansa has been their ticket to earning collegiate scholarships and eventually shining on the Philippine volleyball scene. 
With 35 out of 40 athletes playing last year not competing, the whole Palarong Pambansa tournament is somewhat in a rebuilding process. However, the quality of the games and the level of intensity will still be the same, particularly with many new volleyball players emerging this year, having learned techniques from their sisters in collegiate leagues.
Although there are 16 teams in the Palarong Pambansa, there are five teams this year which are expected to make it all the way; NCR, Central Visayas, Western Visayas, Davao and host CALABARZON. These five have shown great performances in the different national tournaments this school year and has a solid core of their region's best players. (RELATED: Back-to-back women's volleyball title for dominant NCR)
Despite losing a lot of key players like outside hitters Shaya Adorador, Desiree Cheng, Nika Ong, middle blockers Kim Dy and Ana Gopico, opposite hitter Monica Ortiz and libero Dawn Macandili, NCR still remains the favorite as most players from the recently crowned 4-peat V-League national champions Hope Christian High School will be playing for them. 
Last year's Best Setter Jewel Lai is back as captain along with multi-awarded MVPs Justine Dorog, Isa Molde, Mae Basarte and other Hope players. Also joining the Hope core are libero Michelle Cobb of St Scho-Manila, 6-foot-2 middle blocker Roselle Baliton of UE, middle blocker Caryl Sandoval of Angelicum, who was also present in last year's Palaro back-to-back championship. The team will be missing the services of Hope's multi-awarded libero Christine Lim but St Scho's agile defense specialist Michelle Cobb will be the one filling in for her. 
NCR is still a complete team; they still have a very good setter, a wide range of spikers and good floor defense. Coach Jerry Yee is very familiar with high school volleyball and has already around more than 20 national titles under his belt and is looking to complete the rare 3-peat championship. 
Central Visayas is also one team to look forward to in the upcoming Palarong Pambansa. The region is slowly becoming a volleyball powerhouse and has dominated several notable teams in other tournaments over the past year. Cebu lost key players like Carmel Saga of Dumaguete, Dyan Darantinao and Janelle Cabahug of Cebu but the team remains strong because this year's team will feature what is being billed as "Cebu's Dream Team."  
Multi-awarded setter Mary Castillo of SWU, last year's Palarong Pambansa Best Attacker and the high flying Cherry Rondina from Compostela National High School, the powerful lefty and crowd-favorite Mary Pacres of Mandaue National High School and multi-awarded MVPs Karen Derder of SWU and Paula Maninang of STC-Cebu, who are both playing the middle blocker position. Cebu has a formidable line-up and will bank on their attacking to win a lot of games. 
Missing in this year's line-up is another crowd favorite and another member of Cebu's dream team, Rica Rivera. If they will have excellent floor defense and blocking, they might just snatch the crown this year. Last January, they were able to push NCR to a classic Finals game. Expect this team to dominate along with the NCR team in the Palarong Pambansa.
Perennial powerhouse Western Visayas failed to make it to the semifinals last year after so many years even though they have the likes of Bernadette Pons, Kim Gequillana, Riza Amaro and Jean Gonzaga. Injuries plagued the Region 6 spikers to perform well and that is why they vowed to have a strong season this year. Focus will be on the powerful lefty and multi-awarded MVP from Iloilo Roma Joy Doromal, who has been the talk of the whole Western Visayas in the region's athletic meet. Helping her are powerful outside hitter Arielle Estranero of La Salle-Bacolod, outside hitter Aira Velasco of St Scho-Bacolod and St. John's power trio of middle blocker Bianca Lizares, middle blockerRosel Sy and setter Catherine Pollentes. 
Western Visayas has always been known to be a floor defense-oriented team. It has been their key in winning championships through the years. After a disappointing finish last year, expect Western Visayas to bounce back this year and make it to the Final Four.
Davao has also been playing great over the past year and excelling in tournaments. The players of the team are mostly from recently-crowned Ateneo De Davao and with holdovers from other Davao high schools. Coming back for the Davao team are the likes of multi-awarded MVP Jela Pena, consistent spiker Jubilee Acosta, high-flyer Alyssa Alterado and steady setter Nicole Frando. The addition of twin towers Aia Maspinas and Maddie Madayag will definitely add a lot of blocking boost to their already defensive squad led by impressive libero Kate Bermudez. 
Aside from spiking, Davao has always been know with their excellent floor defense. But with more height this year, Davao might also excel in blocking and might give a lot of headaches against the other teams. This team is somewhat complete in all positions because they have a good setter, a good libero and good outside hitters and middle blockers. It is just a matter of putting it all together and playing well as a unit. Since most of them are high school seniors, expect the players to give it their all before going to college. 
With the home crowd behind them this year, host CALABARZON has also formed a strong team this year. Headlining the host squad are La Salle Lipa standouts Angel Magundayao, Angela Enginco, Alby Cubilla, Jennelle Lo, Dianne Latayan, Janel Maraguinot – who is noted for her setting skills – and Justin Jazareno, who despite being an 8th grader, has shown defensive prowess in the region's athletic meet. 
Joining the La Salle Lipa standouts are multi-awarded MVP Heather Guino-o of Imus Institute, powerful outside hitter Toni Rose Nitura and explosive middle blocker Anne Necessito of Calatagan National HS. Aside from power attacks, blocking is the team's main weapon given their height. CALABARZON placed 3rd last year even though most people predicted a Finals appearance for them. This year, with the crowd behind them, expect them to turn in an even better performance, especially with a loaded squad and much-improved players.
Expect Northern Mindanao and Central Luzon to give a tough fight to all the other teams even though they lost a lot of key players in their squad. 
With volleyball game becoming more scientific in our country and with the game more focused now on floor defense and blocking, this year's Palaro will not only feature powerful spikes but also amazing rallies and maybe even more staredowns and swag from the players.
The growing popularity of the sport in the UAAP and NCAA, plus the rise of the V-League, has influenced almost all these athletes and have inspired them to play better. These players are not only playing for their region's pride but also for collegiate scholarships since most of the top collegiate coaches in the country scout here in this tournament. – Rappler.com