This is AI generated summarization, which may have errors. For context, always refer to the full article.
Wary sponsors dropped their support for the Los Angeles Clippers on Monday as pressure mounted over racist remarks allegedly made by the NBA team's owner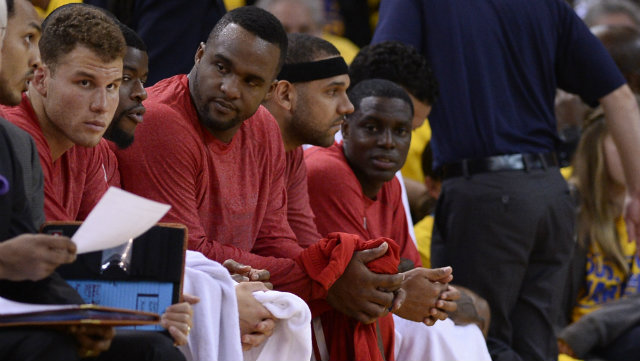 LOS ANGELES – Wary sponsors lined up to dump the Los Angeles Clippers on Monday as pressure mounted over racist remarks allegedly made by the NBA team's owner, the embattled billionaire Donald Sterling.
Among them was a water brand owned by rap music star Sean "Diddy" Combs, as the National Basketball Association said it would make an announcement Tuesday about the league's investigation of Sterling, whose team is valued at $575 million by Forbes magazine.
Comments attributed to Sterling, heard in a recording first made public by celebrity news website TMZ over the weekend, have set off a firestorm around the 80-year-old real estate tycoon, who bought the Clippers for $12 million in 1981.
Clippers players, in the middle of a first-round playoff battle with the Golden State Warriors, staged a silent on-court protest on Sunday and NBA luminaries have called for the league to take tough action against Sterling, who has remained silent since the remarks surfaced.
(WATCH: Clippers make silent protest amid race storm)
But Sterling's estranged wife Rochelle upped the ante when she said Monday the voice in the recording was that of her husband.
Sponsors make fast break
Major sponsors Chumash Casino and used auto dealer CarMax pulled out of their deals with the Clippers, with CarMax saying the remarks attributed to Sterling were "completely unacceptable."
"These views directly conflict with CarMax's culture of respect for all individuals," it said.
Chumash Casino, which is run by Native Americans, told ESPN that "we cannot ignore any statement that causes harm or hurts any group. As a result, we're withdrawing our sponsorship of the Clippers organization."
A representative for Virgin America told TMZ while the airline would "continue to support the fans and the players, Virgin America has made the decision to end its sponsorship of the LA Clippers."
Rap star Combs' AQUAhydrate water said on Twitter it was also suspending its deal. Insurance giant State Farm also hit the pause button while the investigation was ongoing.
And Kia Motors – known for having Clippers star Blake Griffin leap over one of its cars in an NBA Slam Dunk Contest – joined Yokohama Tires, Red Bull, Sprint and Lumber Liquidators in suspending sponsor deals with the Clippers.
Anheuser-Busch, makers of the NBA's official beer, said that while the company was not a team sponsor, "we fully support the NBA's efforts to investigate quickly and trust that they will take appropriate action."
NBA boss speaks Tuesday
The NBA said that commissioner Adam Silver would stage a news conference Tuesday in New York about its snap investigation into Sterling's alleged comments.
In the recording, a man, purportedly Sterling, said he did not want his girlfriend associating with blacks or bringing black friends to Clippers games.
"It bothers me a lot that you want to broadcast that you're associating with black people. Do you have to?" the man says, later adding, "You can sleep with (black people). You can bring them in, you can do whatever you want.
"The little I ask you is not to promote it… and not to bring them to my games."
The woman was identified only as V. Stiviano, the 20-something woman being sued by Rochelle Sterling because her husband was giving Stiviano expensive cars and money as gifts.
Rochelle, in a statement published by the New York Daily News, said it was indeed her husband's voice on the recording.
"Our family is devastated by the racist comments made by my estranged husband," she said. "My children and I do not share these despicable views or prejudices."
Playoff battle goes on
Amid the furor, the Clippers – for many years one of the least successful teams in the NBA – have a playoff series to worry about.
They lost Sunday at Golden State, leaving the best-of-seven Western Conference first-round playoff series at 2-2. The next game is Tuesday in Los Angeles, just hours after the NBA delivers the findings of its investigation.
NBA legends such as Magic Johnson and Michael Jordan, and current NBA greats Kobe Bryant and LeBron James, have expressed outrage over the comments and Sterling.
"No. He should not continue owning the clippers. #nochance #noway nohow," Bryant tweeted.
Leon Jenkins, president of the African-American civil rights group NAACP's Los Angeles chapter, said an award set to be presented to Sterling would be withdrawn and a donation from him returned.
"There is a personal economic and social price that Mr. Sterling must pay for his attempt to turn back the clock on race relations," Jenkins told reporters.
Most fans have not abandoned the Clippers, with comedian Billy Crystal summing up the feelings of many on Twitter when he wrote: "He may own the team but they belong to us. Go Clippers!" – Rappler.com
LA Clippers owner is a long-time NBA laughing stock
NBA: Sponsors drop Clippers amid racism controversy
WATCH: Clippers make silent protest amid race storm
LeBron, Shaq, Kobe among those outraged by Clippers owner's racial remarks
Alleged racist remarks by LA Clippers owner Sterling spark uproar