Many pundits picked the Indiana Pacers to win it all after they top-seeded the East. Now they find themselves on the verge of being ousted in the first round by Atlanta
The Indiana Pacers are a broken team. Not even a gallant rally from 30 points down in yesterday's 107-97 defeat to Atlanta at home can mask the impression that these Pacers are just about finished, if not in this series, then as a legitimate contender for the NBA championship.
The Pacers simply imploded in a way that seems to mirror their self-destruction in the last five weeks of the regular season. All season long, pundits were one in saying that the only team that could stop two-time defending champion Miami from making it to a fourth consecutive NBA finals is the Pacers, and well they seemed right.  Indiana, after a fifth straight victory following the All-Star break, were a league-best 46-13, some three full games ahead of eventual league topnotcher San Antonio.
But the Pacers lost four straight games for the first time in the campaign after that, three of them blowouts, and proceeded to lose 13 of their last 23 games in the regular wars. Although they ended up as the top seed in the East with a 56-26 record, it was as much a function of the Heat's resting their top players and thereby virtually giving Indiana the top seed on a silver platter as it was the Pacers' having earned it through good performance. Only a swift 102-97 victory over Oklahoma City on the last weekend of the season probably saved Indiana's bid for the No. 1 seed, a self-proclaimed goal from Day 1 as the Pacers felt only the homecourt edge that Miami had last year prevented them from advancing to the NBA finals.  
But even that OKC triumph seemed like a fleeting reminder of their early-season play as the Pacers, for the most part of their late-season struggles, were a dysfunctional group. The discombobulating slump saw the team fail to execute on offense while unable to contain opposing teams' opportunistic attacks. The team also failed to get a consistent, well-rounded effort from every player, which seemed ironic as the team even brought in additional help with the trade for Evan Turner, Philadelphia's leading scorer at that point, in exchange for former All-Star Danny Granger, who had struggled to regain his old form.
Against the Hawks in these playoffs, the Pacers quickly gave away the homecourt advantage they worked hard to get by dropping the first game of their series 101-93. While the Hawks are the only playoff team with a losing record and had lost 14 of 15 games at one point in the campaign, they bedeviled the Pacers in their last regular-season faceoff by holding the Pacers to a club-worst 23 first-half points while leading by 32. And though the Pacers regained homecourt with a hard-earned 91-88 victory in Atlanta in Game 4, they gave it away just as quickly a second time with yesterday's perplexing loss.
In this contest, the Hawks blitzed the Pacers with a barrage of three-pointers in the second period, five of them coming from virtual unknown Mike Scott, to turn a one-point first-quarter deficit to a 61-40 bulge. Scott, a 6-foot-8 second-year forward out of Virginia who was picked in the second round last year by Atlanta, scored all of his career-high 17 points in the second quarter, sparking a decisive 30-6 run that all but decided the game's outcome. The Hawks extended the lead to as many as 30 points in the third quarter before the Pacers, with Paul George, C.J. Watson and George Hill at the helm, pared it down to as low as eight points.  It was, however, just too little too late for Indiana, which was simply not the old defensive juggernaut that it was early in the season.
In the Hawks' incredible second quarter, for example, they tied an NBA record set by the 2002 Boston Celtics and 2008 Orlando Magic for three-pointers made in a quarter with nine, and outscored the Pacers 41-19, matching the second-highest playoff scoring total in club history. The then-Dominique Wilkins-led Hawks scored 41 against Detroit on March 17, 1986 while the St. Louis Hawks of the great Bob Pettit had 45 against Fort Wayne on March 14, 1957. The Hawks joined the 1970 Milwaukee Bucks as the only road teams in the shot-clock era to score at least 40 points in a quarter while giving up fewer than 19.
Using excellent ball movement, the Hawks basically had their way in the decisive quarter by making 13 of 16 shots overall (81.3 percent) and nine of 11 from three-point zone (81.8 percent). What makes this such a big illustration of how the Pacers' previously elite defense has deteriorated is that Indiana tied for the third-fewest three-pointers allowed in the regular season with just 6.6 three-pointers per contest.  It also had only one instance where it allowed double-digit three-pointers in back-to-back games. The Hawks have now made at least 10 three-pointers in all the five games so far and are averaging 11.8 per game in this series.  
"It was frustrating because we didn't make a change," George said of the Pacers' suddenly woeful defense. "We let them run the same action, the same shot. We didn't do nothing. So that was frustrating."
The lack of defensive adjustments really had some Pacers frustrated. "We have to be able to make better adjustments," 11-year veteran David West said. "We just didn't respond. I have no explanation on why we gave up 40-something (points) in the second quarter.  Coach (Frank Vogel) throws (the starters) back out there and says, 'Get us out of the hole.' Just tough, particularly when a team is rolling, feeling good.  We're in an uphill battle the whole game."
More than the defense, however, these Pacers have simply shown they lack the mental toughness to deal with adverse situations. One can see in these Pacers' eyes the inability to hit back when backed against the wall. Several times in Game 4, these Pacers had the chance to settle down and get back into their game by playing tough defense and making plays on offense. But other than George and Hill perhaps, the rest of the Pacers for the most part simply lost their poise, eliciting boos from their disappointed home crowd particularly in the abysmal second period.  
"Fighting for (our) lives, it's disappointing," West said. "We're frustrated. Our team has definitely not played the way we know we're capable of."
West must be talking of himself in particular. The former All-Star has been one of the major culprits in the Pacers' late-season collapse, and he should take the blame in this impending playoff swoon as well. A career 83 percent shooter, West could not even make his free shots nowadays, shooting just 56 percent through five playoff games.  
But there's not a more disappointing Pacer throughout this dreadful period than All-Star center Roy Hibbert, who in 12 minutes in Game 5 was scoreless and without a single rebound for the first time in his career while getting four quick fouls. True, the referees might have given him some bad calls, but looking at the big picture, Hibbert has simply pulled off one of the most egregious disappearing acts in recent years, as his 4.8-point and 3.4-rebound postseason norms illustrate.
So where does this all lead the Pacers? To near ignominy obviously, considering they made themselves one of the top favorites through much of the season before their late-season blackout. This team is obviously in a funk, one of the worst seen in recent memory.
If it loses to Atlanta, it would become just the fifth No. 1 seed to fall to a No. 8 seed, joining the 1994 Denver Nuggets that lost to Seattle, the 1999 Miami Heat that fell to New York, the 2007 Dallas Mavericks that bowed to Golden State, and the 2011 San Antonio Spurs that capitulated to Memphis.
If this happens, Pacers president Larry Bird could just break up this team, although it may take some doing for him to get rid of Hibbert's large contract, for example, which has two years and more than $30 million remaining. But Lance Stephenson's bargain contract is expiring, although it's doubtful if Bird, who was patient enough to bring up the former high school star despite his checkered past, could just give up on the recalcitrant fourth-year guard, who fought with Turner in one of the team's late-season practices.
But it's almost a certainty some heads will roll if the Pacers fail to salvage this series with the Hawks and complete one of the most appalling collapses in league annals. And that could include coach Frank Vogel, who was previously given a vote of confidence by GM Kevin Prichard but who obviously has had his own lapses in this series. ESPN.com's Mike Wells, for instance, took note of how Vogel could be so proud that he refuses to adapt to the situation. "Vogel is a prideful coach who isn't interested in adjusting his game plan," Wells said. "(Atlanta coach Mike) Budenholzer has one-upped Vogel so many times in the series that the Pacers coach finally stopped being stubborn with his reluctance to use shooter Chris Copeland at power forward in the second half. Copeland brought some life, but the damage had already been done."
Still, all is not lost on the Pacers, and Hill thinks they still have a shot at duplicating last year's great playoff run. "I think when you back a cat in the corner or any animal in the corner, they're going to fight their way out," Hill said.
Now, it's up to these Pacers to show they're not a one-hit wonder to deserve another chance.
Other playoff series
San Antonio, despite some uneasy moments, regained homecourt advantage over Dallas by beating the Mavericks 93-89 at the latter's American Airlines Center homecourt.
The Spurs led by as many as 20 points early in the third quarter, but the Mavericks fought back, setting up a see-saw battle and a down-the-wire finish. But Boris Diaw punctuated a 17-point game by draining the go-ahead three-pointer with 32 seconds left, and the Spurs are going home with a chance to take over the series.
Manu Ginobili also starred in the Spurs' victory, finishing with a game-high 23 points, while Tim Duncan and Tiago Splitter both had double-doubles with 14 points and 10 rebounds and 10 and 12, respectively.  Monta Ellis and Dirk Nowitzki led Dallas with 20 and 19 points, in that order, but Nowitzki shot just 7-of-19 as he battled the likes of Diaw and Splitter.
As expected, Miami completed a sweep of the Al Jefferson-less Charlotte Bobcats 109-98 in a game that will officially close the Bobcats' chapter as Michael Jordan's team will revert to its original nickname of Hornets next year. This is after the Pelicans were born in New Orleans this season, officially dropping the Hornets moniker that the club used for a while after moving to Louisiana in 2002.
Banned for life
It didn't take long for NBA commissioner Adam Silver to reach a decision. He imposed a lifetime ban on LA Clippers owner Donald Sterling for racist remarks that the NBA found out were authentic in its investigation.
Silver said he will try to force the controversial owner to sell his franchise, an act that apparently has the support of other NBA owners. He also fined Sterling $2.5 million, the maximum penalty under the league's constitution and by-laws, and the entire amount will be donated to organizations dedicated to anti-discrimination and tolerance efforts. These groups will be jointly selected by the NBA and the players' association.
"I fully expect to get the support I need from the other NBA owners I need to remove him," Silver said while making no effort to hide his outrage over Sterling's racist comments. We stand together in condemning Mr. Sterling's views.  They simply have no place in the NBA."
As a result of the lifetime ban, Sterling is immediately barred from "attending NBA games or practices, being present at any Clippers office or facility, or participating in any business or player personnel decisions involving the team." He also cannot participate in any league business or board of governors activities going forward.
"This league is far bigger than any one owner, any one coach and any one player," Silver said as he acted with the swiftness and decisiveness that his predecessor, David Stern, was not particularly noted for.
Silver's decision was just warranted at a time when the NBA has become the model for other professional sports leagues in terms of racial diversity and equality. Just two years ago, the league earned the highest grade ever for racial hiring practices for a men's professional sport from the University of Florida's Institute of Diversity and Ethics. That was the year more than half of the league's head coaches – 53 percent – were minorities. That was also the year when 34 percent of all professional employees in the NBA league office were people of color, 42 percent were women, and 39 women were also serving as vice presidents.
The NBA continued to have the most racially diverse group of players among major U.S. professional sports. Racial minorities represented 82 percent of all players, and 78 percent of all players were African-American. The NBA also has a strong international representation with 17 percent of all players from countries outside the U.S.
It's thus understandable – and commendable – that Silver took the quick, decisive action that he did to drive home the message that the NBA will never condone any statement or act that's contrary to what it has come to symbolize and espouse, and that it will never be a party to any discriminatory ideas or practices.
"This has all happened in three days, and so I am hopeful there will be no long-term damage to the league and to the Clippers organization," Silver said.  "But as I said earlier, I'm outraged, so I certainly understand other people's outrage.  This will take some time, and appropriate healing will be necessary."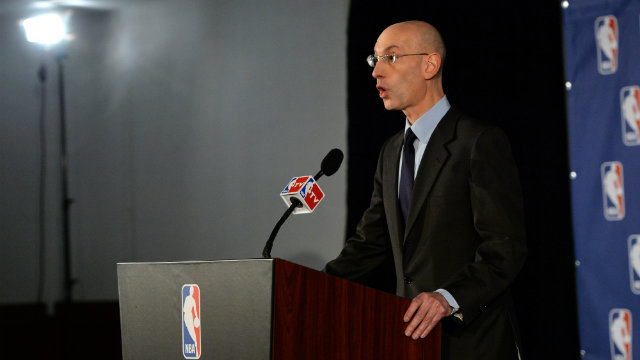 Silver's action has earned universal approval and praise.  After the announcement, the Clippers' website bannered the headline "We are one."
Magic Johnson, whose picture with Sterling's girlfriend V. Stiviano posted on the latter's Instagram account precipitated Sterling's harangue that was taped with his knowledge, praised Silver's act, tweeting, "Commissioner Silver showed great leadership in banning LA Clippers owner Donald Sterling for life.  Former and current NBA players are very happy and satisfied with commissioner Silver's ruling."
Sacramento Mayor Kevin Johnson, the former Phoenix Suns star who has been assisting the players' union in the absence of an executive director, also said that he is proud of the league's decision. "Adam Silver is not only the owner's commissioner; he's the player's commissioner," KJ said.
The owners themselves have rallied behind the commissioner's ruling. Dallas owner Mark Cuban, for example, tweeted, "I agree 100 percent with commissioner Silver's findings and the actions taken against Donald Sterling."
Joe Lacob, whose Golden State Warriors are locked in a playoff battle with Sterling's team, the Clippers, for his part said: "We applaud the firm punishment handed out today by NBA commissioner Adam Silver and appreciate the swiftness with which the NBA conducted its investigation… We cannot tolerate such feelings or beliefs, not only in the NBA, but in society in general.  There is absolutely no room for racism in our world, period."
The Chicago Bulls' Jerry Reinsdorf, the first owner to publicly state that he plans to vote in favor of Sterling's banishment, said, "The commissioner was correct to ban Mr. Sterling from all official NBA business, to levy the stiffest allowable fine, and we will support his recommendation to press for Mr. Sterling to relinquish his ownership of the Los Angeles Clippers franchise." 
Even the National Association for the Advancement of Colored People, which rescinded a lifetime achievement award intended for Sterling after his remarks went public, also applauded the league's sanctions, saying, "The NAACP is pleased the NBA is taking swift and strong action against Los Angeles Clippers owner Donald Sterling for his racist and offensive remarks," the statement said.  "Their decision to ban Mr. Sterling indefinitely from the league, seek his removal from ownership and fine him $2.5 million – the maximum amount under NBA rules – is both welcomed and supported."
Sterling's track record has actually been too tarnished to bail him out of this latest imbroglio.  Besides his stingy ways in running his franchise, a tack that he just recently changed, he has been involved in cases involving racial discrimination in the past.  In November 2009, Sterling agreed to pay $2.73 million to settle allegations by the government that he refused to rent apartments to Hispanics and blacks and to families with children.  The Justice Department sued Sterling in August 2006 for allegations of housing discrimination in the Koreatown area of Los Angeles.
Sterling was again the respondent in a lawsuit filed by former Clippers GM Elgin Baylor.  Although Baylor lost the case in March 2011, it again involved the issue of age discrimination and harassment of the then-76-year-old Hall of Famer.
It's not surprising that Sterling has acquired a sleazy reputation to be called "a racist slumlord" by some media personnel addressing his NBA case.  And that is despite the looming windfall he's set to get (some are now saying the franchise could easily fetch a billion) once the sale of his Clippers is carried out, cutting off all ties to a league he didn't treat seriously enough. Yahoo! Sports' Adrian Wojnarowski put it best when he said, "The richest slumlord in American sports ownership will make a killing on the sale, but Sterling has lost his courtside seats, his trumped-up charitable photo-ops and celebrity status in Hollywood. He's lost his make-believe importance in the make-believe city." – Rappler.com
Bert A. Ramirez has been a freelance sportswriter/columnist since the '80s, writing mostly about the NBA and once serving as consultant and editor for Tower Sports Magazine, the longest-running locally published NBA magazine, from 1999 to 2008.  He has also written columns and articles for such publications as Malaya, Sports Digest, Winners Sports Weekly, Pro Guide, Sports Weekly, Sports Flash, Sports World, Basketball Weekly and the FIBA's International Basketball, and currently writes a fortnightly column for QC Life and a weekly blog for BostonSports Desk. A former corporate manager, Bert has breathed, drunk and slept sports most of his life.