Two Palaro records fell in Tuesday's swimming competition, while a dominant swimmer from years past fell short of enhancing his legacy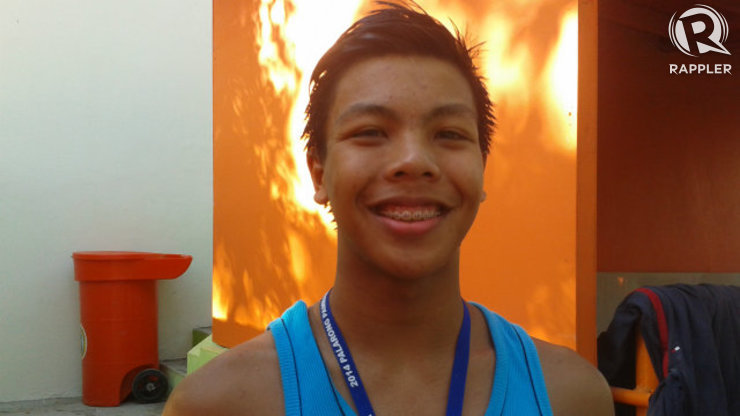 LAGUNA, Philippines – Seven-time gold medalist and Palaro record holder Rafael Barreto has been to the heights of swimming glory on the national scene. At this year's Palarong Pambansa, the Central Luzon native has had to regroup and go back to the drawing board after failing to place in Tuesday, May 6's events in Laguna.
Central Luzon discovered a gold mine when they found Rafael Barreto, a 17-year old swimming wonder. Representing CLRAA, the young athlete has accumulated seven gold medals and broke records in two divisions in just two years.
During his first year, he beat defending champion Mark Jose Rominquit, a contender from the National Capital Region. The following year was his peak when he bagged home five gold medals in the following events: 50-m Butterfly, 50-m Freestyle, 100-m Butterfly, 100-m Freestyle, and 200-m Freestyle.
He set a new record for last year's 100-m Freestyle event with fifty-eight seconds and twenty-four milliseconds (58.24). He also beat 2009 Palarong Pambansa gold medalist Omar Dacera's astounding record in the 200-m Freestyle with his of two minutes, eight seconds, and twelve milliseconds (2:08.12) mark.
This year was different for the Bulacan-based swimmer. 
Testing the bigger pool, he competed in the 400-m Freestyle and 200-m Butterfly event and ended up placing in the lower bracket of the Final 8. The record breaker was beaten by Maurice Illustre from NCR in both events. 
After his game, Baretto admitted that the competition was tough. "Kumpara last year, parang mga bata pa yung kalaban ko. This year, parang sobrang hirap makakuha ng medal kasi madaming malalakas sa high school (division)," Baretto said.
(Compared to last year my opponents were younger. This year it was more difficult to get a medal because there are more competitive swimmers in the high school division.)
His preparation this year was also the same as last year, according to the athlete. 
There was cause to celebrate today from the NCR delegation, however. Imee Joyce Saavedra set a new record in the Girls 200-M Freestyle event, smashing the previous mark by more than two seconds at 2:16.72. Her regional counterpart Seth Issak Martin also set a new record in the Boys 100-M Backstroke event, besting the old record by 35-hundredths of a second at 1:07.21.
Final results
Swimming Events (Elementary Division)
Boys 200-M Freestyle 
Viovicente, Emilio Jose – NCR – 2:12.96
Cagape, Kent Franzen – CARAGA – 2:16.94
Reyes, Orlando Luis – NCR – 2:1.68
Girls 200-M Freestyle 
Saavedra, Imee Joyce – NCR – 2:16.72 (NEW RECORD) (Record: Bondad, Catherine – 2:18.86, 2010)
Hilario, Zoe Marie – Region 11 – 2:21.43
Esmero, Charize – NCR – 2:22.15 
Boys 100-M Backstroke 
Martin, Seth Issak – NCR – 1:07.21 (NEW RECORD) (Record: Gravador, Evan – 1:07.56, 1998)
Libat, Angel Kyle – CALABARZON – 1:09.53
Jacinto, Jerard Dominic – NCR – 1:11.23
Girls 100-M Backstroke
Newberry, Bhay Maitland – CALABARZON – 1:12.89
Esmero, Charize – NCR – 1:13:12
Hilario, Zoe Marie – Region 11 – 1:16:31 
Boys 50-M Butterfly
Gibson, Andrew Buchanan – NCR – 29.82
Bito-Onon, Moses Oliver – Region 6 – 30.72
Cagape, Kent Franzen – CARAGA – 31.47
Girls 50-M Butterfly
Francisco, Jesrell – NCR – 31.68
Coronel, Samantha – NCR – 31.83
Pospia, Czaree Cassidy – CARAGA – 33.13
Boys 200-M Medley Relay
NCR – Gibson, Anastacio, Reyes, Pinpin 
CALABARZON – Libat, GO, Agurin, Garcia 
Region 11 – Lozano, Calimutan, Alinsub, Yarra
Girls 200-M Medley Relay
CALABARZON – Newberry, Magtibay, Quiambao, Catelo
NCR – Deleon, Orlina, Fabie, Coronel
Region 11 – Hilario, Elesterio, Shimizu, Trinidad
Swimming Events (Secondary Division)
Boys 400-M Freestyle
Illustre, Maurice Sacho – NCR – 4:19.47
Fox, Cedrich Joseph – Region 11 – 4:25.58
Anor, Christian Paul – Region 11 – 4:28.52
Girls 400-M Freestyle
Mendoza, Christine Jhoy – NCR – 4:47.54
Nicole, Meah Pamintuan – CALABARZON – 4:51.74 
Aquino, Precilla Loren – NCR – 4:54.99
Boys 100-M Backstroke
Puyo, Arian Neil – CALABARZON – 1:01.65
Arcilla, Jose Mari – CALABARZON – 1:04.09
Lacuna, Dexter John – Region III – 1:05.24
Boys 100-M Backstroke
Galang, Claire Anne – NCR – 1:10.59
Cayanan, Paula – NCR – 1:11.2
Castrillo, Regina Paz – CALABARZON – 1:13.33 
Boys 200-M Butterfly
Illustre, Maurice Sacho – NCR – 2:10:07
Kong, Michael Ichiro – Region 7 – 2:15.87
Gurango, John Henry – CALABARZON – 2:17.27
Girls 200-M Butterfly
Himor, Suzanne Vernon – CALABARZON – 2:25.99
Mendoza, Christine Jhoy – NCR – 2:32.41
Saavedra, Mary Angelic – NCR – 2:35.49
Boys 200-M Medley Relay
NCR – Sing, Taleon, Claveria, Guevarra
CALABARZON – Arcilla, Calderon, Gurango, Casino
Region III (no name given) 
Girls 200-M Medley Relay
NCR – Galang, Aquino, Matabuena, Cayanan
Region V – Hernandez, Llabore, Oliveros, Imperial
Region 10 – Sipalay, Sogoc, Hortelano, Alquizar
– Rappler.com