NCR Alberto Batungbakal, Maurice Illustre, Miguel Barsilan, and Brandon Sing contribute the capital's medals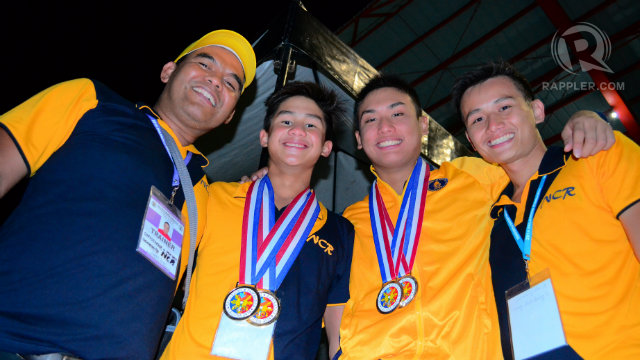 LAGUNA, Philippines – Bagging this year's gold medal in the 400-meter Medley Relay, Alberto Batungbakal, Maurice Illustre, Miguel Barsilan, and Brandon Sing had no hesitations diving into the waters for National Capital Region.
To prepare for Palarong Pambansa 2014, Barsilan and his teammates had a strict schedule and training.
"We trained every day, Monday to Saturday. Sometimes, we'd have double session trainings. One in the morning and in the afternoon," Barsilan.
"We're the same, but sometimes I had triple training sessions," Batungbakal added.
Their meticulous training paid off as seen in the results in the two days of the competition. Aside from winning the 400-meter Medley Relay, they earned different medals from the categories in the Swimming event.
During the first day of the event, Illustre, a Palaro-accustomed swimmer, bagged two medals in the categories 200-meter Butterfly and 400-meter Freestyle.
Sing was also a part of the winning team in the 200-meter Medley Relay.
Barsilan and Batungbakal showcased their skills Wednesday, May 7. Barsilan snatched the gold medal at the 100-meter Freestyle category, while Batungbakal won the 200-meter Breaststroke.
Barsilan was happy to be participating in the Palarong Pambansa. The 14-year old Palaro newbie is hoping to represent his region for a long time.
"Everyone was fast and I got surprised, but I like it here because everyone's humble," Barsilan said.
In his last year to play in the country-wide sports event, Batungbakal was happy to have been part of the winning relay team.
"(Winning's) the best feeling because the difference now is that it's a team effort. You'll swim better. You'll swim not just for yourself, but for the whole team and NCR," Batungbakal said.
Coming from rival schools Ateneo and La Salle, Barsilan and Batungbakal admitted there was no awkwardness towards each other. The team had to train individually, but they instantly connected with each other.
"Our coaches talked to us. We got pumped up and we just went out there," Barsilan said.
"Besides, when you get here, it's just NCR," Batungbakal said.
DAY 2 RESULTS:
SWIMMING ELEMENTARY DIVISION
Boys 50 M Breaststroke
Panguico, Jumary – CARAGA – 35.73

Sayson, Martin Jose – Region 7 – 35.88 

Bibal, Gideon Jude – NCR – 37.02
Girls 50 M Breaststroke
Magtibay, Bela Louise – CALABARZON – 37.36

Elesterio, Bernice – Region 11- 38.29

Saavedra, Imee Joyce – NCR – 38.57
Boys 200 M Individual Medley
Santos, Philip Joaquin – NCR – 2:28.75

Viovicente, Emilio Jose – NCR – 2:30.84

Libat, Angel Kyle – NCR – 2:37.10
Girls 200 M Individual Medley
Hilario, Zoe Marie – Region 11 – 2:39.49

Esmero, Charize – NCR -2:39.94

Magtibay, Bela Louise – CALABARZON – 2:42.95
Boys 100 M Freestyle
Viovicente, Emilio Jose – NCR – 1:01.43

Reyes, Orlando Luis – NCR -1:02.04

Cagape, Kent Franzen – CARAGA – 1:02.36
Girls 100 M Freestyle
Saavedra, Imee Joyce – NCR – 1:03.34

Pospia, Czaree Cassidy – CARAGA – 1:05.92

Ong, Jules – NCR – 1:06.85
Boys 400 M Medley
NCR – Jacinto, Anastacio, Santos, Martin

CARAGA – Gealogo, Panguico, Cagape, Madjus

CALABARZON – Seranillo, Sicat, Arguzon, Lim
Girls 400 M Medley
CALABARZON – Macatangay, Magtibay, Aquino, Newberry

NCR – Esmero, Saavedra, Santos, Francisco

Region 3 – Baccay, Javier, Villanueva, Chia
SWIMMING SECONDARY DIVISION
Boys 200 M Breaststroke
Batungbakal, Alberto – NCR – 2:34.16

Taleon, Joshua – NCR – 2:34.81

Ellsworth, James Alfon – Region 3 – 2:36.24
Girls 200 M Breaststroke
Aquino, Precilla Loren – NCR – 2:50.42

Teope, Raine Helena – Region 3 – 2:55.55

Dabi, Maurice Govanne – MIMAROPA – 2:55.76
Boys 200 M Individual Medley
Pogiongko, Andre – NCR – 2:18.21

Labao, Jenkins Lorenzo – CAR – 2:18.42

Guevarra, Almair – NCR – 2:19.58
Girls 200 M Individual Medley
Castrillo, Regina Paz – CALABARZON – 2:35.04

Himor, Suzanne Vernon – CALABARZON – 2:35.46

Aquino, Precilla Loren – NCR – 2:35.49
Boys 100 M Freestyle
Barlisan, Miguel – NCR – 55.27

Mangilinan, Robi – Region 1 – 56.34

Junsay, Joshua – Region 6 – 56.41
Girls 100 M Freestyle
Cayanan, Paula – NCR – 1:01.72

Nicole, Meah Pamintuan – CALABARZON – 1:03.09

Matabuena, Carmenrose – NCR – 1:04.72
Boys 400 M Medley
NCR – Sing, Batungbakal, Illustre, Barlisan

CALABARZON – Puyo, Calderon, Gurango, Lavina

Region 6 – Evangelista, Lee, Rojo, Junsay
Girls 400 M Medley
NCR – Joves, Lalimo, Mendoza, Saavedra

CALABARZON – Castrillo, Nicole, Himor, Prejula

Region 6 – Sa-Ac, Dewara, Mabus, Garbanzoz
– Rappler.com