Having an NBA big man would help Gilas Pilipinas' chances at the FIBA World Cup, but there are drawbacks and growing pains involved as well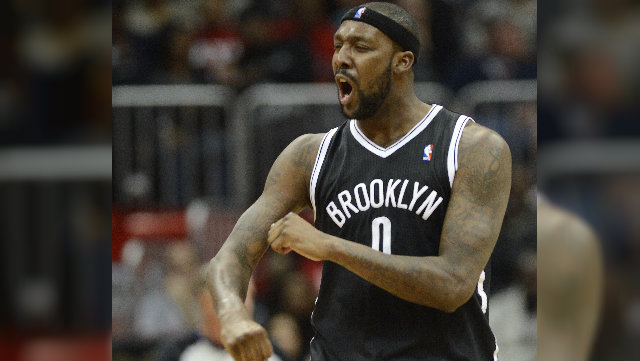 MANILA, Philippines – Monday was a great day for Philippine sports. The bill to grant Filipino citizenship to Brooklyn Nets big man Andray Blatche was passed on its third and final reading, and pending a few more technicalities, we will actually have an NBA player whom we can call a Filipino.
Granted, he's not of Filipino descent, but at least by senate rules and regulations, Blatche will be a Filipino.
For years, Philippine basketball has been rising. We may still be nowhere the level of hoops displayed in the NBA or Euroleague, but after last year's FIBA Asia competition, I think we can safely say that Filipinos are making a name for themselves in the basketball landscape. And today, we have an NBA player in our midst, one who will represent our nation in the biggest basketball competition in the world. The world will be tuned in and the Philippines will have an opportunity to increase its notoriety on a big stage.
Without a doubt, having the 6-foot-11 Blatche around presents a lot of pros for Gilas Pilipinas. It's safe to assume that the team will face many behemoths in the FIBA World Cup in Spain. Based from what we've seen over the past few seasons, the Brooklyn Nets big man has shown an ability to knock down open mid-range jumpers, score in the post, and grab rebounds, which will be essential for an undersized Philippine team come World Cup time.
But it's no secret that Blatche's defense needs work. It wasn't his strong suit in the past season, and it was a reason why Nets head coach Jason Kidd chose to sit Blatche for some games. Also, there have been questions about his maturity and dedication. When he moved to Brooklyn, Blatche improved his outlook, working hard in order to get into the squad's rotation, putting in the work in the training room and in practice sessions. But while he was in Washington, the NBA center was a constant problem, and it led to his eventual release from the squad. And make no mistake about it: that was an ugly divorce.
Now, here's what needs to be considered: Kidd isn't going to be around when Gilas practices. Neither are Paul Pierce and Kevin Garnett, both of whom are outstanding veterans that know what it takes to win at the highest level. Also, having guys like Deron Williams and Joe Johnson, I'm sure, played a huge factor in developing Blatche's concentration and discipline. Because when you've got a team with a bunch of All-Stars and playoff-seasoned veterans, you're going to have to behave. Otherwise you'll be sent out of the door even before you can say your goodbyes.
Here in the Philippines, who's going to watch over Blatche? If the situation demands it, who's going to go up to him and tell him to cut it with the jokes and pranks – both of which he's known to be keen on. I mean, Blatche has talked about how he plans on dedicating time and effort to help Gilas and not derail it, but his past gives us cause to pause. 
Frankly, Blatche cannot be spoiled. Yes, he is an NBA player and having him represent the colors of the Philippines is something to be celebrated. But at the end of the day, you can be the MVP of the NBA, but if you do not behave and do not give the dedication to the country's cause, its people will turn on you in an instant. 
Blatche needs to remember this. Going to the Philippines isn't a vacation. It is work. It will involve a lot of sacrifice. Succeed, and the nation's people will adore him and welcome him here for the rest of his days. But if he brings Washington Andray Blatche, things will turn ugly. And when things turn ugly, we will look back to this day not as something to be celebrated, but as something to frown on.
Now, this is a great, great deal for the Philippines. If anything, this country is a hoops-crazy nation. Does it rival the passion of Americans? Maybe not, but the following of basketball here is still tremendous.
I'm not sure if everyone followed the Brooklyn Nets religiously over the past season. Some probably did while some remained as casual basketball fans. Is Andray Blatche good? Yeah, he did average 11 PPG this past season. Is he an All-Star caliber player that could single-handedly help Gilas to a top-three finish in the World Cup? Probably not, because there are a lot of good teams out there that can still easily blow us out.
But for the casual basketball fans in the Philippines, getting an NBA player to suit up for the team is a pretty huge deal. He's going to be treated as a celebrity and that may come with a price. But let's say he does behave and brings the same winning attitude he did with the Nets – it could propel Gilas to at least have a better chance when they go up against Argentina, which will have the services of Luis Scola and maybe Manu Ginobili. 
But, here's another part that may or may not go under the radar with this whole Blatche fiasco: Marcus Douthit. 
Ever since Douthit arrived to the Philippines, he has been nothing short of an outstanding professional. It's safe to say he's worked hard and dedicated enough for us to call him a "kababayan." And it's sad, because just when the Philippines finally got to the biggest stage, he's going to be replaced. Can we blame Coach Chot Reyes and the members of the team if they go that route? Individually, Blatche is superior to Douthit, not to mention more experienced against some of the American basketball players the team may or may not face in the World Cup.
But picking Blatche over Douthit may come with a price. Just because the former is an NBA player, it doesn't mean he's going to fit right in with the team. Douthit has practiced for years with his Gilas teammates and he's gone to war with them on multiple occasions. Needless to say, they've formed a brotherhood that can't be developed just overnight. Once this Blatche thing is finalized, how much practice time will he get with Jimmy Alapag and company before the team leaves for Spain? Furthermore, most of Gilas' players are still in the PBA, where the Governors' Cup is far from over.
Ultimately, if you made me choose, I'd go with Blatche over Douthit because Andray is the much better individual talent, and his experience going up against the kind of talent Gilas will face in the World Cup is invaluable. However, taking that route may lead to certain consequences that could prove to be detrimental to Team Philippines. 
Sometimes, it's not all about #PUSO. It's also a lot of Xs and Os, and how some decisions could prove to have the most critical repercussions. – Rappler.com