Sangalang ignited a fourth quarter surge by San Mig Coffee scoring 6 straight points to put his team ahead for good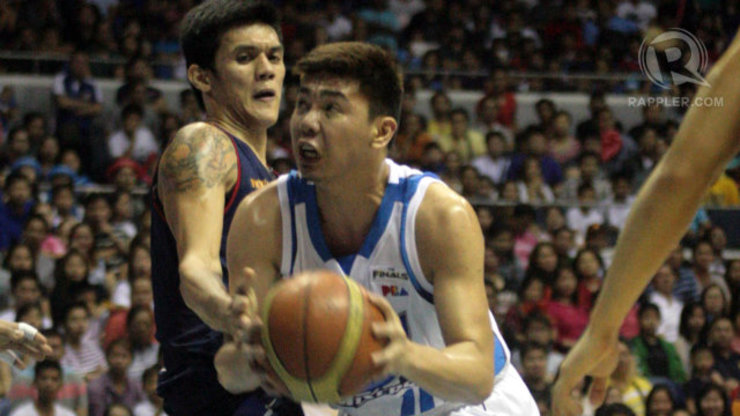 MANILA, Philippines (UPDATED) – The San Mig Super Coffee Mixers, with their extraordinary ability to deliver a mean finishing kick, came through once again in the fourth – when it counted most – to dispatch the Rain or Shine Elasto Painters, 78-69, in Game 3 of the Finals in the 2014 PLDT Home Telpad PBA Governors' Cup on Saturday, July 5 at the Smart Araneta Coliseum.
After guys like James Yap and Allein Maliksi, this time, it was rookie Ian Sangalang who stole the show and played like a veteran in the early goings of the fourth as he carried the Mixers during a 12-2 fourth quarter run, which permanently turned the tables on Rain or Shine.
"Ian stepped up," said San Mig head coach Tim Cone. "He was the one who gave us that run along with Mark (Barroca) and Justin (Melton)."
The 22-year old slotman out of San Sebastian College-Recoletos scored 6 points during that 12-2 spurt that turned a 58-59 deficit into a 70-61 advantage for the Mixers.
Sangalang finished with 13 points with 8 of those coming in the final frame.
Operating quietly was guard Mark Barroca, who made all those plays possible during that crucial stretch. He tag-teamed with Justin Melton in breaking down the defense, creating space and providing the assists for easy baskets underneath.
Barroca had a quiet 6 points and two assists while Melton chipped in two markers and 4 dimes.
"Ian played big, Mark played big, Justin played big in that little run in the fourth quarter that got us that lead," Cone said.
The Mixers never relinquished the lead from that point on, clearly playing with much more energy than their counterparts.
That momentum-shifting stretch also exposed the uncertainty in the Painters' game on Saturday night.
They tallied 4 turnovers from the 10:34 mark of the payoff period up until 7:10 alone, during which time San Mig Coffee was scoring at will. It showed the defensive intensity that was propelling the Mixers all game long, even against a 25-point third quarter burst by Rain or Shine.
"It wasn't really a game of big shots this time," Cone pointed out. "But it was more a game of big stops."
Cone's wards milked 13 turnover points on Rain or Shine and out-rebounded them 52-39.
"They played with a lot more energy, with a lot more aggressiveness. I'm not happy with the way we came out today," said Rain or Shine head coach Yeng Guiao.
"We had a chance in the fourth quarter but we turned the ball over I think 5 straight times. Just terrible mental lapse."
Import Marqus Blakely led all Mixers with 17 points and 17 rebounds as Joe Devance and PJ Simon each had 10 points.
With the win, San Mig Coffee shoved the Painters into a precarious position as they went up 2-1 in the series, moving one game away from their 4th crown and the third one to claim the much talked about Grand Slam.
Though Cone would much rather not speak about it, at least inside his team's locker room.
"You can't talk about it until it's done," he said. "We just can't afford to do that."
Cone is in no way expecting the series to end on Monday. Though he hopes it will.
"We just have too much respect for this team. I can tell in our guys that this is the mentally strongest team we will play. They are so mentally strong, they don't break. You just gotta go out and compete with them every moment, every possession and hope you win more possessions than they do."
Best Import of the Conference AZ Reid was the only Rain or Shine player in double digits with 31 points to go with 8 rebounds.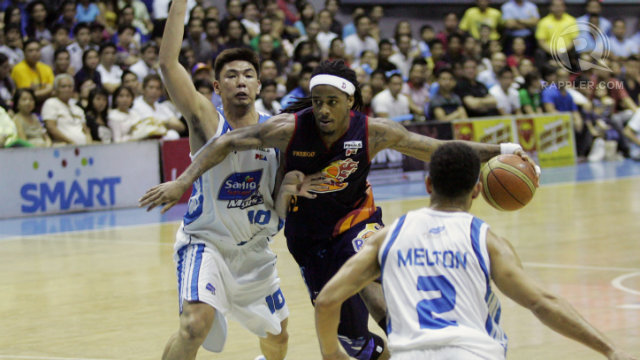 Guiao failed to get contributions from his locals as Beau Belga had only 8 points while usual suspects Jeff Chan and Paul Lee had only 4 and two points, respectively.
"We just got outworked today. We relied too heavily on AZ (Reid) for scoring," Guiao said.
"Just thought that if we're not gonna get scoring from the locals, we're not gonna beat San Mig. AZ's trying hard to carry us on his shoulders but it's just not gonna happen."
Unlike a triumphant Reid at the end of Game 2, the import was a picture of everything that went wrong for Rain or Shine in Game 3.
As the final buzzer sounded, Reid had both hands on his knees with his head down, staring at the floor, perhaps hoping that a Game 5 is in their futures.
Scores:
San Mig Coffee (78) – Blakely 17, Sangalang 13, Devance 10, Simon 10, Pingris 7, Yap 7, Barroca 6, Reavis 6, Melton 2, Maliksi 0.
Rain or Shine (69) – Reid 31, Belga 8, Cruz 6, Arana 6, Almazan 4, Chan 4, Tiu 3, Ibanes 2, Lee 2, Norwood 2, Rodriguez 1, Tang 0, Nuyles 0.
Quarter scores: 17-14, 39-30, 58-55, 78-69.
– Rappler.com
---
PBA 2014 GOVERNORS' CUP FINALS RECAP
Game 1: James Yap delivers as San Mig Coffee snatches away Game 1
Game 2: AZ Reid proves himself as Rain or Shine equalizes series