The Elasto Painters were on fire in the 2nd period finishing the half ahead by double-digits and never looked back to take Game 4, 88-79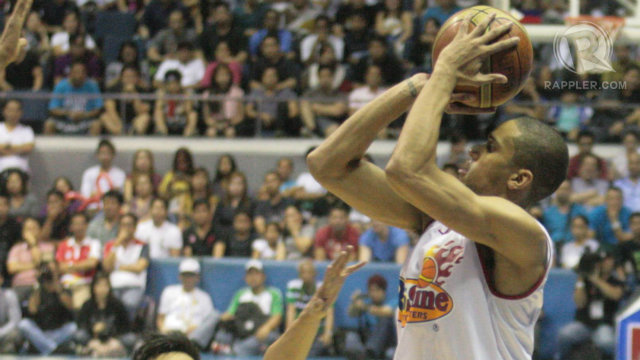 MANILA, Philippines (UPDATED) – And a Game 5 is upon us.
The Rain or Shine Elasto Painters invested in an early 20-point lead and subsequently withstood the San Mig Coffee Mixers' second half barrage on their way to taking Game 4, 88-79, on Monday, July 7 at the Smart Araneta Coliseum and forcing a winner-take-all Game 5 in the 2014 PLDT Home Telpad PBA Governors' Cup.
The Painters broke down the Mixers' defense and put up a 53-33 lead late in the second period as they shot 53.8% for the entire first half.
That investment turned out to be good enough as Rain or Shine weathered a San Mig Coffee 9-0 burst and their own quiet first 6 minutes of the third frame, which chopped the Painters' lead to 53-47.
But Paul Lee promptly stopped the bleeding with a triple on his way to making up for his two-point Game 3 performance with 14 points, 6 rebounds and 5 assists in this game.
"It's really just postponing their party," Rain or Shine head coach Yeng Guiao said, knowing that San Mig Coffee was hoping to close the series out in this game and come out with the Grand Slam.
"We're hoping we have a chance to cancel it on Wednesday."
The Mixers managed to keep the deficit at just single digits towards the end of the third but a pair of buckets from Ryan Arana (10 points) and Arizona Reid gave Rain or Shine some breathing room entering the fourth with a 69-55 advantage.
A visibly determined Painters simply answered back every Mixers rally in the fourth as coach Tim Cone's wards found no answer to the physical and lightning quick defense employed by Rain or Shine.
Guiao's men blocked out the noise from the 18,168 fans in attendance and silenced the rowdy crowd cheering against them with every made basket and every defensive gem.
"Well, we certainly didn't play well today," Cone remarked simply. "We just seemed a step slow tonight."
A Lee jumper with 2:12 left on the clock effectively shut the door on a deflated Mixers, 87-69, before San Mig mounted a 10-1 run in the final two minutes, which came a little too late for them.
"We had an opportunity to try and close this thing tonight and it now comes down to a 50-50 game," Cone said.
"They just beat us up today."
"It's really just a simple formula for winning today, we just played a lot harder. Definitely a lot harder than Game 3," Guiao added.
"Also we got others involved in the scoring other than the import. We played a lot better defense today."
Guiao's wards did come out in this game with a conscious mindset to distribute the ball and help out their import more than they did in Game 3.
Rain or Shine moved the ball enough for 20 assists while the Mixers had 14.
And as Gabe Norwood posted 14 points on top of his infectious energy on the floor, Guiao found unexpected contribution from seldom-used Jonathan Uyloan, who went two-of-two from long range and tallied 8 marks within 6 minutes of being on the floor.
Reid led all Painters with 22 points to go with 17 boards.
Meanwhile, Marqus Blakely tallied 21 markers and 16 rebounds as James Yap joined the import as the only two Mixers in double figures with his 12 points.
Scores:
Rain or Shine (88) – Reid 22, Lee 14, Norwood 14, Belga 11, Arana 10, Uyloan 8, Almazan 3, Cruz 2, Tiu 2, Chan 2, Ibanes 0, Rodriguez 0.
San Mig Super Coffee (79) – Blakely 21, Yap 12, Devance 9, Sangalang 8, Simon 8, Barroca 7, Maliksi 6, Pingris 4, Taha 2, Melton 2, Mallari 0, Reavis 0.
Quarter scores: 21-21, 53-38, 69-55, 88-79.
– Rappler.com
---
PBA 2014 GOVERNORS' CUP FINALS RECAP
Game 1: James Yap delivers as San Mig Coffee snatches away Game 1
Game 2: AZ Reid proves himself as Rain or Shine equalizes series