The story of the Philippines' golden age of boxing cannot be told without mentioning Brian Viloria
MANILA, Philippines – It's hard to appreciate the ups of Brian Viloria's career without analyzing the downs as well. For 13 years, the hard-punching Filipino-American has engaged in a boxing career that will split opinions of analysts after the 33-year-old hangs up his gloves for good.
When he has been on point, Viloria has been sensational. A champion in the 108 and 112-pound divisions, Viloria was the first fighter in nearly 50 years to unify the flyweight titles. He was a rare knockout artist in the sport's lightest divisions who never got his big break on the major American networks.
When Viloria was off, he was frustrating. There were the listless defeats to Omar Nino Romero and Edgar Sosa in 2006 and 2007, respectively, which saw the heavily favored Viloria befuddled by his opponents' unorthodox style.
His losses to Carlos Tamara in 2010 and Juan Francisco Estrada in 2013 came at times when his reputation was just beginning to break through the weight barrier.
Viloria was always most dangerous when written off, and most vulnerable when at his most indomitable. The unpredictability of his career makes it hard to measure him among the all-time greats. Still, the story of boxing's best little men can't be written without mentioning "The Hawaiian Punch" from Waipahu, Hawaii.
On Saturday, July 19, Viloria will make his 40th trip down towards the ring when he faces Jose Alfredo Zuniga (11-5-1, 5 KOs) at the Venetian Resort in Macau, China. Viloria is hoping to register his second straight victory and align himself for one more shot at a world title, with a rematch with Estrada or a meeting with IBF claimant Amnat Ruenroeng being his favored options.
Before then, Rappler offers a look back at the five greatest nights of Viloria's career. 
Viloria KO 1 Eric Ortiz
September 10, 2005 – Staples Center, Los Angeles
Eric Ortiz had emerged as an unlikely titleholder, upsetting Puerto Rico's Jose Antonio Aguirre in 7 rounds to win the WBC junior flyweight title that Jorge Arce had vacated to move up in weight. The Mexico City native would have no easy outing for his first defense, facing the unbeaten 2000 U.S. Olympian Viloria on a card that featured Manny Pacquiao's tuneup knockout of Hector Velazquez.
Viloria, then 24, was beginning to come into his own as a professional, having knocked out three straight opponents. It would be a preamble to the power Viloria would show in his first vie for a world title.
Emboldened by the scores of Filipino fans on hand to watch Pacquiao, Viloria stormed Ortiz from the opening bell, landing a left hook-right uppercut-right cross combination that was followed by the first stunning right cross of the round a moment later.
As the ten-second clapper was pounded on the canvas, Viloria uncorked two consecutive right crosses that left Ortiz stunned in a corner. With seconds remaining in the round, Viloria landed a perfect right cross as Ortiz flailed instinctively for his own punch, dropping Ortiz on his back. Ortiz struggled to stand up but fell back down once again, and the referee waved off the bout at the 2:59 mark.
Viloria KO 11 Ulises Solis
April 19, 2009 – Araneta Coliseum, Manila, Philippines
It had been three years – an eternity in boxing – since Brian Viloria had lost his WBC 108 pound title to Omar Nino, failing in a no contest rematch and a majority decision loss to Edgar Sosa to recapture the belt.
Viloria spent 2008 rehabilitating, bringing on Roberto Garcia as trainer and transitioning to a more offensive style than he had employed in previous fights. Viloria won five straight bouts in 2008 but was still a decided underdog against Ulises Solis, who had made eight defenses of his IBF junior flyweight title since winning it three years earlier.
The Guadalajara, Mexico native Solis had earned a reputation as the bane of Filipino boxers in the lower divisions, having defeated Rodel Mayol, Bert Batawang and Glenn Donaire in successive fights leading up to the Viloria defense.
But Viloria, who was fighting in front of his ancestral home country for the first time as a pro on a card co-headlined by Nonito Donaire Jr., put on a determined performance early, using his superior foot speed and a straight right hand that couldn't miss to befuddle the incumbent champion. Solis lost points for low blows in rounds 3 and 5 and was trailing 96-92 on all three judges' scorecards heading into the 11th round.
Those deductions would prove to be moot. Solis, already worn down by Viloria's right hands and body assault, had slowed down a beat by this point. After feinting twice, Viloria threw a diversionary left hook, and as Solis stepped in to counter Viloria stepped back and threw the damnedest right hand of his career, dropping Solis forward onto his hands and knees. Solis rolled over to his back and sat up, where he would take the referee's ten count at the 2:56 mark.
Viloria TKO 8 Giovani Segura
December 11, 2011 – Yñares Sports Arena, Pasig City, Philippines
Same story, different names. Once again Viloria was on the mend, having lost the IBF 108 pound title in his second defense to Carlos Tamara by a twelfth round technical knockout. Viloria had moved up in weight to 112 pounds and defeated Julio Cesar Miranda by a twelve-round decision to capture the WBO flyweight title.
Segura, on the other hand, had been devastating in recent fights, knocking out previously unbeaten future Hall of Famer Ivan Calderon twice during a nine-fight KO streak in world title affairs. Segura had earned a spot on THE RING magazine's pound-for-pound list, and had been the mandatory challenger to Miranda but agreed to step aside for Viloria, setting up the showdown between former sparring partners.
Viloria, who was now being trained by Mario Morales after a murky split with Garcia, had Segura scouted perfectly from the get go. Viloria was able to land big left hooks early on the sluggish Segura, who was struggling to get his offense going.
Before the fight Viloria had promised to box, but he threw a curveball by backing up Segura, who was beginning to wane from the pressure. A hematoma, similar to the one Hasim Rahman suffered against Evander Holyfield, began to form on the right side of Segura's head, affecting his vision.
As the fight became more and more one-sided, the referee stopped the fight at :29 of the eighth round.
Viloria TKO 9 Omar Nino Romero
May 13, 2012 – Yñares Sports Arena, Pasig City, Philippines
Five months later Viloria was back in the Philippines, taking aim at an old rival who had been a thorn in his side in years past. Nino had handed Viloria his first defeat in 2006 and in a rematch three months later Viloria had scored two knockdowns but was held to a draw. That result was later changed to a no decision when Nino's post-fight test showed signs of amphetamine use. 
Nino's career recovered, as he defeated Rodel Mayol in 2010 to win the WBC junior flyweight title but lost it later that year to Viloria knockout victim Gilberto Keb Baas. Nino was 36 and essentially retired by the time he met Viloria a third time.
Still, despite slower reflexes and a lack of punching power, Nino showed just why he had given Viloria problems years earlier. His movement was still awkward as he lunged forward at off-beat times Viloria found it hard to time. Nino's jab wasn't bad either, and he was giving Viloria fits in spots.
Still, Viloria was the younger, stronger fighter, and that goes a long way in boxing. Viloria rocked Nino with a right cross in the fourth round but was able to get a breather with two low blows that drew cautions from the referee. Viloria busted Nino's left eye open in the following round with a right hand.
Nino finally ran out of lives in round nine when a right hand drove him into the ropes, where a Viloria follow-up brought an end to the fight at the 2:07 mark. Nino would never fight again.
Viloria TKO 10 Hernan Marquez
November 17, 2012 – Sports Arena, Los Angeles 
The flyweight titles had not been unified since 1965 by the time Viloria staked his WBO belt against WBA title claimant Hernan "Tyson" Marquez in 2012, and the bout brought promises of a Michael Carbajal-Humberto Gonzalez level of little man war. Both were the biggest punchers in their division and had made multiple defenses of their belts.
Adding to the drama was that Viloria's former trainer Robert Garcia was working in Marquez's corner.
By round one the fight had already lived up to its billing. Viloria came out aggressively, backing the southpaw Marquez up to the ropes with heavy artillery. Marquez found a hole in Viloria's armor and stunned Viloria back with an overhand left but as he pressed his advantage he left himself open to a right hand and was down. 
The fight would continue on that pattern for the rest of the night. In round 5, Viloria was stunned once more by a Marquez right hook, being battered to the ropes before slipping to the canvas dramatically. Viloria arose immediately but moments later was hurt again, this time with a looping overhand left that sent him right back into the ropes.
It seemed at that point that Viloria may have been ready to go as Marquez unloaded punch after punch, but by remaining calm in the eye of the storm he had weathered the onslaught and found his foe tired and vulnerable. Without taking a moment to compose himself Viloria began returning fire, crunching a counter right hand that stopped Marquez in his tracks before two more sent Marquez down again to the seat of his pants. Just as he had before, Marquez got right back up and resumed his attack.
The third – and final – knockdown of the fight in the tenth round occurred just as the previous had, with Marquez seeming to overwhelm Viloria before Viloria returned fire. This time the knockdown came from a left hook, and unlike the previous knockdowns there would be no comeback. Viloria pounced on Marquez, and after a few follow up punches and a throw down, Robert Garcia stepped between the ropes to save his fighter from further damage at the 1:01 mark. – Rappler.com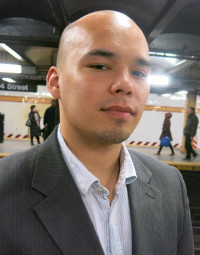 Ryan Songalia is the sports editor of Rappler, a member of the Boxing Writers Association of America (BWAA) and a contributor to The Ring magazine. He can be reached at ryan@ryansongalia.com. An archive of his work can be found at ryansongalia.com. Follow him on Twitter: @RyanSongalia.