Despite being excluded from the Gilas 12-man roster for the FIBA World Cup, Marcus Douthit's contributions to Philippine basketball will remain etched in Pinoy hoops history
MANILA, Philippines – A little over a year ago, on August 11, 2013, at the Mall of Asia Arena, Marcus Douthit could no longer go on. 
The Philippines was up against Korea, the same club who for years had tortured the Filipinos in international basketball before the 2013 FIBA Asia Championship. 
The entire nation had waited so long to exact revenge against their heated rivals, to make them feel what it's like to be on the losing side for a change.
But that hope seemed to take a detour in the second quarter. Douthit, Gilas Pilipinas' naturalized big man, went down with a leg injury and would not return. 
He was safety net of Philippines for so long; the guy who would get the ball down low when team Philippines was in desperate need of a basket. It was tough to see him limp by the sidelines. He wanted nothing more than to return to the game. To return and help lead Gilas to victory. To return and exorcise the demons of Korea. But his body wouldn't let him.
Thankfully, though, the heroics of Marc Pingris, Jimmy Alapag, and the rest of the team were enough to get by the Koreans, and in the process earn a guaranteed trip to Spain for the 2014 World Cup. 
What took place next was absolute jubilee. Gilas head coach Chot Reyes fell to the ground, as water started to drip from his eyes. Larry Fonacier pumped his fist, threw it at the floor, and raised it again in pure ecstasy. Marc Pingris, usually the playful one, bent as he tried to fight back tears. The entire squad was hugging each other. Strangers at MOA Arena celebrated with one another. The entire nation, at that moment in time, was united as one. 
And at that moment, it also felt like Douthit, who had sacrificed so much for Gilas to get to that moment, to get an opportunity to compete with the rest of the globe in the World Cup, was just like everyone else: a Filipino.
Never forgotten
On Monday, August 18, Coach Chot Reyes announced two names that would be included in Gilas' roster for the World Cup, which begins on August 30. Paul Lee, one of the rising stars in the PBA today, was selected to replace Fonacier, who bowed out of a trip to Spain to rest nagging injuries.
Douthit was out as well, though not because of any health issue. NBA big man Andray Blatche has taken his place as the naturalized big man of the Philippine national basketball team. Due to FIBA stipulations, which allows only one naturalized player in uniform per international competition, Douthit will be forced to sit out the World Cup. 
Playing Blatche has its perks. There's a reason why he spent multiple years in the NBA while Douthit was a second-round pick who never made a roster past training camp. Talent wise, the former Brooklyn Net big leads the race.
However, it's not all about talent. As heard multiple times in Coach Reyes' huddles, advertisements of Gilas, and at least once a day on television: the national team finds strength in "PUSO!" (heart). If Blatche wants to match the puso and dedication Douthit gave for Gilas Pilipinas, he has a long way to go.
Jamal Sampson. CJ Giles. Dwayne Jones. These are just some of the names who Gilas flirted with in their search for a naturalized player. All of them didn't pan out – some because of personal reasons, while others due to lack of discipline. 
Until the Philippine team found Douthit, international success wasn't easy to come by. In three tourneys abroad prior to the 2010 Asian Games, Gilas' best placing was fifth in the '09 FIBA Asia Champions Cup.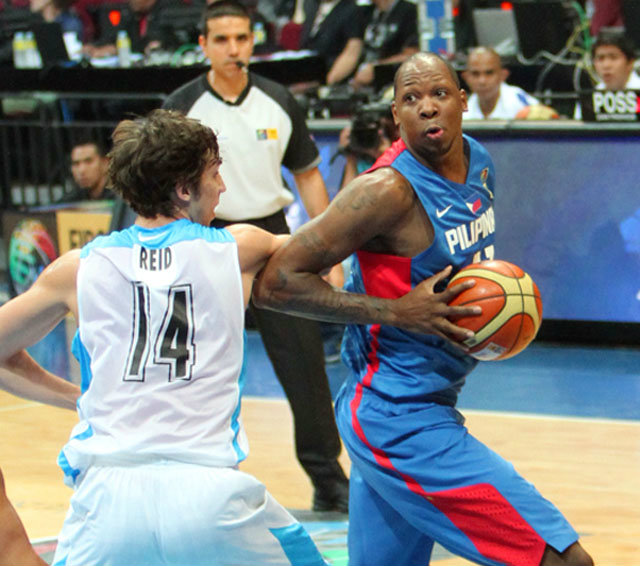 Their fortunes turned when Douthit came on board, along with the inclusion of PBA stars in the national team. But it was the new import who really spearheaded the club and gave the entire nation a new hope. Impressing the brass of Gilas in the 2010 MVP Invitational Championship, Douthit was naturalized as a Filipino a year later, paving the way for the team's success later on.
Slowly, Team Philippines started to improve in international contests. In the 2011 FIBA Asia Championship, the big man put up 21.9 PPG and 12.2 RPG while leading Gilas to a fourth place finish in Wuhan, China. His stellar play continued on as Coach Reyes and company built a roster around him, one that optimized his abilities.
And then on that fateful day at the Mall of Asia Arena in 2013, it felt like the Philippines was on top of the world. They went on to lose to Iran in the finals the following day – though had Douthit played, their chances would have certainly been better – and settled for silver, but Gilas was gold in the hearts of every Filipino in the world. With all the sacrifice, hard work, and perseverance they gave for the Philippines, they became heroes.
And no hero epitomized the three aforementioned qualities more than Douthit.
Sacrifice
Sacrifice sacrifice! !

— marcus douthit (@DouthitMarcus) August 18, 2014
Once again, Marcus Douthit will have to sacrifice. This time, however, it's not about sacrificing a jumper to feed an open teammate. It's not sitting down a few minutes to let a rolling comrade continue his streaky play on the court. It's not even about sacrificing the chance to represent the country in a critical game due to injury.
Douthit is sacrificing his spot to face the best basketball players in the world and to represent the Philippines in the grandest hoops spectacle to let a newcomer take his spot.
Other than Blatche's versatile game and capabilities on the hardwood, he's only 27-years-old. Douthit, 34, is nearing the twilight of his career. Some may argue that the latter's better chemistry with his teammates and continuity from playing years with the team are assets that could be more helpful come the World Cup, and they make a good case. But it looks like Coach Reyes' decision is final.
It would have been nice to see Douthit's international career with Team Philippines finish in Spain, though the team, it seems, has elected to go with the naturalized recruit with younger legs and more experience dealing with NBA-level opposition. 
Nevertheless, the entire country will never forget what Douthit did for Gilas Pilipinas, and for each and every Filipino in the world. The Philippines welcomed him with open arms, and he showered the nation back with love and dedication.
He has provided countless of memories as well, many of which will never be forgotten. It's a long shot, but if one day Philippine basketball rises to the top of the world, Douthit will always be remembered as a patriarch who helped put up the foundation for success.
Douthit said it best: "I'll never have Filipino blood, but as far as becoming a Filipino, I'll always have it in my heart."
Rest assured, he will always be a Filipino. – Rappler.com
---
Related stories