The trade to unite star power forward Kevin Love with LeBron James and Kyrie Irving was completed on Saturday, creating another 'Big Three' in Cleveland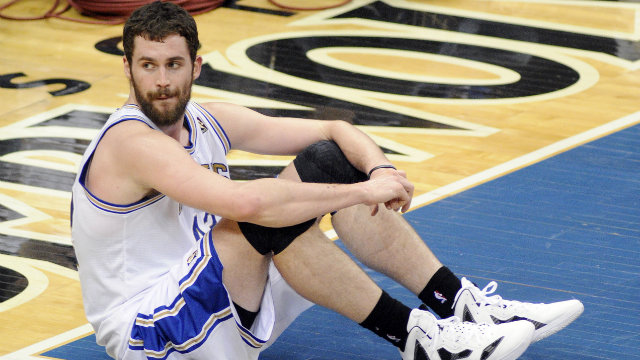 CLEVELAND, USA – NBA star big man Kevin Love joined the Cleveland Cavaliers on Saturday, August 23 in a three-team trade deal that gives LeBron James a new "Big Three" after leaving the Miami Heat.
The much-anticipated transfer was delayed because it involved guard/forward Andrew Wiggins, the top pick in June's NBA Draft. League rules required a 30-day gap between his signing with the team and being traded.
Four-time NBA Most Valuable Player LeBron, who returned to the Cavaliers July 2014 after spurning the team four years ago to play for Miami, left behind a "Big Three" that included star guard Dwyane Wade and forward Chris Bosh – a lineup that won two NBA titles and twice lost in the final, including in June 2014 to San Antonio.
Now James and Cavaliers guard Kyrie Irving will be joined by Love, who offers strong rebounding, quick outlet passes and an inside threat to mesh with the outside game of Irving and the dynamic playmaking skills of the NBA's top star of the moment. READ: LeBron gets Love, but does he get away with tampering?
"Kevin joining the Cavaliers represents a very special and unique opportunity for our team," Cavaliers general manager David Griffin said.
"At only 25, Kevin has already firmly established himself as one the NBA's elite players and his talent, versatility and fit are major parts of our team's vision for success."
Love, a teammate of James on the 2012 US Olympic gold medal squad, was sent to Cleveland by the Minnesota Timberwolves, who received Wiggins and forward Anthony Bennett plus a 2015 first-round NBA Draft choice from the Cavaliers and Philadelphia big man Thaddeus Young.
The 76ers received Cameroon forward Luc Mbah a Moute and Russian guard Alexey Shved from the Timberwolves and a future first-round pick from Cleveland as part of the deal.
Love averaged a career-high 26.1 points on 45.7 percent shooting from the floor and added 12.5 rebounds plus a career-best 4.4 assists in 36.3 minutes a game over 77 appearances last season for the Timberwolves.
Love led the league with 9.6 defensive rebounds a game, third in rebounds per game and fourth in scoring. He also shared eighth in the league with 190 3-pointers.
The standout power forward became the first NBA player to average 26 points, 12 rebounds and four assists for a season since Kareem Abdul-Jabbar and Bob McAdoo in the 1975-76 campaign.
Over his six-year NBA career, Love has averaged 19.2 points, 12.2 rebounds and 2.5 assists a game. The three-time NBA All-Star was also named the league's Most Improved Player in 2011. – Rappler.com
---
Related stories: