The NU Bulldogs will hope to avoid a breakdown like the one they experienced last year as the race for the Final Four comes to a close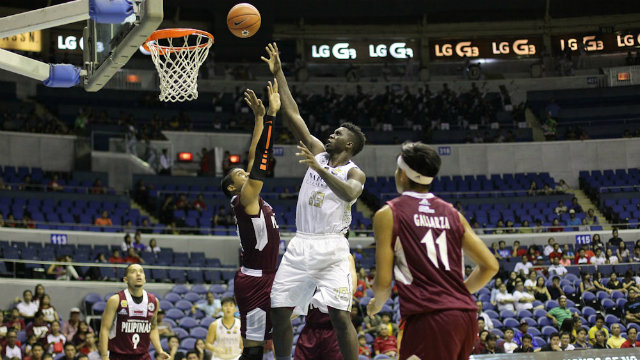 MANILA, Philippines –  Things were much different for the National University Bulldogs a year ago. 
They ended the eliminations atop everybody in the UAAP standings with a 10-4 record and were the top seed in the Final Four with the twice-to-beat advantage. But they blew that and allowed the 4th-seed University of Santo Tomas Growling Tigers to bulldoze past them and barge into the Finals. UST left a stunned and broken-hearted NU in its wake. 
Many rued NU's lack of solid experience compared to UST at the time as the reason they were overturned. It was said weaker character, especially in closing out games, is what lost them the chance for a Finals appearance for the first time since 1970. 
Late in the current Season 77 of the UAAP, the Bulldogs' character will be tested once more.  
Holding a 9-4 slate and only assured of at least a playoff for a Final Four spot, NU will fight for a chance to gain a twice-to-beat edge on Saturday, September 13 or risk falling to a potential playoff for 4th seed against the University of the East.
Inching closer to another shot at a Finals appearance, the Bulldogs will first have to overcome their last eliminations assignment, defending champions De La Salle Green Archers, and then hope to play for the second seed against the loser of the Ateneo-FEU game, which is also on Saturday. 
This time, NU is confident there won't be a repeat of last year's breakdown – even if they advance to the deeper waters of the Final Four.
"I like the character of our team," head coach Eric Altamirano said of his squad, which also sported a new look this season without stars Ray Parks and Emmanuel Mbe. 
"(I like) their ability to come back and ability to regroup and refocus," he added.
NU made a 180-degree turn this season, shedding the fears and hesitations that came with relying too much on one or two superstars when things got tough. Even before the season started, Altamirano made it clear his team's new mantra is teamwork and collective effort.
They now rely on the entire team and bail each other out in sticky situations, especially towards the end. So far, it's been working for the defense-oriented squad as various names get their time under the spotlight each game. There are many faces contributing to the overall picture.
This kind of system has not only challenged the Bulldogs, but it has also molded them into a better team overall. Their maturity, for one, reflects on the court. Their demeanor changed and it is evident every game. They have grown more patient despite playing catch-up. And unlike the past couple of seasons, one could clearly see how they better manage pressure-packed situations. That much they've shown in their impressive wins over Ateneo, which they swept in the eliminations, and UE.
"We just want to treat that as a regular game," Altamirano said of how he wants his team to approach their last eliminations contest, knowing the implications. "We have to make sure we play relaxed and play focused. We don't want to come in there tight. We just focus on the process and let the result take care of itself."
The Bulldogs are in a different situation now than last year. But it will require the same amount if not much more character from them. And as the Final Four progresses, we'll find out for sure just how much NU has grown in a year.
"Knowing La Salle, they've been there. They've won a lot of championships already," Altamirano said. "Our character will be tested on Saturday." – Rappler.com