All the championships will be on the line, including the WWE World Title, which Brock Lesnar and John Cena will vie for in a highly-anticipated rematch
MANILA, Philippines – It's the night when all the championships are on the line. It's also the night when Brock Lesnar faces John Cena in a highly-anticipated rematch for the WWE World Heavyweight Championship.
Their SummerSlam encounter last month was entirely one-sided, with Lesnar bringing the pain (and hitting 16 German suplexes) to Cena before hitting a definitive F5 for the win, and his first WWE World Title in over a decade.
Will the result be the same on Sunday? Or will a highly-motivated Cena find a way to conquer The Beast, regain the gold, and stand alongside "The Nature Boy" Ric Flair's as a 16-time world champion?
Combat sports writer Nissi Icasiano and "RAW Deal" columnist Joe "The gRappler" Marsalis join Rapplers Ryan Songalia and Michael Bueza in making predictions for WWE Night of Champions.
WWE Tag Team Championship
The Usos retain the titles

or

Gold and Stardust become champions

Michael: Isn't it too far-fetched to predict a double turn here, like the Stone Cold-Bret Hart moment at WrestleMania 13? The way I see it, Gold and Stardust were just angry and therefore seen as the heels, because they thought one of the Usos (don't ask me who, I'm still Uso-confused) was just faking a leg injury. Then the Samoans would reveal at NOC that they indeed lied about it, marking their heel turn.

Joe: It's time. The Usos have been effective face champions, but it's now time to put over a relatively new, different act. This feud has been hampered by an ill-advised, coldly-received Gold & Stardust heel turn and a sluggish build-up, but the Dust Busters gaining the "Cosmic Key" might be what this feud needs to kick it into hyperdrive.

Nissi: Night of Champions is the right moment for the offsprings of Dusty Rhodes to win the Tag Titles. They had the tile run as faces last year, but now it's a great time to hand them the belts as heels. It has been a long time since I've seen a freakish duo as champions. (Yes, I miss Mosh Trasher.)

Ryan: Time to pull the trigger on the Rhodes brothers as tag champs. The Usos have had their run with the belts, Goldust and Stardust have the heat to move forward with an interesting storyline. Time to put the belts on them and make things really weird.

Chris Jericho vs Randy Orton
Jericho wins

or

Orton wins

Ryan: Typical "Well, we got nothing for you" booking. This is a matchup that could've meant much more had any thought been put into it. I know, Jericho has been on his "Y2-Job" run since returning to the company, but I think this will be one of the show's few feel-good moments. Orton has nothing going on. He couldn't get heat if he took a kerosene bath and went tree-climbing in a forest fire.

Nissi: I don't see the relevance of this match getting booked because we all know that it can go either way once Dean Ambrose or Daniel Bryan returns. It's one of the reasons why we have this "filler" at Night of Champions. Here's the thing: Y2J will win this because an obedient employee needs a good bonus. Considering his work with Bray Wyatt, there is no doubt that he will get the "W". You can easily put back Orton as the top heel or pair him with someone to create more heat. But I don't see the same thing with Y2J's current situation. His character is no longer flexible, and if he loses, let's expect the worst.

Michael: I'm not entirely sure what this match is for. It stemmed from Orton's random attack on Jericho during Raw's season premiere. Then, poof, they face off at NOC. Gunning for Orton here, because I suppose he has to exhibit his mean streak… again.

Joe: I'll tell you what it wants to accomplish, Mike: it's a vehicle to give Orton his heat back after a clean loss to Roman Reigns back at SummerSlam. There's really no doubt in this match—since Jericho is on his way out, there's no way Orton loses.

Mark Henry vs Rusev
Rusev wins

or

Mark Henry wins

Joe: Rusev is like a young, somewhat lesser Brock Lesnar – he needs to be dominant, but he can afford to be a little more vulnerable. It's because he needs to be dominant that an old hand like Henry isn't winning against him. So on Sunday, Rusev wins and the Russians continue to build their new Soviet status quo; one that could be torn down someday by an up-and-coming young lion for maximum effect.

Nissi: I don't see Mark Henry ending Rusev's hype at Night of Champions. I'm not saying that Henry doesn't need another push similar to his "Hall of Pain" storyline, but the former Olympian is not the figure that we needed to equate Rusev's build-up. Big E Langston and Jack Swagger have already stepped up to the plate, and have come up short. Each man had much of the same patriotic drive that Henry has, but it did not make much of a difference in the end. The trend will continue.

Michael: This would be one heck of a hoss fight! I think it's time for an American to finally win on PPV against the Bulgarian brute, Rusev. 'Nuff said.

Ryan: I'm still racking my brain trying to figure out what the payoff is here. At some point, someone has to beat Rusev. Will it be the oft-injured Mark Henry? I'll say no. I think Rusev would be the perfect guy to turn Cesaro babyface #justsayin

United States Championship
Sheamus retains the title

or

Cesaro becomes champion

Joe: So far, I've been predicting heels to win their matches, so I think this is where the road finally diverges. There's literally no reason for Sheamus to retain the championship… but at the same time, there is also no reason for him to lose it. Yes, Cesaro is better, people love him more, but his temperature has cooled enough that the WWE sees no pressing need to give it back to him. Let me predict that Sheamus keeps the title on Sunday, but shenanigans happen to keep the feud going and building up to the eventual Cesaro win.

Nissi: Sheamus will retain the United States championship belt without a doubt. Cesaro is still reeling off his inconsistent push this year. WWE hasn't found a place for him as of the moment or at least guide him with the direction of his character.

Michael: WWE has this bad habit of pulling the rug under the feet of fan-favorite Superstars. Time and again, we see the likes of Dolph Ziggler, The Miz, and Shelton Benjamin pushed to the moon, then suddenly pulled back down to the ground. My point? Cesaro gets the gold, but just like during his last US Title run, he wouldn't be utilized to the fullest.

Ryan: I'm going with Cesaro just because… it has to happen. This is the fan boy in me coming out, but I think Cesaro has a lot more going for him than Sheamus, whose lack of character development makes him vulnerable at this point. I'd love to see Cesaro take the belt off this not-quite-over midcard guy and go on a babyface run.

Divas Championship – Triple Threat Match
Paige retains the title

or

AJ Lee or Nikki Bella becomes champion

Joe: I'd like to make a bold prediction here – Brie Bella manages to find her way into the match to make it a fatal four-way. Think about it; are they really going to have one Bella sit out a match while the sister she's currently feuding with is competing? Now having said that, I think Paige retains as they've been smart enough to keep the Bellas away from the championship scene. They're probably still on that mindset.

Michael: Definitely not Nikki Bella, because I think this match would lead to a Brie-Nikki match down the line. (I imagine how that would turn out. They're just delaying the inevitable groans from the audience.) AJ would be her crazy self, Brie would interfere to cost Nikki, and Paige would sneak in a victory.

Ryan: Going with Paige here, too. Love her in-ring work, I think she has a lot going for her personality wise. I see Brie somehow getting involved to screw over Nikki to advance that feud.

Nissi: I have the feeling Nikki Bella will win this match. The belt will add more spice to the ongoing sibling rivalry. It will be cool if we will have Brie's interference in the match. But instead of costing Nikki to lose the match, it will give her the opportunity of a lifetime to become Divas Champion. Expect the lines: "Brie, you may have won the belt first, but I had the chance to win it twice."

Intercontinental Championship
Dolph Ziggler retains the title

or

The Miz wins the title

Nissi: I know the Intercontinental belt is not as prestigious as before, but in Dolph Ziggler's status, it does. There is an implied build-up in Ziggler's career. We will all see more of this after he retains the belt.

Joe: Like I said on this week's RAW Deal, this is the only midcard feud that has consistently entertained me, but unless they plan to ramp up the hatred and intensity after Sunday, this should be the culmination of their feud. Ziggler retains, remains over, and makes another heel look good, while Miz moves on to something else.

Ryan: Loving the in-ring action, but the story is lacking. There needs to be a new element added, and it's time to blow this one off. I think Ziggler and Miz put on another great performance, Ziggler goes over and hopefully R-Truth puts some pants on.

Michael: Ziggler and Miz, with their respective doubles "R-Ziggler" and "Damien Mizdow", are in one crazy awesome feud right now. I bet The Miz would pull off some shenanigans here to regain the title and set up a rubber match.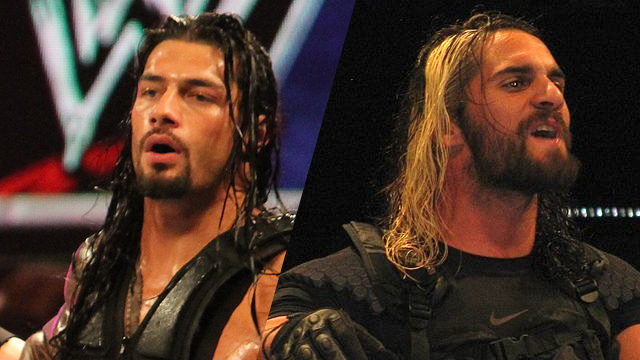 WWE wants you to believe Roman Reigns vs Seth Rollins is an important PPV match but will give it away free on RAW
Roman Reigns vs Seth Rollins
All 4 predict Seth Rollins will win
Joe: Put me up for another bold prediction: this turns into a no-contest because Dean Ambrose has wandered his way into the arena after the heinous cinder block incident, and causes chaos everywhere, jumpstarting the three-way Shield feud.
Nissi: Seth Rollins will obviously come out on top in this match to receive more heat. However, I'm telling you that it will only be a one-night feud because we should expect a Dean Ambrose return. The two former Shield colleagues have a wealth of history and bad blood to draw from, and it could fuel the second round of their grueling rivalry. But before that can happen, Ambrose needs to come back. While Night of Champions may not be the full-time return that many hooligans would want, it could be the initial appearance that eventually gets Ambrose back into the swing of things. Interfering on behalf of Roman Reigns either before or after the match ends will make a poetic justice.
Michael: Well, since the WWE gave this match away on last Monday's Raw with Reigns winning, Rollins would get the victory on Sunday. I guess, just to raise the stakes, Reigns would prod his ex-Shield comrade to put his Money in the Bank briefcase on the line?
Ryan: Have to agree with these gentlemen above. Rollins needs to win because it's time to get him some heat. No way Reigns gets beat clean. I hope Ambrose gets involved somehow to really heat things up. The stakes could be higher also, but this is going to be a really incredible match, I feel.
WWE World Heavyweight Championship
All 4 predict Brock Lesnar will retain the title over John Cena
Ryan: There'd be no point in Cena getting the belt back. How would that be money? Cena doesn't have the momentum. People want to see something new. The main purpose of this match is to get heat on Lesnar, to build him into more of a beast. He's The Iron Sheik, he's Bob Backlund in the 90s, a transitional champ who will ultimately do the job in a big way and put over the next star. I think we'll see that in a Roman Reigns confrontation as the show goes off the air.
Michael: Why would you cut short the World Title reign of the Beast Incarnate, BRRRROOCK LESSSSNNAAARRR? Though, based on what we saw in the past few weeks, Lesnar shouldn't underestimate a super-fired-up John Cena at Night of Champions. I think this rematch would be less lopsided than their SummerSlam encounter, but Lesnar would still prevail. However, a Lesnar win should mean more TV time for the company's top champion no less.
Joe: I agree with Mike. Cena doesn't need this championship at the moment, and another tough loss on the big stage would contribute further to his most compelling angle at the moment. I agree that this would be a more competitive match than what we saw at SummerSlam (because Cena isn't an idiot and will go into this fight better prepared) but Lesnar goes home as champion. (READ: RAW Deal: Hyping the Lesnar-Cena rematch without Lesnar)
Nissi: Brock Lesnar will definitely finish the job at Night of Champions. If it was a giveaway last time, this won't be. I see a full-blown clash in this match. But I would like to see a dramatic ending: Cena tapping out or saying "I Quit!". In that manner, it will elevate Brock's status into a different level. Now, we have the reason to fear The Beast. Literally! 
– Rappler.com