Nonito Donaire Jr must rebuild his image after suffering a sixth round knockout to Nicholas Walters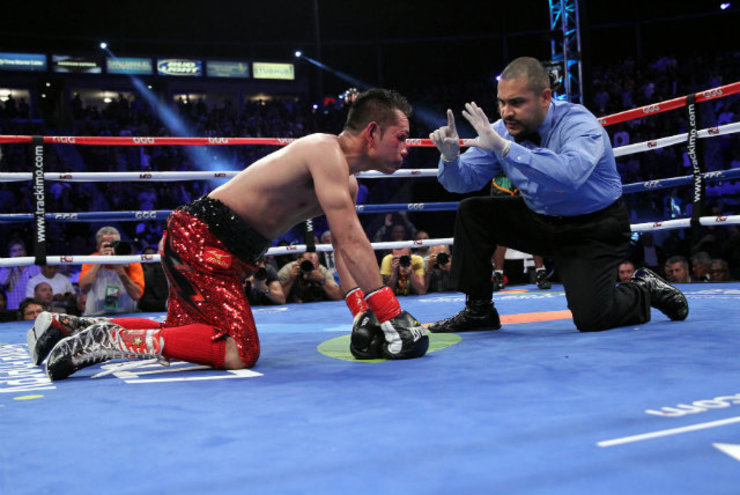 CARSON, USA – It's as customary an act as any in boxing. A young, hungry, largely unknown fighter receives a shot at a proven commodity – a former undisputed champion fighting to prove he's not a shadow of his former self. 
Nicholas Walters had just scored the biggest victory of his career, and the person he demolished sought him in his dressing room. Nonito Donaire, still on the mend from a devastating sixth-round knockout to the hands of the undefeated Jamaican, approached him.
Minutes after Donaire admitted on television that Walters "knocked the shit out of me," he told Walters that he's a great champion. He praised him for his power. He admitted that he was overwhelmed. 
Walters in return thanked him for the opportunity, the chance to face a top-flight fighter in front of a sold out crowd of 9,323 at the StubHub Center in Carson, California on a night when knockout artist Gennady Golovkin made short work of Mark Antonio Rubio in just two rounds to retain his WBA middleweight title in the main event.
"The Axe Man" Walters called Donaire a "hero." After all, just 18 months ago, before losing to Guillermo Rigondeaux and the two milquetoast victories that followed thereafter, Donaire was the top dog of the smaller weights, pound-for-pound one of the best in the world in the prime of his career. 
On Saturday, October 18, Donaire served as an appetizer for Walters' bright future, passing the proverbial torch in the loaded featherweight division. Donaire finished his night face first, only to get up and stumble into the hands of referee Raul Caiz Jr. with one second left, and the fight waved off. 
As fans cheered for Donaire's performance, he apologized for the shortcoming and told them he couldn't be in the same ring with fighters the size of Walters anymore during the post-fight interview with HBO's Max Kellerman.
"I was at my best. I never trained this hard. He came out as tough as I thought he would be. Just the size that he had over me, I couldn't move. He was just amazing," Donaire (32-3, 21 knockouts) said in the ring. The Filipino-American from San Leandro, Calif. did not speak to the media after the fight. 
Donaire was losing on all three judges' cards at the time of the stoppage. He already had tasted Walters' thudding power in the third round with a crushing right uppercut that sent him to the canvas. It was the first knockdown of his decorated career. The punches that tallied thereafter opened a cut on his right eyelid that required stitches after the fight, and put him down for the second time, this one for good with a right hand near the ear. 
Walters moved forward throughout the entirety of the bout and took Donaire's punches very well. Rappler only scored round two in favor of Donaire when he closed out the stanza with his best flurry of the night.
"I got a little bit confident and thinking that I am going to overpower him and he caught me good," Walters said after. "BOOM! I recuperated from just walking over to the corner."
Donaire's career is now in flux. He hasn't been able to carry the power and sheer dominance he portrayed from the flyweight to the junior bantamweight divisions, where he had wowed audiences with knockouts over Vic Darchinyan, Fernando Montiel and Jorge Arce.
At age 31, Donaire must start all over again, reestablishing his image as a fighter to be feared.
He'll have to do so with all future opponents galvanized by what happened in Carson, California. They won't forget, but Donaire will have to do his best to put that night behind him. – Rappler.com 
Manouk Akopyan is a member of the Boxing Writers Association of America (BWAA). He can be reached at Manouk.Akopyan@gmail.com. An archive of his work can be found at ManoukAkopyan.com. Follow him on Twitter @Manouk_Akopyan.