All eyes will be on Kobe Bryant as he enters his 19th NBA campaign after injuries kept the league's highest paid player sidelined for all but six contests last season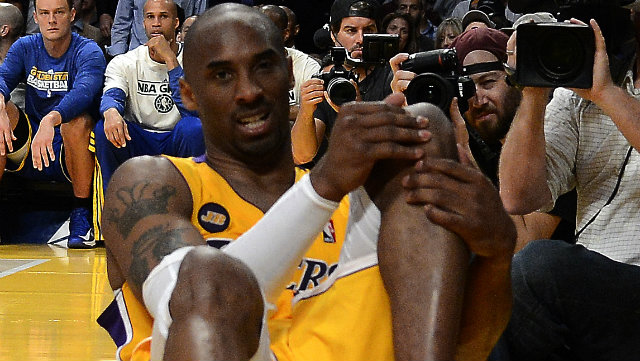 LOS ANGELES – All eyes will be on Kobe Bryant as he enters his 19th NBA campaign after injuries kept the league's highest paid player sidelined for all but six contests last season.
But even a healthy Bryant – and his iron will to win – might not be enough to rescue the once proud Los Angeles Lakers franchise that has fallen on hard times.
Bryant is eager to prove he can once again be a dominant force, but unlike previous seasons when he had fellow stars like Shaquille O'Neal and Pau Gasol at his side, he no longer has a supporting cast that translates into winning championships.
"It's a mixture of things," Bryant said. "It's a mixture of excitement, it's a mixture of a little nervousness, it's a mixture of rage.
"I'm trying to see if I can prove to myself that I can be myself. All those words and the doubts add fuel to that."
Bryant signed a two-year extension with the Lakers last year worth $48.5 million.
He played just a half dozen games last season because of an Achilles tear he suffered in April 2013. His return from that injury was cut short after he fractured his knee cap early in the 2013-14 season.
Bryant, who is arguably the greatest Laker player in history, says he is finally back to full health.
"I am past progressions," he said. "I don't know how to best say that. I'm me."
New Lakers head coach Byron Scott agrees.
"His wind is good, the rust is starting to come off," said Scott.
"He has been in the league for 18 years, is a veteran and will be a Hall of Famer. He dissects defenses and knows what to do."
Others say that Father Time is catching up with the 36-year-old American, who has played all 18 seasons with the Lakers.
Bryant has come under criticism from fans and NBA observers who blame him for the Lakers' steady decline.
Owner Jeanie Buss defended Bryant this week, saying people that refuse to play with him are "losers" and not welcome in the Lakers' dressing room.
"Any free agent that would be afraid to play with Kobe Bryant is probably a loser, and I'm glad they wouldn't come to the team," Buss told ESPN.
Buss' comments come in the wake of an ESPN's magazine article in which several NBA figures and Lakers employees were critical of Bryant.
The article claimed that the Lakers have had trouble attracting free agent players because of Bryant's reputation as being hard to get along with.
"If there is somebody that's on our payroll who is saying things like that, I'll soon get to the bottom of it, and they won't be working for us anymore," Buss said.
Bryant has had a brilliant career and trails only Kareem Abdul-Jabbar, Karl Malone and Michael Jordan on the NBA's all-time scoring list.
But he also owns the league record for most combined career field goal misses in regular season and playoffs.
The Lakers have won five championships with Bryant, though they haven't made a trip to the finals since 2010 and missed the playoffs entirely last season for the just the third time in their 38-year history after finishing with a 27-55 record.
They hired a new coach in Scott and brought in Carlos Boozer and backup guard Jeremy Lin but most don't believe that will be enough to offset the loss of free agents Gasol, Jordan Farmar and Jodie Meeks.
"We are all guys that put our hard hats on," said Bryant.
(RELATED: Kobe Bryant calls Fil-Am Jordan Clarkson 'a steal of a pick')
Scott, who is the fifth Laker coach in the past four years, has discussed with Bryant about reducing his minutes this season.
"I expect him to play 82 games and to play well," Scott said. "He's a guy who's still going to average 23, 24 points per game. The biggest thing is for him to stay healthy and keeping his minutes to a minimum where he can play those 82 games." – Rappler.com