"Thirty more owners can come in and nothing will change. These (players) go? The game will change," says NBA players union executive director Michele Roberts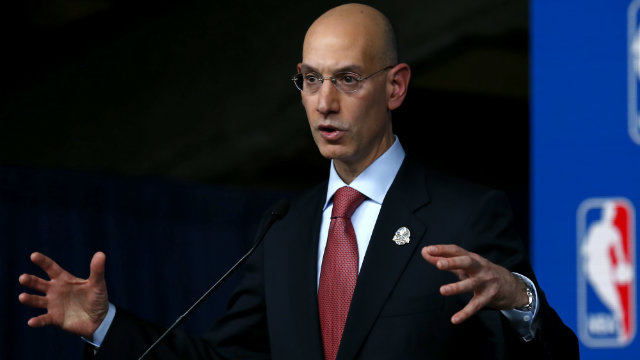 NEW YORK – NBA players union executive director Michele Roberts, the first female union leader in major North American sport, fired a verbal warning Thursday, November 13 that could signal another money dispute with owners.
Comments by Roberts to ESPN objecting to salary caps, decrying a 50-50 revenue split with owners as unfair and calling laughable the idea that one-third of NBA clubs were unprofitable drew a swift rebuke from NBA commissioner Adam Silver.
The exchange could also signal that NBA players will use their option to opt out of their current collective bargaining agreement with owners after the 2016-17 season – the first campaign of the league's new nine-year television deal worth $24 billion (19.234 billion euros) signed earlier this year.
"No one wants to say it out loud, but it's a monopoly and were there alternatives, they wouldn't get away with it," Roberts told ESPN. "I will give the league credit. They have done a great job controlling the narrative."
(RELATED: Will NBA players strike back for a bigger share of TV revenue?)
NBA billionaire owners and multi-millionaire players most recently battled through a money dispute in 2011, a lockout that lasted more than five months and caused the 2011-12 season to be trimmed to 66 games per team. A money fight also reduced the 1998-99 campaign to 50 games per club.
Roberts bashed the salary cap at the heart of the league's spending principles since 1984.
"I don't know of any space other than the world of sports where there is this notion that we will artificially deflate what someone is able to make," Roberts said. "It's incredibly un-American. My DNA is offended by it."
Roberts said she sees no fairness in a 50-50 revenue split, saying team owners would be replaced by other rich people interested in owning a club but top players are the heart of the league.
"Why don't we have the owners play half the games? There would be no money if not for the players," Roberts said. "Let's call it what it is. There. Would. Be. No. Money.
"Thirty more owners can come in and nothing will change. These (players) go? The game will change. So let's stop pretending."
Salary cap base of NBA growth
Silver, who replaced David Stern as commissioner of the NBA last February, fired back in a statement that began: "We couldn't disagree more with these statements."
"The NBA's success is based on the collective efforts and investments of all of the team owners, the thousands of employees at our teams and arenas and our extraordinarily talented players. No single group could accomplish this on its own. Nor is there anything unusual or 'un-American' in a unionized industry to have a collective system for paying employees -– in fact, that's the norm.
"The salary cap system, which splits revenues between team owners and players and has been agreed upon by the NBA and the players association since 1982, has served as a foundation for the growth of the league and has enabled NBA players to become the highest paid professional athletes in the world.
"We will address all of these topics and others with the Players Association at the appropriate time," Silver concluded.
That time may be intense when it comes given Roberts' repudiation of the concept of a salary cap.
"There is no reason in the world why the union should embrace salary caps or any effort to place a barrier on the amount of money that marquee players can make," she said.
Roberts addressed Silver's recent comment that about one-third of NBA teams still being unable to turn a profit, even in the wake of a record $2 billion (1.6 billion euro) sale of the Los Angeles Clippers.
"I initially just started laughing," Roberts said. "As a result of the last (contract), at least $1.3 billion (1.04 billion euros) in revenue that would otherwise have been on the players' side is now on the owners' side. I see the valuations of these teams going through the roof.
"How much more money do you need to make?" – Rappler.com