Despite successfully mounting an improbable comeback, the Philippines' men's tennis team fails to notch its first victory in the 6th ASEAN Schools Games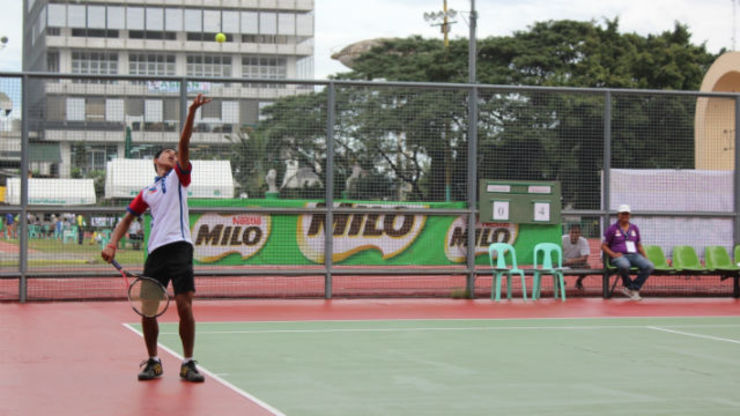 MARIKINA CITY, Philippines – Faltering at the last second. 
Despite successfully mounting an improbable comeback after going down two sets, the Philippine men's tennis team failed to notch its first victory in the 6th ASEAN Schools Games (ASG) at Marikina Sports Center, Monday, December 1. 
Looking to continue the exceptional play of his teammates in the doubles 1 and doubles 2 categories, Carlo Vince Remiscal of the Philippines started out strong, gaining an early 2-1 in his singles 3 encounter against the brawny Thai Phongsapak Kerdlapee. 
In a sudden turn of events, he yielded the next 4 sets to his Thai counterpart who pounced on the unforced errors of Remiscal, ending the game with a 4-6 scoreline.
"I almost got there but the breaks of the game did not go my way," the disappointed Remiscal said after ending the grueling match with another unforced error. 
Albeit loud chants from the energized crowd, the hard-hitting Kerdlapee capitalized on Remiscal's mistakes who focused on implementing his defensive counter-punching strategy. 
"He got pressured (because) of the crowd. I just made sure (to) always keep the ball in," Kerdlapee said when asked about his factors for winning. 
The doubles teams of the Philippine team did enough to equalize the series at 2-all despite the stumpy team morale after losing their first two matches in lopsided fashion. 
Led by the assertive Andre Rodriguez for most of the match, the doubles 2 team man-handled the stocky Thai duo of Tanadon Cholchareon and Suthipat Yunkatog, heavily relying on their advantage in terms of speed and agility. 
After Palarong Pambansa standouts Noel Damian Jr. and Dave Sebastian Mosqueda utterly lost their singles competitions to Thinawat Kamkratok and Jirat Navasirisomdoon, the diminutive pair of Rolly Saca and Jelendro Amazona tallied a nerve-wracking victory which needed an 8-6 scorline during the tiebreak at the end of the match, igniting the dubious comeback from the Filipino smashers. 
Hoping to bounce back from the tightly-contested loss, the youthful team is set to take on Indonesia and Singapore on Tuesday, December 2. – Rappler.com
Ferdin Sanchez is a high school student from Manila Science High School.