San Beda's Joshua Caracut explodes for 36 points as the Philippines defeats Thailand to win the boys basketball gold at the 6th ASEAN Schools Games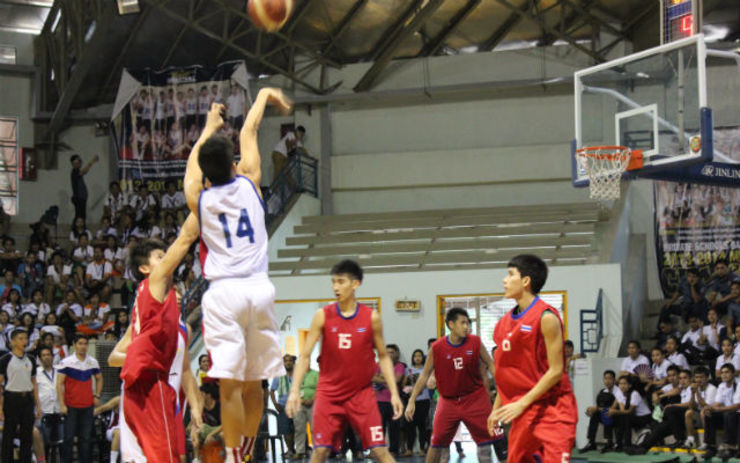 MARIKINA CITY, Philippines – Nothing more than the gold was expected from the boys, and they delivered emphatically. 
Despite going up against a loftier Thai squad, the Philippine men's basketball team lived up to its billing as Southeast Asia's perennial basketball powerhouse after defeating Thailand, 78-66, in the 6th ASEAN Schools Games at the Marist School Gym, Friday, December 5. 
Led by San Beda juniors' basketball team standout Joshua Andrei Caracut, the gutsy Philippine side finally pulled away in the pay-off period behind the rainbow-country shooting blitzkrieg of Caracut. 
"It was like my heat check. I was hitting my previous shots so I just continued shooting," Caracut said shortly after the post-game celebrations. 
The explosive 23-13 final quarter in favor of the Philippines started when the streaky Caracut landed a tightly-contested three-point bomb to the delight of the jubilant crowd. 
Looking to break away from the pesky Thais late in the game, the undersized Filipino slotman Evan Farague utterly silenced the reedy 6-foot-7 Chanatip Jakrawan of Thailand, who was dominating the paint during the first three periods.
"Our team is like diesel. We are used to heating up in last minute," added Caracut, who also finished with a team-high 36 points.
Both teams failed to capitalize when they had the chance to pull away from each other during the first half, tallying a 38-35 scoreline after 20 minutes of play. – Rappler.com