The PBA came down hard on the Purefoods import after he said Pacquiao playing in the PBA was 'a joke' and that the referees made their loss to KIA 'a mockery'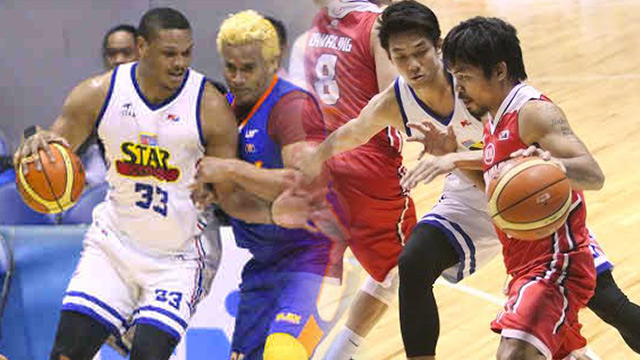 MANILA, Philippines – Purefoods Star Hotshots import Daniel Orton has been slapped with a P250,000 ($5654 USD) fine for comments he made about the PBA, KIA Carnival, and player-coach Manny Pacquiao on Wednesday, February 18.
PBA Media Bureau Chief Willie Marcial said on Friday, February 20, that Orton will be fined for "issuing comments that are disparaging, disrespectful of, and offensive to his host league, the game officials, and a fellow player and head coach of a member team." 
Following his team's 95-84 loss to KIA on Wednesday, Orton called Pacquiao, an eight-division boxing champion, playing in the PBA as "a joke."
"That's a joke," said Orton, 24, who put up only 6 points and 3 rebounds in 19 minutes as he battled foul trouble. "That's part of the joke I was talking about." 
"Professional boxer, yeah okay. Congressman, alright. Professional basketball player? No. It's a joke. Seriously, it's a joke," the former NBA player added. 
"This game was seriously a joke," he said. "The way the game was going the refs made it into a mockery, seriously. They took the game that I know and love and made it into a mockery."
Since Orton's arrival, Purefoods has won only once in three games. They were 3-0 with import Marqus Blakely in the 2015 Commissioner's Cup before replacing him for Orton. 
Blakely, who's nursing a shoulder injury, is expected to be the team's import for the 2015 Governors' Cup.
"Regardless of what action his ballclub may take regarding his status, this office disapproves of and frowns upon the cavalier manner in which Mr Orton issued his comments and the unwarranted antics and liberties he has taken with the league and a fellow player," Marcial stated.
There have already been reports that Purefoods may replace Orton for either Blakely or their former import Denzel Bowles. 
Orton, however, is still expected to be in uniform when Purefoods goes up against Barangay Ginebra on Sunday, February 22. 
"I'm way better than this and I'll show that on Sunday in our next game. I'll come back harder and stronger come Sunday, I promise you that," he vowed after the loss to the Carnival.
Last Monday, February 16, at the PSA Awards Night, Purefoods head coach Tim Cone said that his team could be one to be reckoned with as Orton leads the club.
The former Kentucky Wildcat is averaging 15.0 PPG and 12.7 RPG this conference.
– Rappler.com