The Hanes FilOil Flying V Preseason tournament kicks off April 18, with Ateneo being the only school not participating from the UAAP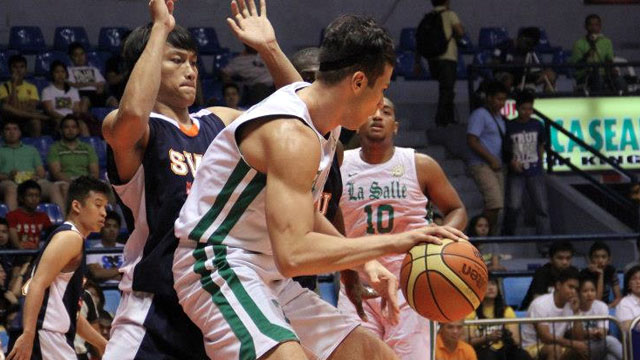 MANILA, Philippines – The Hanes FilOil Flying V Preseason tournament will make its return on April 18, Saturday, at the San Juan Arena, with 18 colleges in the hunt for the league title.
Known as the premier collegiate preseason competition, the FilOil tourney has always given UAAP, NCAA, and other college squads an opportunity to better prepare for their respective tournaments, and this year is no different.
Out of the eight participating schools in the UAAP, seven will be part of this year's FilOil preseason tournament with Ateneo as the only one not competing. From the NCAA, Arellano and San Sebastian are the only teams that have decided to not participate.
Reigning UAAP men's basketball champions NU Bulldogs will lead Group A of the tournament's eliminations along with the Adamson Soaring Falcons, FEU Tamaraws, JRU Heavy Bombers, UPHSD Altas, Letran Knights, CSB Blazers, EAC Generals, and Cebu-based USJR Jaguards. 
Group B, on the other hand, will comprise of defending NCAA men's basketball champions San Beda Red Lions, 2014 FilOil champions DLSU Green Archers, the Mapua Cardinals, Lyceum Pirates, UE Red Warriors, UP Fighting Maroons, UST Growling Tigers, NAASCU-based CEU Scorpions, and SWU Cobras, who's also from Cebu.  
Each team will face their groupmates in a single-round robin eliminations. The four from each group with the best records will then advance to the playoffs of the tournament. The finals will take place on June 14, Sunday.
Unlike last year, no games will be held in Cebu this year. Matches will take place every Wednesday, Friday, and Saturday. A full schedule will be released a few weeks before the tournament kicks off.
According to Tournament Director Joey Guillermo, as of now, the league will have no television coverage from the eliminations up to the finals. In recent seasons, ABS-CBN Sports+Action televised a select number of matches.
 The 2015 FilOil tournament will take a more formal approach, as players of each team will now be required to wear their "official team jerseys/uniform." The league will also utilize FIBA rules for their games. 
In the junior's division, 10 schools will participate: Ateneo High School, De La Salle Zobel, San Beda, JRU, and Letran in Group A; Adamson, FEU-Diliman, La Salle Greenhills, Mapua-Malayan, and NU in Group B.
– Rappler.com