Alex Ariza, who once worked with Manny Pacquiao, says Floyd Mayweather Jr has improved his punching power after his strength and conditioning program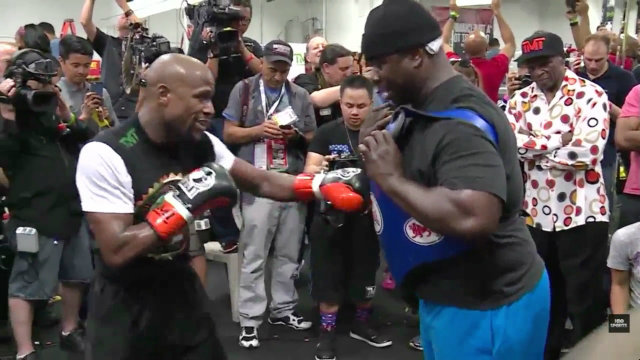 MANILA, Philippines – Alex Ariza, the strength and conditioning trainer of Floyd Mayweather Jr., has issued a stern warning to Manny Pacquiao regarding the unbeaten American boxer's underrated punching power.
Ariza, who was part of Pacquiao's team for five years, revealed that Mayweather showed significant growth in terms of power after enduring an intense conditioning program under his tutelage.
"He has increased his power," he said in an interview during Mayweather's media workout on Wednesday, April 15 (PH Time).
(READ: Pacquiao is too reckless to win, says Mayweather)
Mayweather acquired the services of Ariza in September 2014 when he prepared for his rematch with Marcos Maidana.
According to Ariza, Mayweather's hand issues had hindered his ability to throw big punches in all of his bouts since May 2001 when he broke his right hand during the 12-round junior lightweight title tilt against Carlos Hernandez.
The aforementioned injury prompted Mayweather to switch his boxing gloves' brand and tap Mexican cutman Rafael Garcia to take the role of wrapping his hands in training camp and before fights.
"Floyd has always been a big puncher. I think what sacrificed is his hands. We are now trying to build a more physical Floyd Mayweather," Ariza stated.
The 38-year-old Mayweather last scored a knockout when he defeated Victor Ortiz in September 2011.
After an intentional head butt by Ortiz in the fourth round, Mayweather took advantage of his opponent not having his hands up by connecting a left hook and followed up with a flush right hand to the face.
(READ: Ellerbe expects Mayweather to knock out Pacquiao)
Despite the knockout drought, Mayweather managed to keep his professional boxing record unblemished, with decision victories over the likes of Miguel Cotto, Robert Guerrero, Saul "Canelo" Alvarez and Maidana.
Ariza believes that Pacquiao has faded significantly from his physical prime and added that the Filipino southpaw would not stand a chance in a toe-to-toe trade with Mayweather.
"I just don't see the same physicality that Manny once possessed. I think that it will really be our advantage," he asserted.
Although he sees that Pacquiao would try to dictate the match's tempo with his volume punching, Ariza argues that Mayweather could hurt his opponent when both men exchange leathers in the ring on May (May 3 in PH).
"I think Manny is going to try to dictate because Manny will come out with his usual program, but Floyd is really a physical guy and strong. I think when Manny tastes the power, we will see who's going to run and come forward," he ended. – Rappler.com