Floyd Mayweather Sr took aim at his son's conditioning coach Alex Ariza, saying Floyd Jr's training is a collective effort while discrediting Ariza's boxing knowledge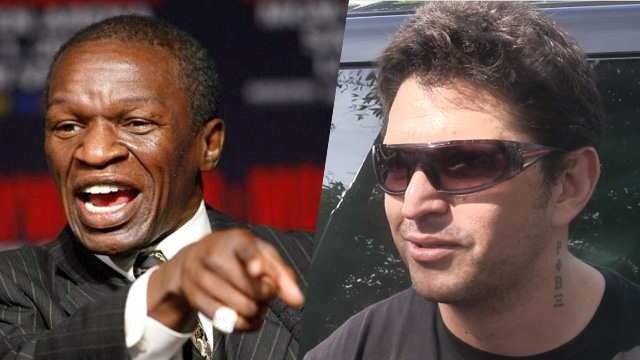 MANILA, Philippines – Floyd Mayweather Sr has never been shy about letting his feelings towards rivals be known, but the father and trainer of Floyd Mayweather Jr has turned his sights on a member of his own camp. 
Mayweather Sr took aim at Alex Ariza, telling On the Ropes radio show that he doesn't see the merits of the strength and conditioning coach hired by Floyd Jr following his second fight with Marcos Maidana in September of 2014.
"That son of a bitch ain't strengthening nobody. He ain't nobody. He's in there, I can't say exactly what he's doing but he ain't strength training little Floyd. What Floyd's doing everybody's helping, it's not just one person," said Mayweather Sr, who reassumed head training duties from his brother Roger Mayweather for his son's 2013 fight with Robert Guerrero.
Ariza first gained prominence in the sport through his work with Manny Pacquiao, whom Mayweather (47-0, 26 knockouts) will face on May 2 at the MGM Grand in Las Vegas.  
Ariza was credited with helping Pacquiao (57-5-2, 38 KOs) rise the scales while retaining his vaunted punching power during his prime run in 2008-2009, when he scored knockout wins over Oscar de la Hoya, Ricky Hatton and Miguel Cotto. 
Ariza and the Pacquiao camp split on acrimonious terms following Pacquiao's 2012 knockout defeat against Juan Manuel Marquez and joined forces with Robert Garcia to help prepare Brandon Rios to face Pacquiao in 2013. 
The Garcia union didn't last long as the two parted following Maidana's first fight with Mayweather in May of 2014. Ariza was a frequent guest at the Mayweather Boxing Club during camp for the second fight but both parties stated that he was not working for Mayweather at that time. 
"He don't know shit anyways," Mayweather Sr continued. "He don't know anything about no damn boxing, I do know that. I know he doesn't know anything about boxing and he don't know what to tell anyone anyways. If he does know anything, it's some dirty shit and it's something that nobody wants to use or hear about. Nobody is into that kind of mess."
Mayweather Sr vs Roach
Neither Pacquiao or Mayweather Jr have engaged in much trash talk during the promotion of this fight, but their trainers have traded barbs since the fight's announcement. 
Roach said that Floyd Sr taking over as head trainer worked to their advantage, suggesting that Floyd Jr was a better fighter with Uncle Roger in his corner.
Mayweather Sr countered by pointing out how Roach, who suffers from Parkinson's disease, has delegated some of the physical tasks of training to his protege Marvin Somodio, while claiming that his fighters couldn't understand what Roach was saying.
At last week's media workout, Ariza said he had been working with Mayweather to increase his punching clout, saying that Mayweather's fragile hands in the past had prohibited him from throwing his hardest shots. 
"Floyd has always been a big puncher. I think what sacrificed is his hands. We are now trying to build a more physical Floyd Mayweather," said Ariza.
Mayweather has switched up his program for this camp, adding swimming to the regimen while chopping wood to build strength.
Ariza, whose first major boxing assignment was working with Diego Corrales for his 2001 fight against Mayweather Jr, said that he felt Pacquiao had deteriorated since the two separated, which would help Mayweather preserve his unbeaten record.
"I just don't see the same physicality that Manny once possessed. I think that it will really be our advantage," said Ariza. – Rappler.com