Not a boxing fan? Read this explainer to learn everything you need to know about the Floyd Mayweather Jr vs Manny Pacquiao fight and the sport of boxing
LOS ANGELES, United States – The hours are counting down to the Floyd Mayweather Jr vs Manny Pacquiao fight, which takes place Saturday, May 2 (May 3 in the Philippines) at the MGM Grand in Las Vegas, Nevada.
From now until the final bell, it'll be difficult to turn on a news program and not hear mention of this fight. It has been billed as "The Fight of the Century," and referred to as "The Biggest Fight of All-Time."
If you haven't followed boxing in a long time, or the sport is just now piquing your curiosity, don't be ashamed. Boxing isn't everyone's cup of tea due to its violent nature, and it hasn't received the wide exposure that sports leagues like the NBA, NFL or MLB have.
You may be wondering, why is this fight such a big deal, and how can I learn enough about the two to foster a rooting interest? Well, you're in luck. Here are some questions that you may have about the fight and the sport, and hopefully by fight night you'll be able to impress your friends with your boxing knowledge.
Manny Pacquiao
Manny Pacquiao is a 36-year-old prizefighter from General Santos City, Philippines. He has won world titles in an unprecedented 8 weight classes. He is a national hero in his home country, and dominates nearly every facet of the public consciousness there.
He is a sitting two-term congressman and is rumored to be running for the Senate in 2016. He appears on billboards on major highways all over the country. He has appeared in numerous movies, and released two music albums. He is the international face of the country to many people around the world.
Pacquiao won his first world title in 1998 at flyweight (112 pounds) and won his second championship in his United States debut in 2001 at junior featherweight (122 pounds). He first became recognized as one of the best boxers in the world when he dominated Marco Antonio Barrera to win the featherweight (126 pounds) championship in 2003.
Pacquiao has since collected world titles at junior lightweight (130 pounds), lightweight (135 pounds), junior welterweight (140 pounds), welterweight (147 pounds) and junior middleweight (154 pounds).
Pacquiao was named the Fighter of the Decade by the Boxing Writers Association of America in 2010. He has made fans around the world with his Devil May Care attacking style and knockout power.
He once was known as a womanizing partier but has cleaned up his act in recent years and became deeply involved in religion. He regularly quotes Bible passages and holds prayer services at his home. It is said there is no crime in the Philippines when he fights because everyone stops to watch the fight.
Floyd Mayweather Jr
Floyd Mayweather Jr is a 38-year-old boxer from Grand Rapids, Michigan, but he now resides in Las Vegas. He is regarded as the sport's best fighter due to his unbeaten boxing record and technical ability that has minimized the amount of punches he has taken in his career.
Mayweather won a bronze medal for the United States as an amateur boxer at the 1996 Olympics, and turned professional later that year. He also won his first world title in 1998 and has won championships in a total of 5 divisions.
His 2007 fight with Oscar de la Hoya set a record for most pay-per-views sold at 2.48 million while his 2013 fight with Saul "Canelo" Alvarez set a record for greatest PPV revenue at $150 million.
Outside of the ring, Mayweather once wrestled The Big Show at WrestleMania, has competed on Dancing with the Stars, and has been associated with music artists 50 Cent, Justin Bieber and Lil' Wayne.
Mayweather often trash talks his opponents to build up hype for his fights. His social media accounts are full of photos of him hanging out at strip clubs or showing off his cash, jewelry and expensive designer clothes. His home has its own Twitter account. He can be best described as a modernized version of Ric Flair.
MORE ON MAYWEATHER VS PACQUIAO
Who comprises their teams?
Pacquiao is trained by Freddie Roach, a former lightweight contender in the 1980s. Roach was trained by Eddie Futch, who is regarded by many as the greatest trainer of all-time. Pacquiao and Roach have worked together since 2001.
Pacquiao's promoter is Top Rank, which is headed by Bob Arum. Top Rank promoted Mayweather from his pro debut until 2007. Pacquiao's assistant trainers include his best friend Buboy Fernandez and Nonoy Neri. His cutman (the person who stops bleeding and alleviates facial swelling) is Miguel Diaz. His advisor Michael Koncz handles much of his day-to-day business.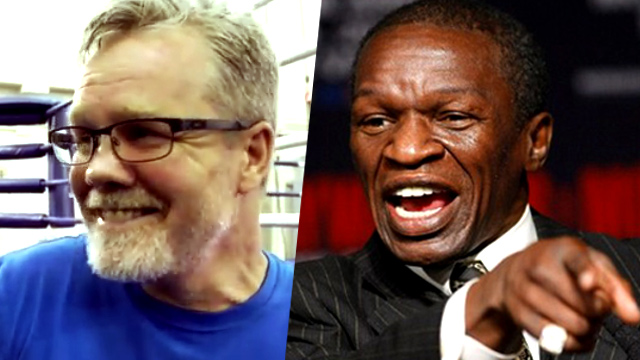 Mayweather has alternated between his father Floyd Sr and uncle Roger as trainer throughout his career. Currently he is trained by his Dad, a welterweight contender in the 1970s. Roger, a former junior lightweight and junior welterweight champion, remains on the team and regularly works punch mitts with him.
Mayweather is self-promoted under Mayweather Promotions. He is advised by Al Haymon, a reclusive figure who doesn't give media interviews. His cutman is Rafael Garcia. His business manager Leonard Ellerbe acts as his spokesman and is his company's CEO.
Why is this fight important?
It pits the two best fighters of the last 15 years against one another, an event that rarely occurs. The public has called for this fight since Mayweather came out of retirement in 2009. Past negotiations for the fight fell through due to disagreements over drug testing, financial terms and acrimony between the two camps.
The fighters are the only two major pay-per-view attractions in boxing. Some have criticized that the fighters are past their prime, and are not as dynamic as they once were. That criticism holds true, but both remain among the best two or three fighters in the world.
Many feel Pacquiao has the best chance of giving Mayweather his first loss and have criticized the American for not making the fight sooner.
Both fighters also have less than a handful of fights remaining in their career and this is one of the last times people will see them compete.
Who is the good guy and who is the bad guy?
It depends on who you ask. Pacquiao's humble persona has won over many fans in his home country and around the world. Mayweather's history of domestic violence (he has 5 prior convictions and served 60 days of a 90-day prison sentence in 2012) has led to his characterization as a villain, but his defiant, entrepreneurial attitude has earned him a following.
It all comes down to which fighter you identify with more. At the end of the day, they're two people who have overcame impoverished circumstances to become great boxers.
How can I watch this fight?
You can watch in person, but it'll cost you an arm and a leg. Only 500 of the venue's 16,800 tickets were put on sale to the public at face value, and they sold out in a minute. The rest were allocated to the two camps and the venue, with many being sold on the secondary market for 2-3 times face value.
In the United States, you can watch the fight on pay-per-view for a suggested retail price of $89.95 for standard definition, or $99.95 for high-definition. Closed circuit tickets in Las Vegas are available at MGM properties, and are being sold at $150.
In the Philippines, many towns and cities are showing the fight free of charge. The fight is available on pay-per-view at P2500 (P2000 if you order in advance), and is being shown via closed circuit at movie theaters for between P200-1000 per seat. Smart is streaming the fight on the Viewstream app for P499.
Which fights should I watch to prepare for May 2?
Mayweather's best performances were against Saul "Canelo" Alvarez, Arturo Gatti, Ricky Hatton, Oscar de la Hoya and Diego Corrales. Short write-ups and highlights of those fights can be viewed here.
Pacquiao's best performances were against Oscar de la Hoya, Marco Antonio Barrera, Ricky Hatton, Miguel Cotto and Erik Morales and can be viewed here.
Who are the referees and judges?
The referee for the fight is Kenny Bayless, an experienced Nevada ref who has worked over 100 world title fights since being appointed by the state in 1991. He has worked a number of fights from both boxers but has been criticized as being protective of Mayweather.
The referee can deduct points for fouls such as excessive holding, intentional headbutts, intentional low blows, rabbit punching (hitting behind the head), hitting a downed opponent and numerous other infractions. A referee can halt a bout if one fighter is taking excessive punishment and is unable to defend himself, which results in a technical knockout for the advantaged boxer.
The judges are Burt Clements, Glenn Feldman and Dave Moretti.
The judges score bouts on what is called a ten-point must system. The winner of a round earns 10 points while the loser earns 9. A fighter loses a point if he is knocked down, meaning that the advantaged fighter would win the round 10-8, with additional points deducted with each knockdown. An even round is scored 10-10.
Rounds are scored on the following criteria: Clean punching, ring generalship, defense and effective aggression, though the most important one is clean punching. HBO commentator Max Kellerman simplified the scoring process, saying something to the effect of "In a round, pick the fighter you would've rather been and there's your winner."
A fighter wins a unanimous decision when all three judges score the bout in his favor. A majority decision is when one judge scores the fight even, but two judges score it in the same fighter's favor. A split decision is when one judge scores the fight for one fighter but the other two score it for the other.
A draw can be achieved when all three judges score the bout even, when one judge scores it even and the other two judges score the fight for each fighter (known as a split draw), or when two judges score it even and the other scores the fight for one of the boxers (a majority draw).
Boxing terms to remember
Southpaw: A southpaw is a boxer who fights out of a left-handed stance, which is when a boxer fights with his right foot in front and his left behind him. Pacquiao is a southpaw.
Orthodox: An orthodox boxer is one who fights out of a right-handed stance, which is when a boxer fights with his left foot in front and his right is behind him. It is the most common boxing stance. Mayweather is an orthodox boxer.
Jab: A jab is a straight punch from a boxer's lead hand. It is used to set up the rest of a fighter's offense and can also keep an opponent on the defensive. It can be thrown to either the head or body.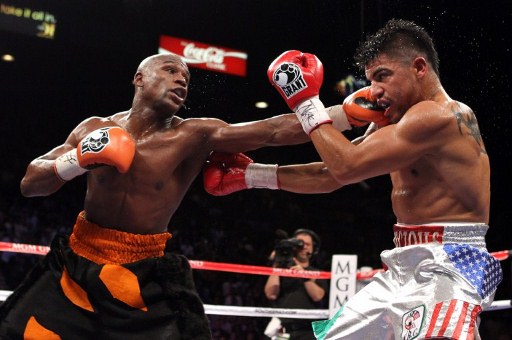 Cross: A cross is a straight punch from an opponent's back hand. This is the primary power punch of both fighters. The punch can also be thrown with an arc, and is known as an overhand.
Hook: A hook is a punch that travels horizontally across a fighter's chest from his lead hand. The punch's 90 degree angle means it must be thrown from a closer distance than the jab and cross.
Uppercut:An uppercut can be thrown with either hand and drives the fist upwards. The punch must be thrown from close range because of how short it travels.
Knockdown: A knockdown occurs when any part of a boxer's body touches the canvas other than the soles of his shoes as a result of a punch. The downed boxer then has until the referee's count of 10 to rise up or be counted out, resulting in a knockout. Should a boxer rise up at any moment, the referee will continue counting until at least the count of 8, which is known as the mandatory eight count. This is to ensure that a boxer has some measure of time to recover physically.
Pound-for-pound: Pound-for-pound is an unofficial, subjective ratings system which ranks the best fighters in the world, regardless of weight. Meaning, if all boxers were the same size, who would be the best fighter in the world? It is a mythical concept, as the heavyweight champion of the world Wladimir Klitschko stands 6-foot-6 and weighs 250 pounds and would have an unfair advantage over smaller fighters. – Rappler.com
Ryan Songalia is the sports editor of Rappler, a member of the Boxing Writers Association of America (BWAA) and a contributor to The Ring magazine. He can be reached at ryan.songalia@rappler.com. Follow him on Twitter: @RyanSongalia.