Manny Pacquiao's face may be next to Floyd Mayweather's on the side of the MGM Grand, but there's no mistaking who holds home court advantage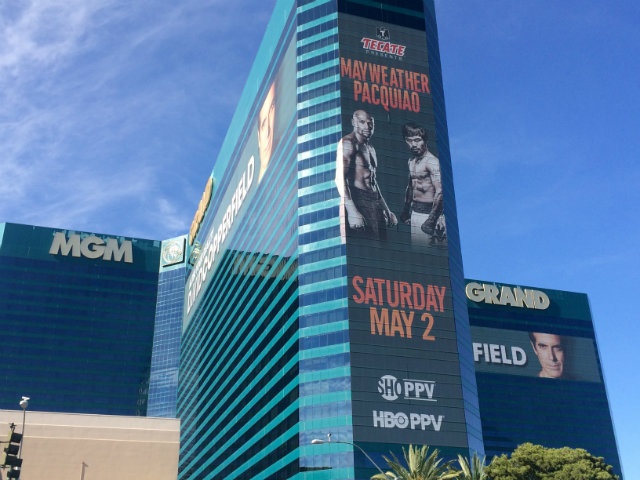 LAS VEGAS, USA – Manny Pacquiao's face may be next to Floyd Mayweather's on the side of the MGM Grand, but there's no mistaking who holds home court advantage.
One step inside the lobby, left of the iconic boxing ring that holds the MGM lion, Mayweather's ring attire from several of his biggest fights are on display. Inside the gift shop, Mayweather's Money Team apparel adorns the shelves, hawking socks, caps, hoodies. 
There is even a Money Team Philippine flag t-shirt and another with the flag's design over Mayweather's body, a not-too-subtle ploy to get at his Filipino rival.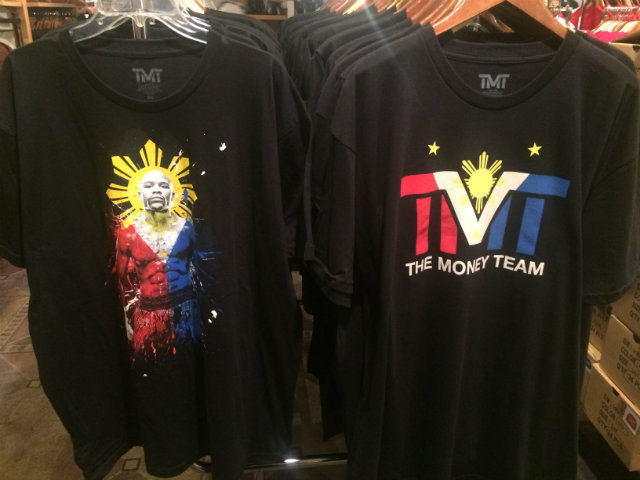 Planet Hollywood has Britney Spears. Rio has Penn and Teller. Floyd Mayweather is MGM's marquee attraction this week.
This hasn't eluded Pacquiao's promoter Bob Arum, who says Pacquiao will not be involved in Tuesday's grand arrival at the MGM. The grand arrival usually marks the beginning of fight week and gives fans and media their first chance to see the boxers.
"It's a waste of time," Arum told the Las Vegas Review Journal.  
Prior to Pacquiao's rematch with Timothy Bradley in April 2014, Arum blasted the MGM for prominently advertising Mayweather's fight with Marcos Maidana on the side of the building, on poker tables and elsewhere, while the Pacquiao fight received relatively little visibility. 
Mayweather (47-0, 26 knockouts), who lives in Las Vegas, will be fighting at the MGM Grand for the 14th time, while Pacquiao (57-5-2, 38 KOs) will be making his 12th appearance at the venue.
(READ: Mayweather vs Pacquiao 101: What you need to know)
Mayweather has set four of the top five live gate records at the MGM Grand in Nevada history, with his 2013 fight against Saul Alvarez grossing $20,003,150, according to the Nevada Athletic Commission. His 2008 fight against Oscar de la Hoya is second at $18,419,200 while his two fights with Marcos Maidana in 2014 are fourth and fifth at $15,024,400 and $14,899,150, respectively.
Pacquiao's highest gate against de la Hoya in 2008 is at number six with $14,380,300 grossed.
Forbes estimates the gate receipts for Mayweather vs Pacquiao will double the previous record at $40 million.
Pacquiao will be holding fort as he usually does at the Delano Las Vegas next to the Mandalay Bay, which is owned by MGM Resorts International. Pacquiao is set to complete one final day of sparring at the Wild Card Gym in Los Angeles Monday before heading off to Los Angeles in a caravan led by his Team Pacquiao bus.
Pacquiao is expected to leave Los Angeles around 4 pm and arrive in Las Vegas in the evening. 
The fight will be refereed by a Nevada referee, Kenny Bayless, while two of the three judges – Burt Clements and Dave Moretti – are Nevada officials. The third judge Glenn Feldman is from Connecticut.
Mayweather still favored 
The gift shop isn't the only place where Floyd Mayweather Jr is favored. The MGM Sports Book still has Mayweather as a -200 favorite over Pacquiao, who is +170 as of Sunday Pacific time. That means you'd have to bet $200 on a Mayweather victory to win $100, while a $100 bet on Pacquiao would earn you $170 if he wins.  
The odds have narrowed slightly since they opened on February 20 at -240 for Mayweather and +200 for Pacquiao and will move once again once supporters of both fighters hit Vegas. 
The MGM is also offering 7/2 odds on a Mayweather win by knockout and 5/8 on a win by decision, while Pacquiao is 17/5 to win by KO and 3/1 on points. 
The longest odds of all proposition bets are on a Pacquiao to win by knockout in the first two rounds at 50/1, while Mayweather's odds are 40/1 on a KO in the same time. 
Two of the lines which have moved the most have been on a draw, which opened at 22/1 and has been bet down to 10/1, and on a Pacquiao 8th round KO, which was 35/1 but is now at 17/1. – Rappler.com