Mark Matthew Operario,an incoming grade 11 student, clears the 3.60 meter chocking over his rivals from 17 regions across the country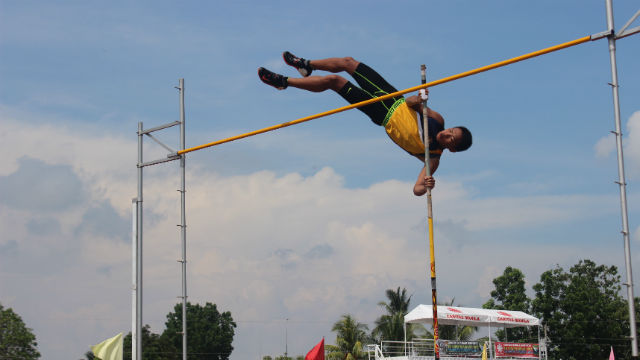 TAGUM CITY, Philippines – A perfect execution was all Ateneo High School's mainstay Mark Matthew Operario needed to grab his first gold medal, the sweetest gift in his Palaro debut.
Operario, an incoming grade 11 student, cleared the 3.60 meter high jump bar in the secondary boys pole vault event in the Palarong Pambansa 2015, chocking his rivals from 17 regions across the country.
"I was very happy getting this award. My training fruited this gold medal." Operario saild after the game.
Despite of being the tenderfoot in the games, Operario managed to pull out the victory against fellow NCR athlete Francis Edward Obiena, who got into a sprain in the right-arm in his first attempt at the 3.60-meter mark.
Obiena was rushed into the medical team and was not able to continue the game ending the event with a silver medal.
"I'm very sad because it ended tragically. We had a close fight out there but it suddenly happened. Accidents really happen unexpectedly," Operario explained.
Domination
The 10-time defending champions National Capital Region Athletic Association (NCRAA) continue to show supremacy in almost all angles of the 2015 Palarong Pambansa carving medals in the different sporting event.
NCR, holder of the longest championship streak, is still in complete control of the medal rush in the biggest annual sporting event for elementary and secondary students.
With their feat in the pole vault event, Operario and Obiena added a gold and a silver to the medal rush. – Rappler.com
Jumar dela Cruz is a staff writer of the Department of Education's Davao del Norte division.