'I don't want to go down to their level,' says Manny Pacquiao, as he declines to comment on Floyd Mayweather Jr's statement that he is a 'sore loser'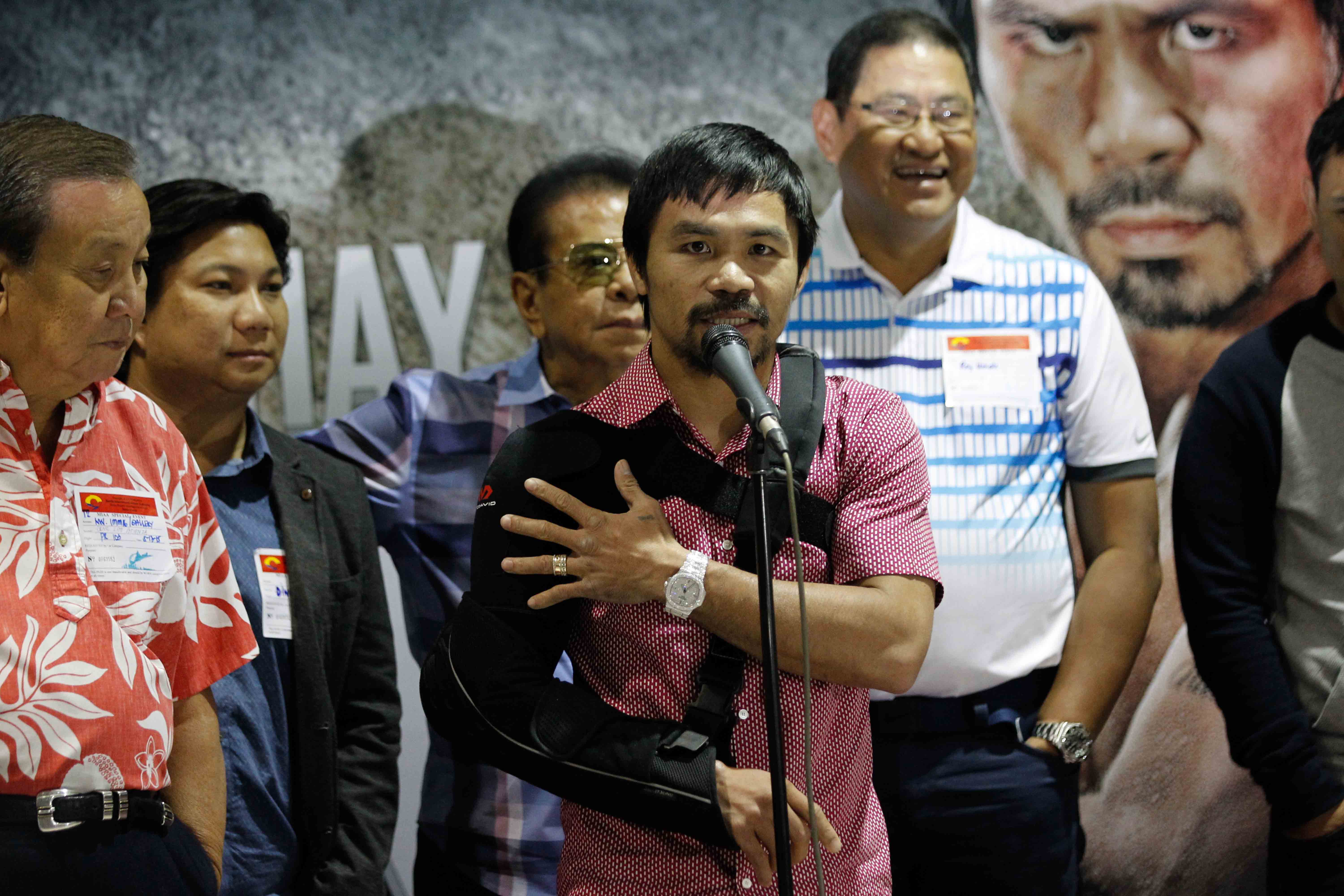 MANILA, Philippines – Manny Pacquiao isn't backing off from his stance that he deserved to be declared the victor over Floyd Mayweather Jr.
The 8-division boxing champion, who returned to the Philippines on Wednesday, May 13, after a few months in the United States preparing for his May 2 fight in Las Vegas, said that his feelings about the fight haven't changed. (READ: Manny Pacquiao: 'We were sabotaged')
"I watched the fight several times," Pacquiao told reporters at the Ninoy Aquino International Airport Terminal II. "I scored it and I believe I won by two points against Mayweather. But we have to accept the decision."
A two-point win would mean that he scored the fight 115-113, or 7 rounds to 5. Two of the official judges scored the fight 116-112 for Mayweather, with the third scoring it 118-110.
Sporting a cast on his right arm after undergoing surgery on a torn right rotator cuff in Los Angeles, he told reporters that he would have to rest his damaged arm for 6 months. He wouldn't speculate on future plans.
"For now, I don't talk about it, about my next fight. My focus is to recover and be OK," Pacquiao said.
Since the fight, at least 25 lawsuits have been filed against the Filipino boxer claiming that he defrauded the public by not disclosing the injury, which occurred during a sparring session a month before the fight and was aggravated he says during the fourth round. (READ: Lawsuits continue pile up over Pacquiao injury)
Mayweather accused Pacquiao of being a "sore loser" and a "coward" in an interview with Showtime's Jim Gray after the fight. He said that he wouldn't consider a rematch and that he lost respect for Pacquiao.
Asked for comment on the matter, Pacquiao said, "I don't want to go down to their level."
From the airport, Pacquiao stopped by the Dusit Thani hotel in Makati City for an exclusive breakfast event. Afterwards, he had a motorcade around Makati and Manila, where Pacquiao, using his good arm, threw t-shirts and posters to fans. – Rappler.com