Kevin Love, Goran Dragic and Anthony Davis announce they will stay with their currents teams, while DeMarre Carroll and Paul Pierce are on the move
NEW YORK – Kevin Love announced Wednesday he will return to the Cleveland Cavaliers next season, with the 26-year-old power forward reportedly agreeing to a five-year deal worth $110 million to remain in Cleveland.
Love, obtained last year from Minnesota in a major trade, suffered a separated left shoulder in the first round of the NBA playoffs and could only watch as the Cavaliers lost to Golden State in the NBA Finals.
"I'm going back to Cleveland," Love said on the Players' Tribune website. "We're all on the same page and we're all in. We have unfinished business and now it's time to get back to work."
Love's announcement came on the first day of free agency for the 2015-16 campaign.
Players can talk terms with clubs and make deals but no contracts can be signed until July 9, meaning most news will come from reports and unnamed sources until confirmations come next week.
Love had opted out of a deal that would have paid him $16.7 million next season to test the free agent waters, but ESPN reported he was cashing in for a maximum money deal with Cleveland.
After years wishing he could play on a title contender, Love was not unhappy accepting a reduced role to play for a team that was a championship threat.
"After game one of the NBA Finals, that's when it really struck me," Love said.
"Sitting on the sidelines, I never wanted to play in a game more than that one. I had dreamed of playing in the NBA Finals and I just wanted to help my guys win … it was clear Cleveland was the place for me."
Shumpert, Thompson back 
In addition to Love and superstar LeBron James, who is a free agent but unlikely to leave the Cavaliers, Cleveland will welcome back guard Iman Shumpert and forward Tristan Thompson. 
According to multiple reports, Shumpert agreed to a four-year deal worth $40 million while Thompson was expected to negotiate a deal worth $80 million for five years.
Paul Pierce returned to his Southern California home and reunited with Doc Rivers, who coached him to an NBA title with Boston, as the 37-year-old forward reportedly agreed to a three-year deal worth $10 million with the Los Angeles Clippers.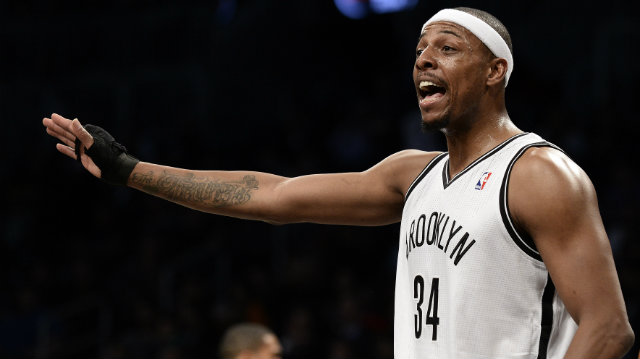 Slovenian guard Goran Dragic agreed to a $90 million, five-year contract extension with Miami, ESPN reported, taking less than maximum money from the Heat to help Miami pursue other talent, such as keeping free agent star guard Dwyane Wade, who turned down a $16.1 million deal for next season to seek a longer-term contract, and Kevin Durant when he becomes a free agent next year.
DeMarre Carroll announced his new four-year deal for $60 million with Toronto on his Instagram account, leaving the Atlanta Hawks for the Raptors.
But the Hawks came to terms with forward Paul Millsap on a three-year deal worth $59 million, according to multiple reports.
Bulls keep Butler 
The Chicago Bulls have agreed to a five-year deal worth $90 million with guard Jimmy Butler, ESPN reported, while also saying Phoenix had come to terms on a five-year deal for $70 million with Brandon Knight.
Chicago also came to terms on a three-year deal with forward Mike Dunleavy worth $14.4 million.
The long-term moves bring security but could be a bargain for clubs in coming years when the salary cap will skyrocket thanks to new record television deals starting to bring huge revenues for teams.
The New Orleans Pelicans agreed to terms on a five-year deal for $145 million with star forward Anthony Davis, who averaged 24.4 points and 10.2 rebounds last season.
"NOLA, I am here to stay! Just getting started." Davis tweeted.
NOLA, I am here to stay!  Just getting started… #6MoreYears #TakeFlight pic.twitter.com/Kni8WpikEA

— Anthony Davis (@AntDavis23) July 1, 2015
The San Antonio Spurs agreed to a maximum five-year deal for $90 million to keep forward Kawhi Leonard and a four-year contract worth $45 million with outside shooting threat Danny Green. – Rappler.com