Matthew Wright leads the Filipino stalwarts in the Asia Rising Stars game as Kiefer Ravena and Jordan Heading also see action in the side events of the Japan B. League spectacle
MANILA, Philippines – The Asia All-Stars almost blew a 20-point halftime lead against the Japanese Rising Stars, but they eventually held on to a 118-114 victory in the Asia Rising Stars game to close out Day 1 of the Japan B. League All-Star weekend on Friday, January 13, at the Adastria Mito Arena in Mito, Ibaraki, Japan.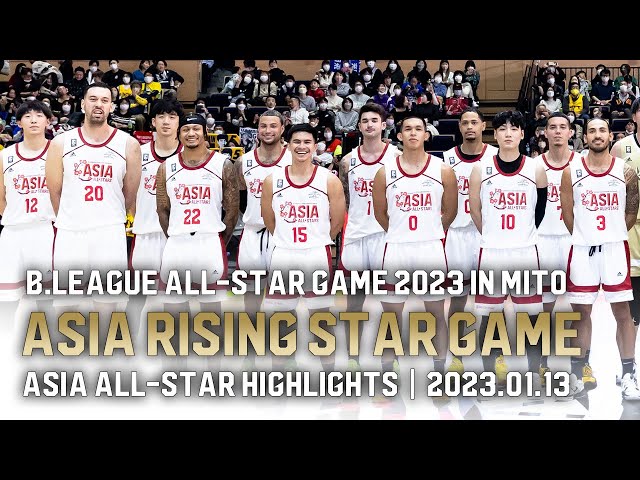 Matthew Wright led the eight Filipino imports seeing action in the league showcase, scoring 14 points on top of 9 rebounds and a couple of assists.
Greg Slaughter also flirted with a double-double like Wright, finishing with 12 points and 9 boards.
Kobe Paras likewise dropped 12 points, Jordan Heading chipped in 11 markers and 5 rebounds, while Ray Parks rounded out the Filipinos scoring in double-digits with 11 points to go with 6 rebounds and 3 assists.
Gilas Pilipinas star Dwight Ramos did not see action due to an ankle injury.
Kiefer Ravena, Thirdy Ravena, and Parks suited up as starters and began the game alongside Yang Jaemin and Weijia for the Asia All-Stars.
Parks broke the deadlock inside the first minute by nailing a three-pointer off an assist from Thirdy, but Kawasanada and Kai Toews answered back in the next minute to grab an early 5-3 lead for the Rising Stars.
The first batch of substitutes entered at the 6:05 mark of the opening quarter as Heading, Paras, Slaughter, and Wright took the floor.
Roosevelt Adams was the last Filipino to get some game time as the former Terrafirma Dyip guard only came in at the 1:56 mark of the first quarter.
The Asia All-Stars ended the quarter strong with a 34-22 advantage, but had a better finish in the second quarter as they erected a massive 20-point lead, 69-49, going into the second half.
In typical All-Star game fashion, both teams found most of their shots easy to convert as the Asia All-Stars and Rising Stars took it easy on the defensive end.
The Asia All-Stars shot 12-of-20 in the paint and drilled in 45.5% of their attempts beyond the arc in the first 20 minutes, while the Rising Stars had a better two-point field goal percentage by shooting 11-of-16, but they struggled in the three-point territory by only drilling 29% of their attempts.
Despite staring at a huge deficit, the Rising Stars brought the fight to the Asia All-Stars as they unleashed an 8-0 run to open the third period.
The Rising Stars continued to wax hot as they knocked down multiple triples to inch closer, 79-73, with over four minutes remaining in the quarter.
A Soichiro Inoue fastbreak conversion at the 2:45 mark cut the deficit to only 4 points, 81-77, but Wright drilled in a timely jumper to extend the lead back to 6 for the Asia All-Stars.
Kawasanada kept the Rising Stars afloat by hitting back-to-back field goals to begin the final period, but the Asia All-Stars were determined to keep their distance as a Parks triple put the lead back to double digits at 94-84.
The Rising Stars, though, kept the Asia All-Stars on their toes towards the end of the game and came close to snatching back the lead at 116-114 with 48 seconds left, but the former just couldn't produce enough to overcome the large deficit as the clock ticked away until the final buzzer.
Chinese import Wang Weija paced the Asia All-Stars with 18 points, 8 rebounds, and 3 assists.
Yasuki Okada had 26 points, 5 rebounds, and 2 assists off the bench for the Japanese Rising Stars, while Yudai Nishida (18 points), Takuma Sato (12 points), and Hiroya Kawasanada (10 points) also scored in double digits in the losing effort.
Matthew Wright –14 pts, 6/15 FG, 9 rebs, 2 asts, 1 stls, 17:44 mins; Greg Slaughter – 12 pts, 5/9 FG, 9 rebs, 1 stl, 14:54 mins; Kobe Paras – 12 pts, 4/9 FG, 1 reb, 1 stl, 16:28 mins; Jordan Heading – 11 pts, 4/10 FG, 5 rebs, 16:59 mins; Ray Parks –11 pts, 4/10 FG, 6 rebs, 3 asts, 1 stl, 13:42 mins; Kiefer Ravena – 8 pts, 3/7 FG, 3 rebs, 5 asts, 2 stls, 19:04 mins; Thirdy Ravena – 7 pts, 3/8 FG, 4 rebs, 5 asts, 18:25 mins; Roosevelt Adams – 3 pts, 1/5 FG, 3 rebs, 1 stl, 10:01 mins.
Quarters: 34-22, 69-49, 86-80, 118-114.
Other results
G-Shock Skills Challenge
Yuki Kawamura (20.9 secs), Yuki Togashi (24.9 secs), Yuma Fujii (25.5 secs), Asahi Tajima (28.5 secs), Kiefer Ravena (29.8 secs), Haruki Sudo (33.8 secs), Atsunobu Hirao (37.8 secs).
Kiefer Ravena finished fifth after completing the Skills Challenge in 29.8 seconds. He missed his first attempt in the first passing obstacle then missed his first two attempts in the three-point shot obstacle which further extended his stay on the challenging course. The former Ateneo guard finally converted a shot beyond the arc in his third attempt.
3-Point Contest
Takumi Saito (19 pts), Ryoma Hashimoto (18 pts), Jordan Heading (17 pts), Christopher Smith (16 pts), Kosuke Kanamaru (15 pts), Takatoshi Furukawa (11 pts), Makoto Hiejima (10 pts).
Heading secured a third-place finish with 17 points in the 3-Point Contest. He kickstarted the contest, but only knocked down 1-of-5 attempts in the left corner to open his scoring account with a single point. In the next two racks. Heading showcased magnificent shooting as he drilled in 8-of-10 shots to increase hi tally. Unfortunately, the 6-foot-2 lefty only made 6-of-10 shots in the final racks.
Dunk Contest
First round: Max Hisatake (49 pts), Koh Flippin (48 pts), Sebastian Saiz (47 pts).
Final round: Flippin (winner – 78% votes), Hisatake (runner-up – 22% votes).
No Filipino player participated in the Slam Dunk Contest.
– Rappler.com