Manny Pacquiao would have to move from his usual welterweight class to junior welterweight if he accepts a wild card entry to the 2016 Olympics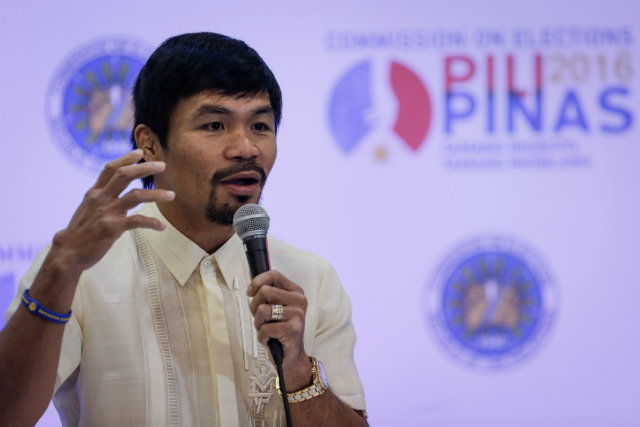 MANILA, Philippines – If Manny Pacquiao is going to compete in the 2016 Olympics, the Association of Boxing Alliances in the Philippines (ABAP) would like to hear from him by Friday, May 27.
The 37-year-old boxing legend, who retired from the sport after defeating Timothy Bradley Jr in April to focus on his political career, has left the door open to compete at the Rio Games after being personally offered a wild card entry by AIBA president Dr Ching-Kuo Wu.
ABAP Executive Director Ed Picson says the deadline is also the submission deadline for the Final Olympic Qualifier, which takes place June 16-25 in Baku, Azerbaijan, and Picson wants to keep the options open for the 8-division boxing champion.
"I asked him to make a decision before May 27 because that's actually the deadline for the submission of entries for the qualifying event because I don't know if he can still get a Tripartite pass because that gets decided on not just by the AIBA but also the IOC (International Olympic Committee) and ANOC (Association of National Olympic Committees)," said Picson.
"I don't know if they've already met, those 3 groups. So if he doesn't get a Tripartite pass, then that means he would have to qualify in the qualification event on June 16."
Pacquiao, who had previously said "it would be my honor to represent the country in the Olympics," expressed concern about whether his constituents would question his dedication to his new job after being proclaimed for a 6-year term in the Philippine Senate on Thursday. Pacquiao had been criticized for his frequent absences during his two terms in congress.
"People will say that this person was just elected and in August, he wants to compete in the Olympics," Pacquiao said Thursday. "I need to ask if the Filipino people will allow me to participate in the Olympics."
If Pacquiao does accept the offer, Pacquiao will have to move down to junior welterweight, which is at a 64 kilogram (140.8 pounds) weight limit, where one of the 5 wild card spots are available. Pacquiao has fought just once in that weight class – a second round knockout of Ricky Hatton in 2009 – but he has routinely weighed in under the 147 pound welterweight limit and trainer Freddie Roach has said he could even make lightweight if need be.
An email to AIBA requesting comment was not answered at the time of this article's publication. 
Different sport
The 2016 Olympics will be the first to allow professional boxers to compete, and the first to exclude headgear since it was introduced before the 1984 Olympics. Olympic bouts will be scored with the 10-point must system, just like in the professionals.
If seeded, Pacquiao could skip the first two preliminary rounds, then fight in the third and have to win 3 more fights to win gold. If not, Pacquiao could have to win 5, 3-round matches before making it to the gold medal round.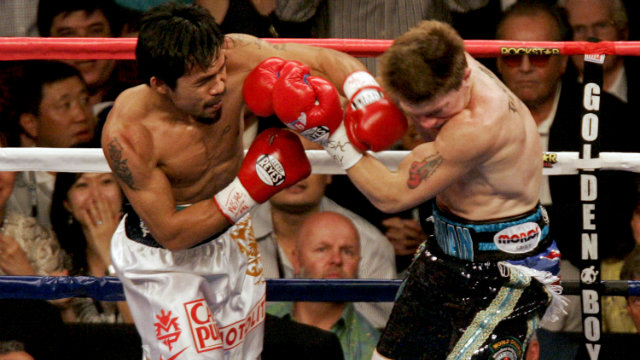 Pacquiao had a reported 60-4 record as an amateur before turning pro in 1995. The Philippines has never won a gold medal at the Olympics though 5 of their 9 total Olympic medals have come in the boxing event.
Pacquiao would be the second oldest boxer to win Olympic gold should he be successful at 37 years and 249 days when the tournament concludes, just 5 days younger than Richard Gunn was when he won the featherweight gold in 1908. 
Roach, who has trained Pacquiao since 2001, disagreed with AIBA's decision to allow pros fight in the Olympics but offered to help his most famous pupil for free. 
"If they let him in the Olympics I told him I'd train him," Roach said. "He said 'You know there's no pay for that right?' I said 'No problem!'"
(READ: There will never be another Manny Pacquiao)
World Boxing Council president Mauricio Sulaiman said he would ban any pro from fighting for his organization's world titles for two years if they fought in the Olympics, while Pacquiao's promoter Bob Arum called AIBA's decision "madness."
"To have guys who are experienced professional fighters against these amateurs, you're looking at serious, serious injuries. It's total madness," Arum told AFP.
"Imagine putting in a 147 pound kid novice from Nigeria, who could be a great prospect, with Manny Pacquiao? It's ludicrous. It's silly."
The Philippines already has two boxers qualified for the 2016 Games, including junior flyweight Rogen Ladon and lightweight Charly Suarez. Picson says that bantamweight Mario Fernandez and welterweight Eumir Marcial will compete in the final qualifier, with either Ian Clark Bautista or Roldan Boncales competing in the flyweight division.
Picson assuaged concerns that lesser experienced fighters could be seriously hurt by Pacquiao, citing the cautious nature of Olympic officiating.
"There will be no bludgeoning because there are very strict rules in Olympic style boxing. The moment the boxer gets hit by a solid punch, whether he looks dizzy, whether he falls or not, he's given an 8 count. If you get 3 8-counts in a fight, you get disqualified. Or if the referee sees that it's a mismatch, he'll stop the fight," said Picson. – Rappler.com
Ryan Songalia is the sports editor of Rappler, a member of the Boxing Writers Association of America (BWAA) and a contributor to THE RING magazine. He can be reached at ryan.songalia@rappler.com. Follow him on Twitter @RyanSongalia.