This is AI generated summarization, which may have errors. For context, always refer to the full article.
Juan Manuel Marquez continues to stress that the punch that sent Manny Pacquiao to sleep wasn't a lucky punch.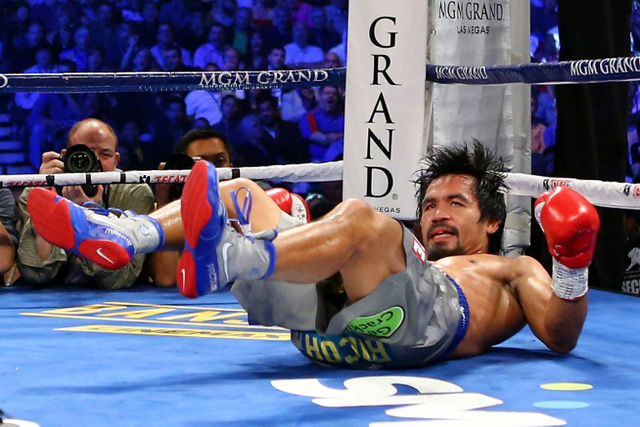 SINGAPORE — It was December 8, 2012 and Manny "Pacman" Pacquiao lay motionless on the canvas for nearly 2 minutes after absorbing the hardest hit he had ever taken in his storied boxing career.
Pacquiao's arch-nemesis, Juan Manuel "Dinamita" Marquez whom he went to war with 3 previous times, delivered a fight-ending phantom right hand counter that exploded square on his chin separating the Filipino icon from his senses.
Arguably, Pacquiao was on his way to winning the fight by knockout of his own, had the 'punch heard round the world' not landed. In fact, many fans claimed it was merely a "lucky punch".
Even Pacquiao himself feels Marquez just caught him at the right time coming in.
Unexpected hit
"I never expected what happened in the last fight, but that's part of boxing," said Pacquiao in a recent interview at ESPN's First Take debate desk.
When asked how long he was unconscious, Pacquiao replied, "I don't know, maybe 2 minutes."
"It's part of Boxing, sometimes you lose and sometimes you win and I think [Marquez] just got lucky, he got a lucky break in that fight," said Pacquiao.
But was it really a lucky punch? Juan Manuel Marquez doesn't seem to think so.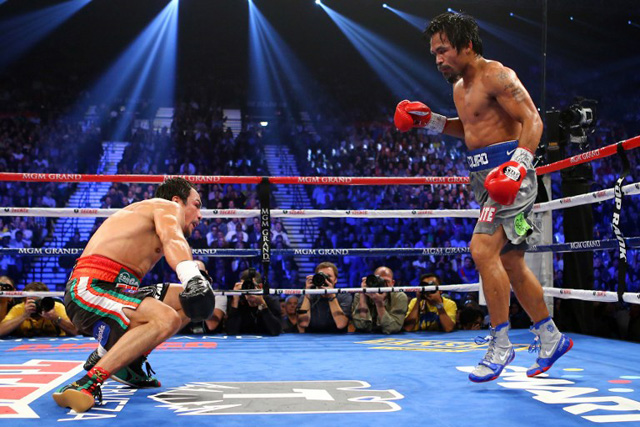 Knocked out cold
Recall the moment went Pacquiao, with no regard for defense, lunged in with a telegraphed feint-jab-straight left combination. In a split second, Pacquiao's chin and Marquez's fist collided with tremendous impact.
The result was blunt force trauma to the head and Pacquiao was out cold before he hit the floor.
True, the timing and everything else lined up perfectly for that amazing shot, but the punch was more than just mere happenstance.
"I said [before the fight] that we knew each other so well that any change that [one of us would make] was going to be so important and so it turned out in my favor," said Marquez in a report via Boxing Scene.
After going 36 hellacious rounds with Pacquiao in their first three encounters, Marquez could read his rival like an open book.
Open book
"We studied him and we worked hard on our power and to see if we could catch Pacquiao (with that punch)," said Marquez.
The pair veered away from a fifth encounter that had strong public interest and instead are fighting different opponents in their upcoming bouts.
Pacquiao is scheduled to take on Brandon Rios in Macau, China this November 23.
Marquez is scheduled to face another Pacquiao conqueror in current WBO Welterweight champion Tim Bradley this October.
"I think Manny Pacquiao is throwing out some bait and hoping that I catch it," reacted Marquez after hearing about Pacquiao claiming it was merely a fortunate turn of events for the Mexican superstar.
"A lot of people know that it was not a stroke of luck. I was practicing (that punch) in the gym. I don't like to talk about it, but I used the same punch – two times – to drop a sparring partner," said Marquez.
"(But no matter what Pacquiao says) there will not be a fifth fight," he added.
Nevertheless, Pacquiao-Marquez V is a fight that will most likely be revisited should both fighters get through their next contests. – Rappler.com