This is AI generated summarization, which may have errors. For context, always refer to the full article.
As the boxing world wraps their minds around Timothy Bradley's pre-fight lapses in personal hygiene, Pacquiao's trainer Freddie Roach gives his perspective on superstitions
GENERAL SANTOS CITY, Philippines – Freddie Roach is generally regarded as one of the most cerebral trainers in recent boxing history, but he isn't above the tradition of superstition that has been a staple of the athlete's life since the beginning of organized sports.
Since his days as a contender in the featherweight and lightweight divisions during the 1980s, Roach has started every morning putting his left shoe on first before the right. "If I put my right shoe on first I might have a bad day. I won't risk it," said Roach. 
Even Manny Pacquiao, the 8-division world champion from General Santos City, Philippines, has his own practices, which include having his food meticulously arranged after weigh-ins. 
WBO welterweight titleholder Timothy Bradley, who faces Pacquiao for a second time on April 12 in Las Vegas, has a pre-fight ritual that is a bit more on the extreme side. "My superstitions, honestly, what I do is, the whole week of the fight, I don't take a shower," said Bradley to ABS-CBN. "I don't know why that's one thing that I don't do. I don't care. I'm not ashamed of me."
Still, despite having his own practices with no basis in science, Roach was a bit skeptical about the benefits of Bradley's eschewing of personal hygiene.
"He must smell," deadpanned Roach, a six-time Boxing Writers Association Trainer of the Year awardee. "(Juan Manuel) Marquez drinks pee, Bradley doesn't take showers. It's not going to help them fight. Who cares?" 
Pacquiao's reaction was more along the lines of genuine concern. "That's too much. You need to take a bath so you won't stink," Pacquiao told ABS-CBN.
Mental Warfare
Superstitious behavior isn't isolated to boxing, however. Wayne Gretzky, who is the consensus pick for greatest hockey player ever, always put his pads on in the same order, beginning with the left shin and ending with his right elbow. Baseball player Wade Boggs felt he was a better hitter whenever he ate chicken before a game.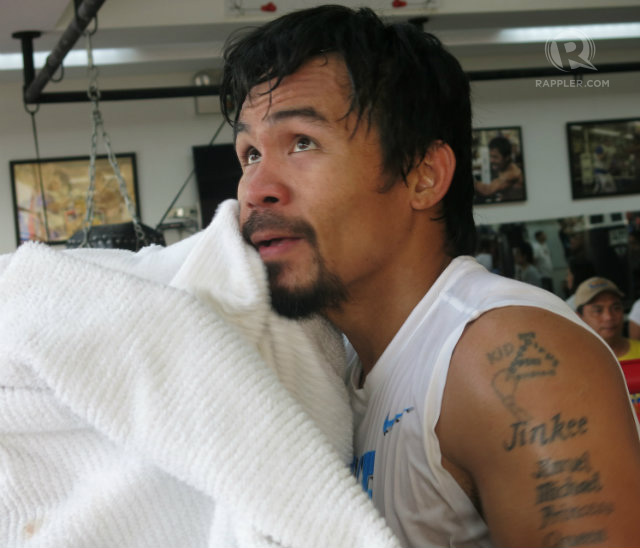 Roach, who left with Pacquiao from General Santos City on Saturday, March 8 to finish up training in Los Angeles, feels that much of what dictates the action inside a boxing ring is the mindset of a fighter.
"The mental aspect of the game is huge," said Roach. "We all get in shape, we all train, but 90% of the fight is mental. That's where it's going to be won. Whatever it takes to get the fighter to that spot, not taking a shower, setting their food up properly, I'm sure they need that. 
"Like Manny giving blood, if he thinks it affects him for three days and his mind thinks that way, then it will work against him."
Ultimate boxing superstition
The most notable – and most debated – boxing superstition – is the belief that boxers must abstain from sex before a fight. The time frames vary from trainer to trainer, but most make provision for this subject in their fighter guidelines.
"When the sex thing first came out, it was six weeks before a fight for me," said Roach. "I ask my guys for 14 days, Manny says he'll give me 21. Now since his wife's pregnant and she can't come to America this time, I'll get a lot more out of Manny. 
"Some fighters believe that having sex before a fight helps them, though."
As a fighter, Roach split time training with the legendary Eddie Futch and his father, Paul Roach. Once, Roach broke the Cardinal rule of refraining from sex, and he believes it cost him a fight. 
"I had sex before my time period was up. My Dad told me from day one that I would suffer, and I lost."
Do any of these practices have an effect on whether you win or lose though? "I think it's all mental, it's what it is. You gotta do what you believe in. Most have something they have to do, but does it really help? I don't think so," said Roach.
But what about confronting his own superstitions?
"I don't think if I put my right shoe on I might get killed," said Roach. "Maybe I'll try it some day." – Rappler.com
Ryan Songalia is the sports editor of Rappler, a member of the Boxing Writers Association of America (BWAA) and a contributor to The Ring magazine. He can be reached at ryan@ryansongalia.com. An archive of his work can be found at ryansongalia.com. Follow him on Twitter: @RyanSongalia.
More stories on Pacquiao's training camp for the Bradley rematch
Introducing Pacquiao conditioning coach Cecilio Flores
Pacquiao, Roach happy with GenSan training, consider postponing LA
WATCH: Pacquiao and camp sing 'Happy Birthday' to Freddie Roach
WATCH: Rhodes speaks after sparring with Pacquiao
Aggressive Pacquiao impresses birthday boy Roach in sparring
Pacquiao spar mate Rhodes says sparring Manny has been 'Hell'