This is AI generated summarization, which may have errors. For context, always refer to the full article.
"The people deserve that fight," Pacquiao says, putting the pressure on Floyd Mayweather to make the overdue fight
MACAU – The picture on the dais for the post-fight press conference was a contrast of fortunes. On one side, Manny Pacquiao was indulging in victory, smiling like a newly graduate. Save for a small swelling near his left temple, Pacquiao barely had a mark on his face after twelve rounds.
At the other end, sunglasses concealed Chris Algieri's eyes, which looked on the verge of tears. He was undefeated when he arrived in Macau but now was the picture of defeat. 
The fight on Sunday afternoon, November 23, had been as one-sided as most skeptics had presumed it would be, with Pacquiao scoring half a dozen knockdowns to win by 18 points on one scorecard and by 16 on two others.  
Though Pacquiao didn't end the knockout drought that now stretches 5 years, it was his most dominant performance in years, perhaps since the Miguel Cotto fight in which he scored his last stoppage.
"Our focus is to try to finish the fight early," said Pacquiao (57-5-2, 38 KOs), who has endured years of having his killer instinct and hunger questioned by the press and fans. "We know Algieri is a really tough opponent, even in his last fight with Ruslan [Provodnikov] he showed his toughness. I did my best and I knocked him down many times and he still kept on fighting." 
Algieri (20-1, 8 KOs) of Huntington, New York, had been dubbed "The Real Rocky" in the lead-up to the promotion, spending time with celebrities like Sylvester Stallone while training under the bright lights of Las Vegas. He was poised to pull of his second straight major upset in a row but now finds himself in the position of rebuilding himself after the lopsided loss. 
"We wanted to be cautious early because we figured Manny was going to come out strong and he did. We started to pick it up in the middle rounds. Then, in about round eight we started to pick it up and I got caught with a good shot. We had to adjust again and look to keep fighting.  
"Once it was late in the fight, scores were pretty wide at that point. I was just looking for some good opportunities but Manny didn't give me a lot of holes."
(IN PHOTOS: Pacquiao vs Algieri)
With his stock back at levels comparable to where they were before he lost back-to-back fights in 2012, Pacquiao took the opportunity to stoke the fires for a clash with the unbeaten rival he has circled for years. 
"I think it's time to say something. The people deserve that fight. The fans deserve that fight. I think it's time to make that fight happen," said Pacquiao of a possible clash with Floyd Mayweather Jr., the sport's current pound-for-pound best fighter, according to The Ring magazine. 
"I think it's time [for Mayweather] to step up and say yes. People can prepare for early next year."
Pacquiao claims that he had been mum on the fight in past years because Mayweather's camp had not been open to discussing the fight. 
"It's been a long time that I want that fight but I'm just the one talking about that fight. The other camp, they're always denying to talk about that fight. So better to say nothing," said Pacquiao. 
Bob Arum, Pacquiao's long-time promoter, expressed his desire to see the fight as well. 
"I think that fight should happen. I think the boxing fans deserve that fight. If boxing is to be considered a major sport, that fight has to happen," said Arum. "All the nonsense has to cease, everybody should be working together to make that fight happen."
The fight between Pacquiao and the Las Vegas-based Mayweather (47-0, 26 KOs) has been the greatest fight to never take place, with both sides disagreeing over money splits and drug testing in the past. (RELATED: Mayweather sets new demands for Pacquiao fight)
Mayweather recently left HBO (the American network both had fought on) to fight on rival network Showtime, and is 4 fights into a 6-fight deal after scoring two decision victories over Marcos Maidana in 2014.
But there is more reason to be optimistic about the fight than has been the case in a long time. A recent story published by the Los Angeles Times cited a Showtime source confirming Mayweather's interest in making the fight, which many believe could be the biggest fight in boxing history.
"We can confirm that Floyd Mayweather definitely wants the Pacquiao fight. Everyone on our side – Floyd, CBS and Showtime – is advocating for the fight to happen," wrote  the source in an email." 
Mayweather's next fight is slated for May 2 but no opponent has been named. A rematch with Miguel Cotto, or a fight with British two-division titleholder Amir Khan have been rumored as possible opponents for that date. 
Pacquiao will turn 36 next month, while Mayweather turns 38 next February, making the fight more urgent than ever.
Vargas wants next 
One of the first fighters to make it to the press too after the fights was Jessie Vargas, who made the second successful defense of his WBA junior welterweight title on the televised undercard with a unanimous decision over Antonio DeMarco.
Vargas (26-0, 9 KOs) of Las Vegas survived several rocky moments against the former lightweight champion before overwhelming DeMarco in the championship rounds. With the podium all to himself, Vargas made his case to be the next unbeaten fighter to stand opposite Pacquiao.
"I'm the WBA champion, I hear he wants to go down to 140. Let's make it happen," said Vargas. "You want this title? I can go up and take your title as well.
"I still have a grudge to be honest, ever since I was a kid and he beat [Erik] Morales, [Marco Antonio] Barrera, they were the older lions and Manny Pacquiao was the younger and more hungry lion. But now it's me, now it's Jessie Vargas hungry and looking for his opportunity." 
Vargas' trainer Roy Jones Jr., who himself was the sport's top fighter during the 1990s, says he recognizes how difficult it would be to topple the Philippine congressman from General Santos City, Philippines, but says his fighter won't run from the opportunity.
"You won't see us running from nobody, you won't see us avoiding the big punches. You'll see us trying to land more big punches than does he," said Jones, alluding to Algieri's timid approach tonight. 
Arum, who promotes Vargas as well, put his stamp of approval on the fight. 
"We know Manny Pacquiao would like to fight against residents of Las Vegas. He has another resident of Las Vegas in mind, that's his primary goal. If that doesn't materialize, why wouldn't Jessie Vargas be a top candidate in the running?," said Arum. 
Freddie Roach, who trains Pacquiao and trained DeMarco for his fight against Vargas, says he doesn't see Vargas as a real challenge for the eight-division champion Pacquiao. 
"He'd be like this guy, he'd be lost," Roach said, gesturing towards Algieri. "He doesn't have the experience. He doesn't belong in the ring with Manny yet. He'd have to show me a lot more."
Mayweather remains one of the few fighters whom there is little debate about his worthiness to share a ring with Pacquiao, and it's a challenge Roach wants to see happen while it still can.
"I look forward to challenges all the time, that's a big challenge for me," said Roach. "I say he's a talented guy, but I think we can beat him. He doesn't have too many flaws, he doesn't make too many mistakes but there are a couple and I think we could take advantage of them." – Rappler.com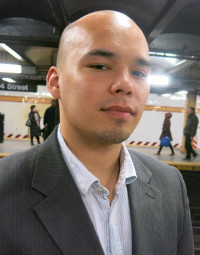 Ryan Songalia is the sports editor of Rappler, a member of the Boxing Writers Association of America (BWAA) and a contributor to The Ring magazine. He can be reached at ryan.songalia@rappler.com. Follow him on Twitter: @RyanSongalia.