The television networks and promoters came together to make the Pacquiao-Mayweather fight. Because they had to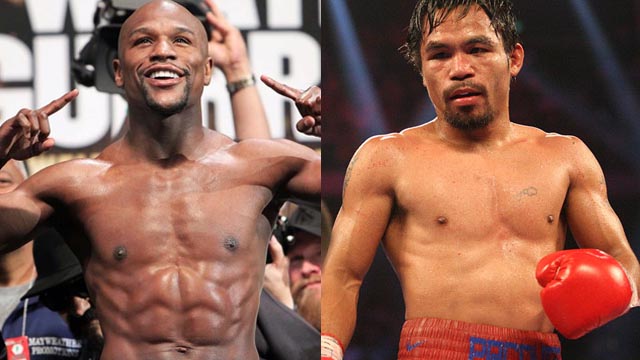 GENERAL SANTOS CITY, Philippines – Like what I stated in this column many months ago, it will be pressure from the cable networks that will make the fight happen.
Simply because it is good business for everybody.
And so Leslie Moonves, president chief executive officer of CBS, stepped in.
Per his account, Moonves shuttled back and forth the between the once irreconcilable camps of Floyd Mayweather Jr and Manny Pacquiao before finally putting together Top Rank's Bob Arum and Mayweather adviser Al Haymon in the same table.
CBS owns Showtime with which Mayweather has a 6-fight contract worth over $200 million.
Mayweather has already done 4 – one against Robert Guerrero, two against Marcos Maidana and one versus Saul "Canelo" Alvarez.
After the Alvarez fight, the last 2 Mayweather outings were 'dismal' box office performances that probably alarmed the networks covering him.
With no other big ticket fight in the horizon, the only way CBS could recoup the guaranteed money they owed Mayweather is to go all in for the fight that everybody wanted and the one deal that could wipe out all their worries even if the flamboyant American quit boxing after May 2.
The same holds true with Top Rank's Bob Arum and Al Haymon.
Both powerful 'Lords of the Ring' are under heavy pressure to produce the 'Fight of the Ages.'
For Arum, Pacquiao's boxing days are numbered – probably to end next year. With rising advances to and investments on Pacquiao, he needs to squeeze every wad of dollar bill from the Filipino boxing icon.
For Floyd, he is not getting any younger and has a lifestyle to keep. Before the networks keep their hands off him, he needs to step up. Besides, the compelling significance of a missed Pacquiao fight will hound and haunt him forever if he continues to walk away from it.
Win or lose, both Mayweather and Pacquiao will emerge big winners – from the points of view of boxing and sports history.
One of that is breaking the record and setting the standard of humongous big ticket fights.
Oscar de la Hoya, one of two parts of the biggest pay-per-view fight ever, says the May 2 fight could generate 3 million buys – 600,000 more than the fight he did with Mayweather in 2007 that raked in 2.4 million PPV buys.
De la Hoya was then the Alpha dog of that record-breaking fight.
It is Mayweather's turn now to be the fight carrier although Pacquiao himself is no pushover as a legitimate A-class attraction.
The fight could generate as much as US$300 million to make it the biggest grossing fight ever in any contact sports or singular sports event.
For Mayweather and Pacquiao, it means bringing home more than their guaranteed purses rumored to be US$120 million and US$80 million respectively.
So compelling is this fight that the Mayweather-Pacquiao fight will only be the second collaborative effort between two rival cable networks – Showtime and HBO. The last time the 2 networks joined hands in simultaneously broadcasting a megabuck fight was when Lennox Lewis fought Mike Tyson in 2002.
And so difficult it is to get tickets that Pacquiao had already warned friends that there will be no free passes this time. No more chartered planes and no more entourage to number more than 100 friends and hangers on.
For him, it is the ultimate reward for his sacrifices, for his depraved and deprived childhood.
Oh, you can make as many sidebar stories and boxing fans won't ever get tired reading them. 
– Rappler.com